Uncategorized
Our 2020 Gift Guides!! Him, Her, Them, Small Shops & Under $30!
November 26, 2020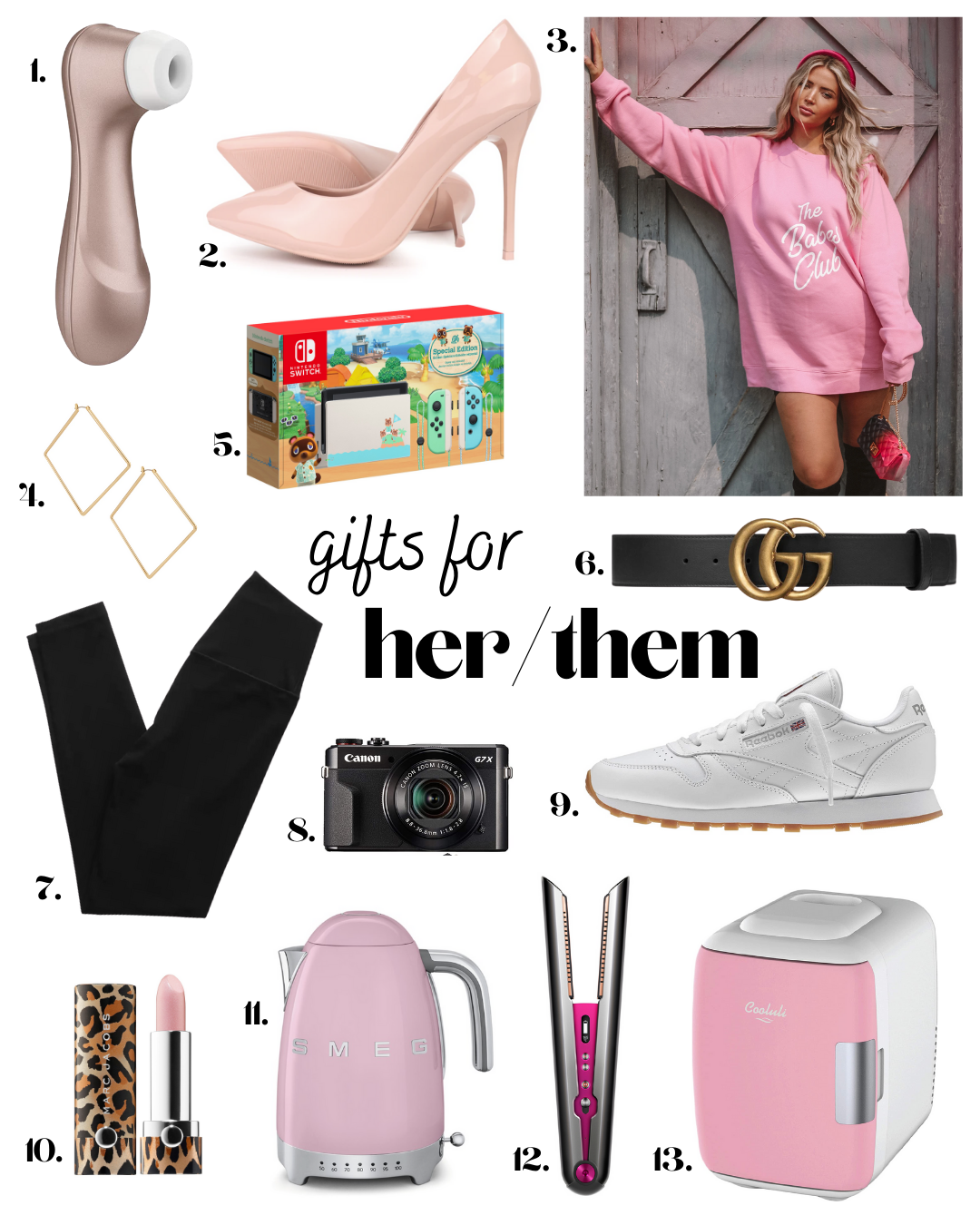 Every year I dream of doing a gift guide, and every year I think about it about a month too late. Not this year! We pulled this together with all the things I know and love and wish for, and of course – we have Shane giving his expert "this flashlight is the brightest in the world" contributions as well.
Enjoy! And happy shopping!
---
For the gifts for HER, I definitely went with just my personal faves. And yes, that starts with a self-love tool like the Satisfyer Pro 2 (trust meeeee…and I've given it as a gift about 3x now!). I tried to keep this list to things I know won't just sit in a drawer unused or unappreciated, I know this because they're my go-to's! Well, I don't own a Gucci belt, but I feel like it would be my go-to.
Satisfyer Pro 2 Vibrator | 2. House Of Hayla Heels* | 3. Brunette The Label x The Birds Papaya Babes Club Sweatshirt | 4. Uncommon James Girl Boss Earrings | 5. Nintendo Switch Animal Crossing Edition | 6. Gucci Leather Belt | 7. Aerie Offline Leggings | 8. Canon PowerShot G7 Camera | 9. Reebok Classic Sneaker | 10. Marc Jacobs Frost Lipstick | 11. Smeg Kettle | 12. Dyson Corale | 13. Cooluli Mini Beauty Fridge
All shops labeled * are BIPOC-owned
Shane was VERY vocal about what should be included on this list. For whatever reason, his first suggestion was that flashlight. Unlike me, who just uses the one of her phone, this one apparently is a big deal. Everything else we own and use a lot. That sweater? I got it for Shane 2 years ago, and almost all our guys friends have it too, in varying colours, real hit! The Whisky subscription, I got for Shane's birthday and he was beyond excited…especially when it started arriving. From beard-friendly facemasks, beer, garage things and more… here is the guy's guide.
Nintendo Switch | 2. UKeg Go Growler | 3. The Whiskey Concierge | 4. AE Workwear Beanie | 5. Gerber StrongArm Knife | 6. Beard Tarp | 7. Canon PowerShot G7 Camera | 8. Saxx Boxers | 9. Beer Flight Stand | 10. Noctigon K1 Thrower LED Flashlight | 11. Blundestones | 12. Snowy Fox Hoodie | 13. Garage Ceiling Storage Rack | 14. Settlers Of Catan
With SO many amazing small shops to choose from, this list was hard to make! So, I simply went with things I personally own and love, and a couple on my wish list 😉 Gifts from small shops online:
Large Boob Pot | 2. K'Pure Almond Cookie Room Spray*| 3. BluBoho Charm Necklace | 4. BluBoho Charm | 5. Please Notes Guided Gratitude Journal | 6. Sparkl Bands Upcycled Louis Vuitton Apple Watch Strap COUPON CODE BIRDSPAPAYA | 7. House Of Hayla Sneaker * | 8. Everlasting Candle Co. COUPON CODE BIRDS10| 9. Mumgry Peanut Butter * | 10. Cheekbone Beauty Lipstick * | 11. Wolf Dottir Please Leave Plate | 12. Land Of Daughters Candle * | 13. FitGlow Beauty Lip Colour Serum COUPON CODE TBP17 | 14. state of grace. Girls Blanket
All shops labeled * are BIPOC-owned
Gifts under $30 don't have to be cheap feeling. Have fun with it! There are some incredible options to make anyone smile!! Also, those wine glasses!!!
Custom Print Socks | 2. Friends Picture Frame | 3. Saje Clear Quartz Face Roller | 4. Britney Spears Vinyl Record | 5. Knix Leakproof Boyshort COUPON CODE THEBIRDSPAPAYA10 | 6. Ring Light & Tripod | 7. Disposable Camera | 8. Jillian Harris Fraiche Food Full Hearts Cookbook | 9. Tish Tortoise Jewelry Earrings | 10. Pink Toque | 11. Square White Wine Glasses | 12. Saje Peppermint Halo Roller