Shop
Valentine's Day Gift Guides (Self, Friendship, Romantic & For The Kids!)
January 30, 2023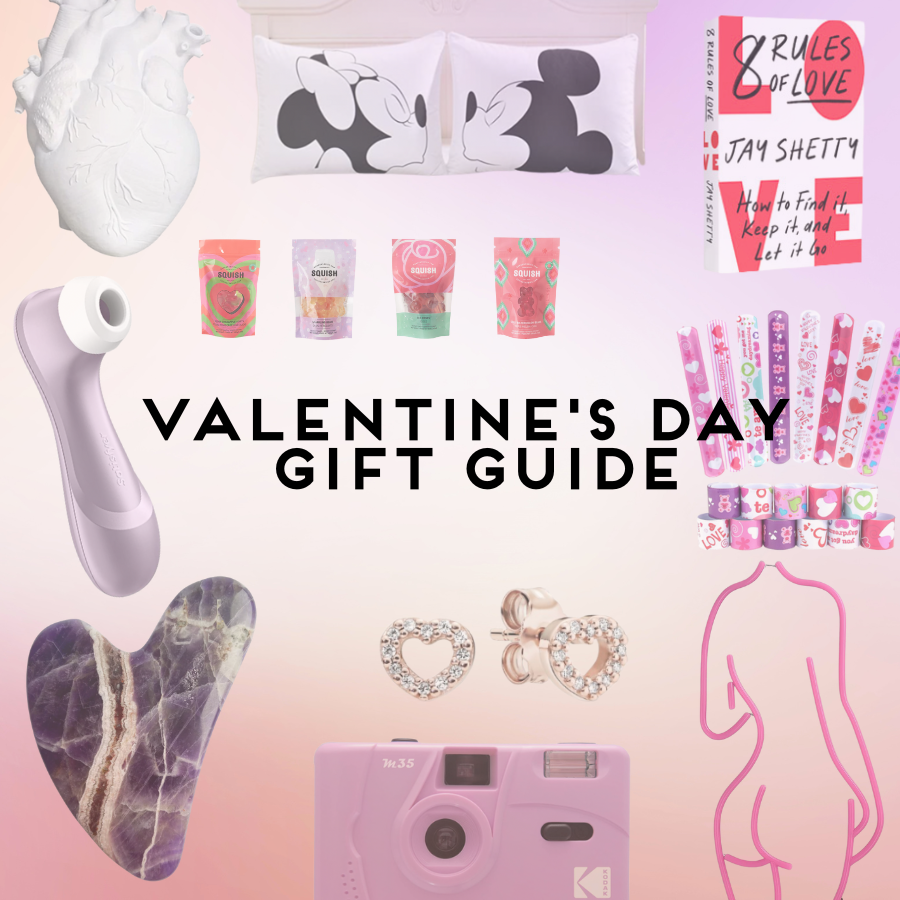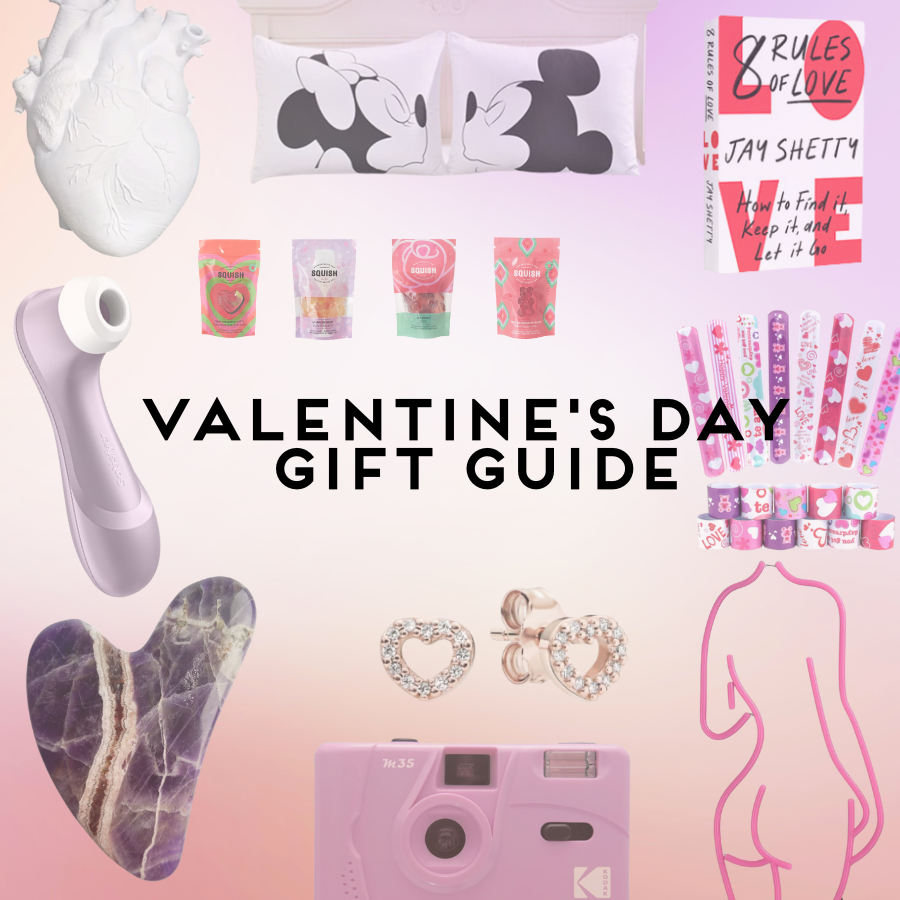 Listen, we get it. Valentine's Day is "so cringe" and a completely made-up holiday that is manufactured to make us do silly things or feel sad about our romantic status. On the other hand, IT'S A DAY THAT'S DIFFERENT FROM THE REST, AND SOMEHOW THAT FEELS SO COOL?!?! I remember being newly single after a long marriage/relationship and finding myself – for the very first time – smiling during a Valentine's Day, as I watched coworkers being sent flowers, or that night when I served tables to couples. I made my peace with the holiday because during that season I finally recognized how happy and loved I could be outside of a relationship OR in one. What a concept.
I still love to be a cheeseball and give gifts. I like to do little things for the kids and something to mark the day just a little more loving than normal (pink heart pancakes with pink milk is my specialty).
This gift guide isn't just for romance, because Valentine's Day can't own just one facet of love. This was made to be perfect for those planning a romantic night in, for the friendships that deserve to have a little bit of fun, AND most importantly, for the greatest love story of all: the relationship you have with yourself.
*links in this article may earn a small commission*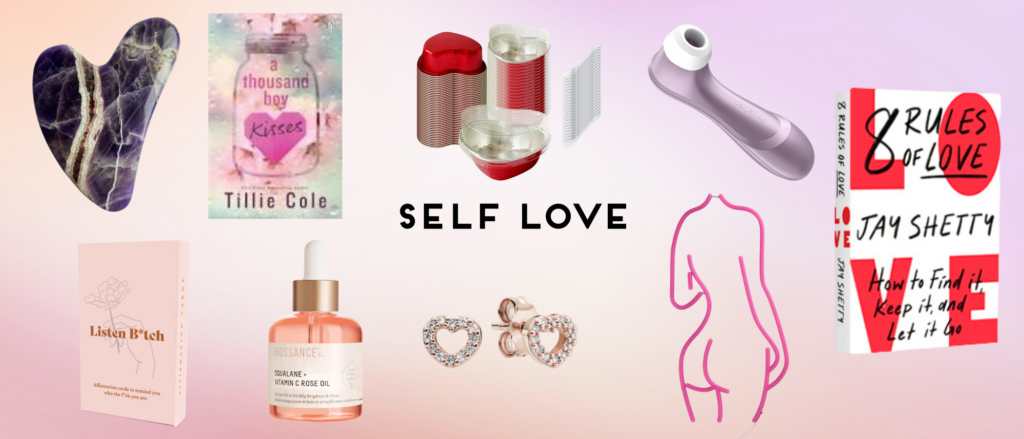 You've heard me rave about this product on my Instagram stories, and it is a wonderful addition to your daily skin care regimen. Plus it's shaped like a heart, which is so on the nose and I LOVE THAT FOR YOU.
Use this oil with your new Gua Sha. Trust me.
3. Buy Yourself The Damn Flowers
Need I say more? A lot of us are waiting to be saved, waiting to be seen, waiting to be loved, but what about saving yourself? Seeing yourself? Loving yourself? In the spirit of self-love, Get a Flower Subscription OR Make Your Own Bouquet and stop waiting for someone else to! It'll be a bonus if they do.
I just got this book myself! Written by the author of the #1 New York Times bestseller Think Like a Monk, this book offers a revelatory guide to every stage of romance, drawing on ancient wisdom and new science. Nobody sits us down and teaches us how to love. So we're often thrown into the world of relationships with nothing but romance movies and pop culture to help us muddle through. Until now. By living Jay Shetty's eight rules, we can all love ourselves, our partner, and the world better than we ever thought possible.
Who says you need to be alone? Why not pour out some love to some local furry friends in need!
You know my adoration for Pandora, and that it was a special place in my heart for gifts I've bought for myself, for friends, and my kids, and that it was the first piece of jewelry that Shane ever got me. These earrings are stunning, and the perfect self-love Valentine's Day gift that keeps on giving.
You need to hear it!
Why not buy "to-go" boxes for your home, but make them Valentine's Day? Whether you're using them on Valentine's Day or keeping them in your kitchen when you send a guest home with some goodies, they're a lovely way to package food, clearly made with love.
This neon sign is a perfect touch to your hot, romantic, self-love life.
Ah yes, the vibrator that over 50,000 people clicked the link on when I talked about it in my IG stories. Since then, I've bought this vibrator for 3 of my friends. Need I say more?
DISCOVER THE UNFORGETTABLE TIKTOK SENSATION THAT HAS CAPTURED MILLIONS OF HEARTS
You may remember this iconic book from TikTok, and it is totally worth the hype. It is breathtakingly, heartbreakingly beautiful, and you will cry ugly tears, but in like, the best way possible!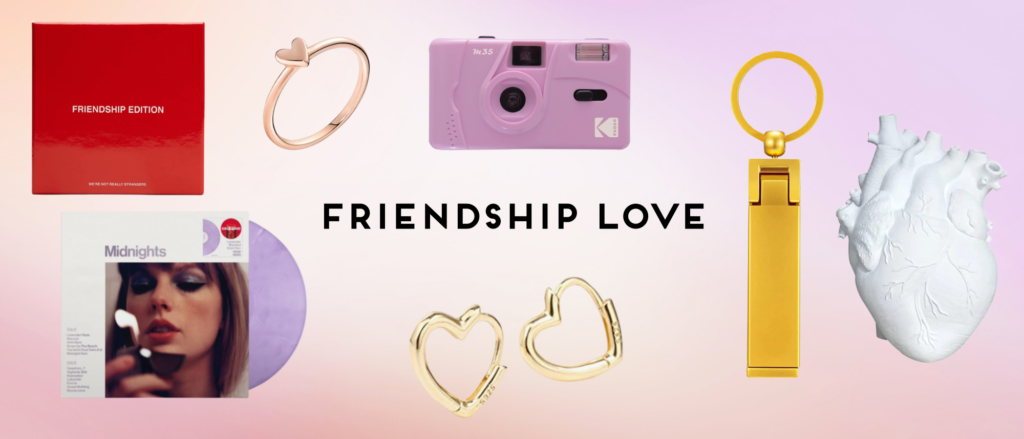 The ultimate thoughtful, pretty and practical gift for your Galentine, the bag hanger is everything you wish you had but are unlikely to get for yourself. Why not get it for the pal in your life?
Film is BAAAACK and it's giving friendships a chance to put down the phones and pick up the camera.
For the Swiftie!
This game was made by best friends for best friends to play Three levels, 150 questions and wildcards. If you don't think you and your friends can get any closer, then this game is for you!! Warning: feelings may arise!
5. Go To a Comedy Club For Some Laughs
Google Search "Comedy Near Me" and several events pop up! Some free, some paid, all very funny.
Another Pandora favourite, this is such an awesome gift to unbox for the special friend in your life you want to really go the extra mile to show you love.
Yes, these are gold-plated but they last so long and are super cute. Why not buy yourself a pair too and make these a modern take on the friendship bracelet?
HOW COOL IS THIS? For the nerdy, literal, or punny friend in your life, this truly is a unique and thoughtful gift.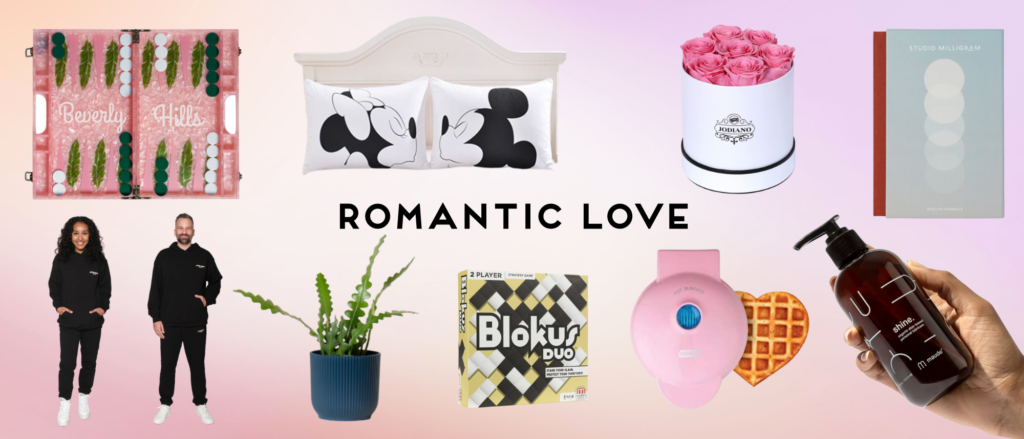 The trend for unique Backgammon boxes is growing, from Christian Dior to Jonathan Adler, and even the MoMa. Not only is this game a fun way to connect with a loved one in your life, but is also a stunning piece of decor. This Beverly Hills hotel backgammon is IT!
We love a matching set, and we love Star Wars. Need I say more?
What else to showcase the importance of taking care of the things you love like a plant you may kill without it?
4. Recreate Your First Date
This can be as unique as you wanted to be, from the food that you eat on your first day, to the setting that you went to, or maybe the song that you heard that day. Nostalgia can be a great tool to connect you with your honey and recreating how you're a love story all began is the perfect way to do so.
Get creative, and leave the rest to the lube.
The "Family Life" weekly diary includes space for action lists, budgeting, meal planning, and more so make sure that you and your partner are literally on the same page.
Did you know the voice actors for Mickey and Minnie got married in real life? SEE? Love.
Now in a two-person board game!
Like I mentioned at the beginning of this article, I love to go the extra mile on this day, making pink pancakes with pink milk, and why not take that to the next level and make heart-shaped waffles with the same recipe?
Because true love is eternal, isn't it? These won't have your garbage smelling of old dead flowers a week from now.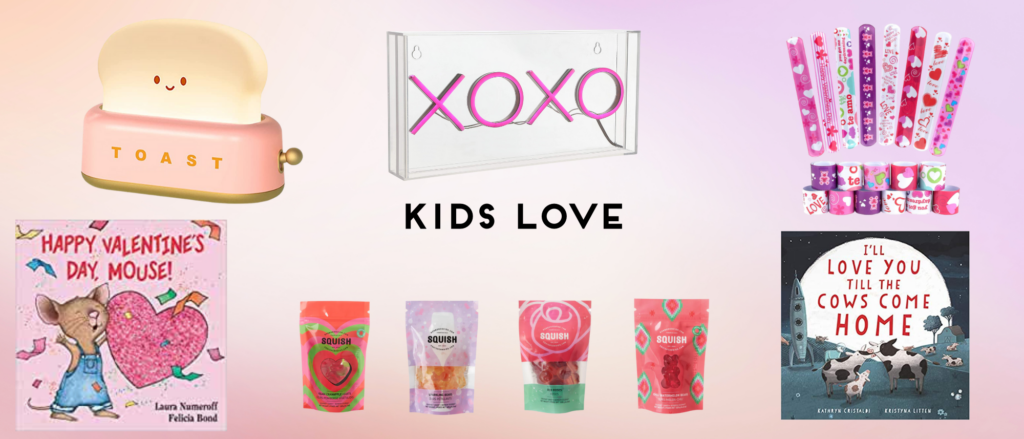 It brings me so much joy that slap bracelets are still super popular with the kids, and these Valentine's Day-themed ones come in multi-packs for you to give to many young people in your life, or for them to give to each other.
We always like to have special books for occasions! This book series is SO CUTE.
Two great books and keepsakes to show how much you love the littles in your life. Also great if you have a kid obsessed with cows (I'm right there with you).
This will earn you instantaneous cool factor points for ideal room decor but is also a lovely way to show your kiddo that the x's and o's are infinite.
You know how much Lemmie loves toast in our home, and now the toast-loving toddler in yours can enjoy it all the time! We got this for Lemmie for Christmas and she loves the little switch off/on.
Squish is the best, and their Valentine's Day collection of gourmet gummies has all the sweetest gift ideas and kids-love snacks — it's yum at first sight!
In Conclusion…
Whichever way you choose to celebrate this day – or if you don't celebrate it at all – is super awesome and valid. But one thing to know: you're loved! xoxo.