Home
Everything You Need For The Perfect At-Home Mocktail Bar Cart
January 19, 2023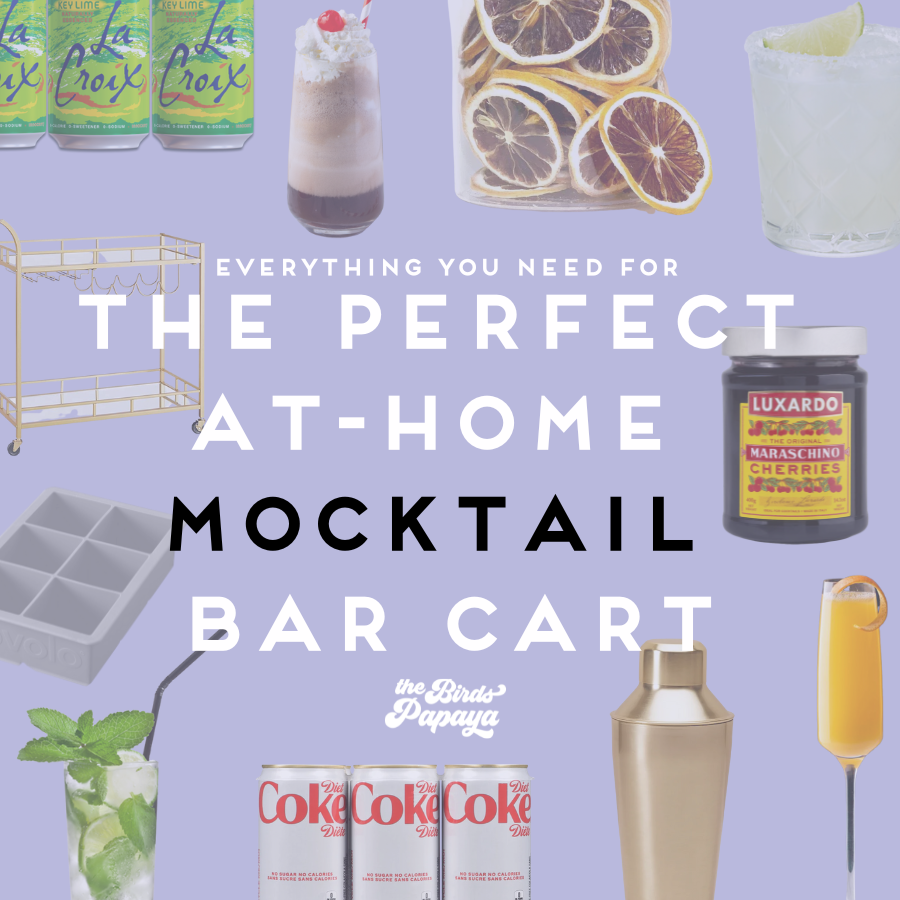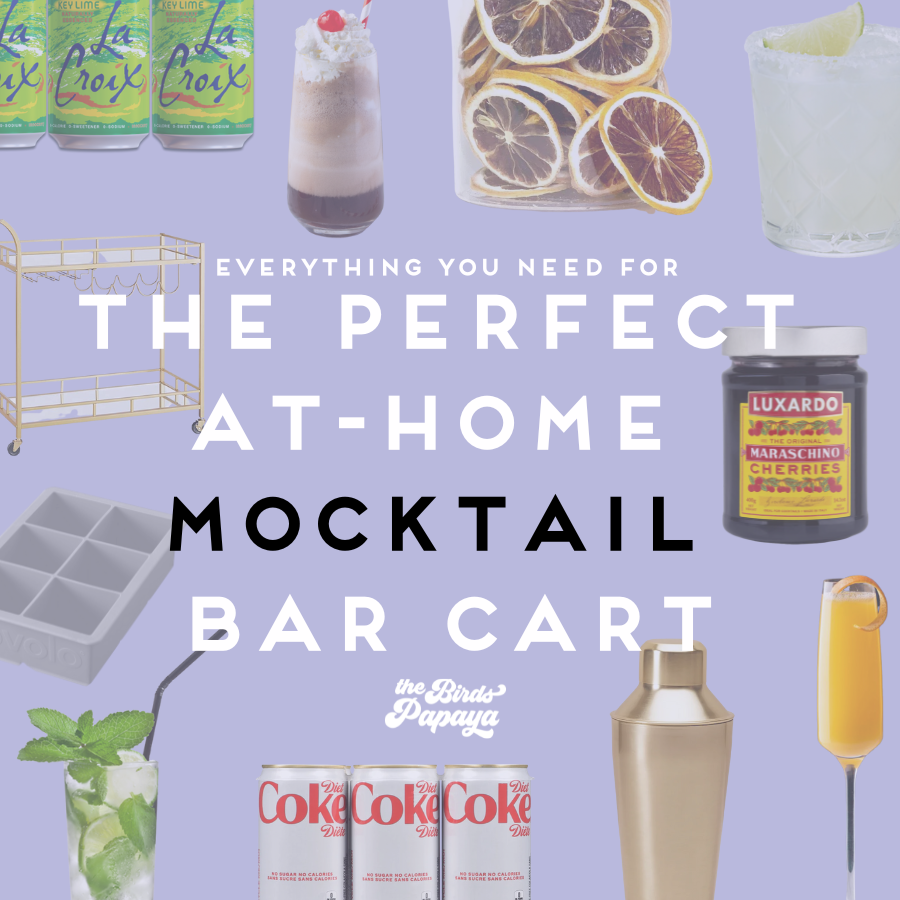 There are many reasons that people in my life and otherwise are Alcohol-Free, reducing alcohol intake or practicing a sober lifestyle, and in my own experience, alcohol was causing debilitating migraines that were affecting my quality of life. 7 months alcohol-free and everything has changed for the better. While I know this isn't the move for everyone, in having a number of conversations, one barrier that prevents people from making this leap – permanently or temporarily (like dry January) is that they don't know what to replace their glass or wine or bottle of beer with. Sometimes it's a new activity entirely, which is great, but let's just say you're someone who loves the process of creating a cocktail and entertaining, or having a non-alcoholic mixologist's special because you're DD, or if you just aren't enthused by the idea of sipping on pop or water as your only options, then we have just the thing for you!
Also, if you're a host, it's a great way to create a more inclusive environment for your guests! Trust me, it makes you feel SO special to be offered a mocktail.
In this article, you'll get the rundown on everything you need to stock the perfect At-Home Alcohol-Free Bar Cart, as well as recipes to enjoy when you're with company or want to do something a little ceremonious, without the alcohol content. 
(use code: thebirdspapaya10off)
Essentials
Cocktail Shaker. This one is a no-brainer.
Muddler. The muddler is a bar cart essential typically forgotten about but is essential in bringing out the flavour of fruit and herbs in a cocktail.
Strainer. When you're mixing cocktails with muddled ingredients, using a strainer will help to remove the pulp.
Jiggers are ideal for measuring amounts perfectly.
Cocktail Spoon. 
Citrus Press. 
Cutting Board. 
Bar Knife.
While I'm a DC-with-some-lime girlie, and that will always be a wonderful and preferred option of mine, here are a few of my favourite cocktails to inspire you and your new bar cart.
Diet Coke and Cream
If you've followed me for a while, you know that I have an affinity for the Swig Dirty Diet Soda, and more recently with the campaigns around Pilk, the idea of mixing pop and cream is increasingly more intriguing, and with good reason: it's delicious. Here's how to make one at home.
Ingredients
1-2 pumps coconut syrup
2 teaspoon cream of your choice
1 16 ounce diet cola
*optional added whip to top!*
1 maraschino cherry (as garnish) 
Instructions
Place ice into your cup and then add the soda.
Pump your coconut syrup and stir.
Pour your cream into your cola.
Add a cherry on top, and enjoy!
Margarita Mocktail
Is it Taco Tuesday and you're at a loss for libation inspiration? Well, look no further! Here is your non-alcoholic mocktail spin on a classic margarita.
Ingredients
1 ounce (2 tablespoons) fresh lime juice
½ ounce (1 tablespoon) fresh lemon juice
¼ teaspoon maple syrup or simple syrup
⅛ teaspoon pickle juice**
3 ounces tonic water
For serving: Lots of ice
For the garnish: Lime wheel
Why Pickle juice? Adding intrigue to the flavor of a mocktail is essential to making them more than just fruit juice. It's customary to experiment with all sorts of things, including non-alcoholic spirits. But we didn't want to add a special ingredient you'd have to purchase specially.
That's where pickle juice comes in! It brings a briny funk to this virgin margarita that makes you feel like there's a little alcohol in it. But it's not so much that it's noticeable! It's also totally optional, so you don't have to do it if it weirds you out. But after multiple taste tests, pickle juice in a non alcoholic margarita was the clear winner!
Instructions
Cut a notch in a lime wedge, then run the lime around the rim of a glass. Dip the edge of the rim into a plate of flaky sea salt (or for a festive look, use Margarita Salt).
In the serving glass, add tons of ice, stir together the lime juice, lemon juice, maple syrup, and pickle juice (adds just the right funky flavor to mimic tequila).
Add the tonic water and ice.
Garnish with a lime wheel and enjoy!
Mojito Mocktail
A twist on another classic, this mojito mocktail has all the minty flavor of the original, without the rum. The best part about this recipe is that it's pretty easy
Ingredients
6 mint leaves, plus additional for garnish
1 ounce (2 tablespoons) lime juice
½ ounce (1 tablespoon) simple syrup
4 ounces (½ cup) soda water or tonic water
For serving: Lots of ice and mint leaves
Instructions
In a cocktail shaker, muddle the mint leaves.
Add the lime juice and simple syrup.
Fill a cocktail shaker with ice and shake until cold.
Place ice into a glass, and strain in the drink.
Top off the glass with soda water.
Add ice and garnish with additional mint leaves.
Virgin Mary / Virgin Caesar
A Canadian brunch staple, The Bloody Mary and Caesars are typically made with tomato or clamato juice (respectively) and a spirit and is the most popular brunch cocktail. The great thing about this drink is that it's so full of flavor, it's easy to cover up that there's no alcohol in it, but to maintain the signature zing, in addition to horseradish and Worcestershire sauce we add olive juice. Yep, olive juice or the brine from a jar of olives can help to stand in for a little of the "funky" signature flavour you'd normally get from a spirit.
Ingredients
2 cups tomato or clamato juice, chilled
¼ cup fresh lemon juice
2 teaspoons Worcestershire sauce (vegan as desired)
2 teaspoons prepared horseradish
2 teaspoons olive juice / brine (optional)*
½ teaspoon Tabasco hot sauce
½ teaspoon celery salt
⅛ teaspoon black pepper
Ice, for serving (try clear ice!)
For the rim: Old Bay seasoning (purchased or homemade) and kosher salt
For the garnish: celery, lemon wedge, olive, cocktail onion (use cocktail picks if desired)
Instructions
In a large cocktail shaker, combine the tomato or clamato juice, lemon juice, Worcestershire sauce, horseradish, olive juice, Tabasco, celery salt, and black pepper. Shake well to combine (without ice). Strain into a quart mason jar or small pitcher.
To serve, on a plate place a mixture of roughly half kosher salt and half Old Bay seasoning (or celery salt).
Cut a notch in a lemon wedge, then run it around the rim of a glass. Dip the edge of the rim into a plate of salt.
To each glass, add ½ cup of this mix.
Fill the glass with ice and add the garnishes.
Non-alcoholic Mimosa
The mimosa is a classic 2-ingredient invented in the 1920s at the Ritz Hotel in Paris, and in a similar way to the bloody Mary or a Caesar, it is a brunch classic. It's typically made with orange juice and champagne, but in our twist, swap ginger ale for champagne.
Ingredients
4 ounces (½ cup) ginger ale
2 ounces (¼ cup) fresh orange juice, chilled
1 ounce soda water
Instructions
Tilt the champagne flute and pour in the ginger ale.
Pour in orange juice.
Add splash of soda water, and enjoy.