Shop
Our 2021 Holiday Gift Guides – For Him, Her, Them, Small Shops, Teen, Baby, and For the Family
November 25, 2021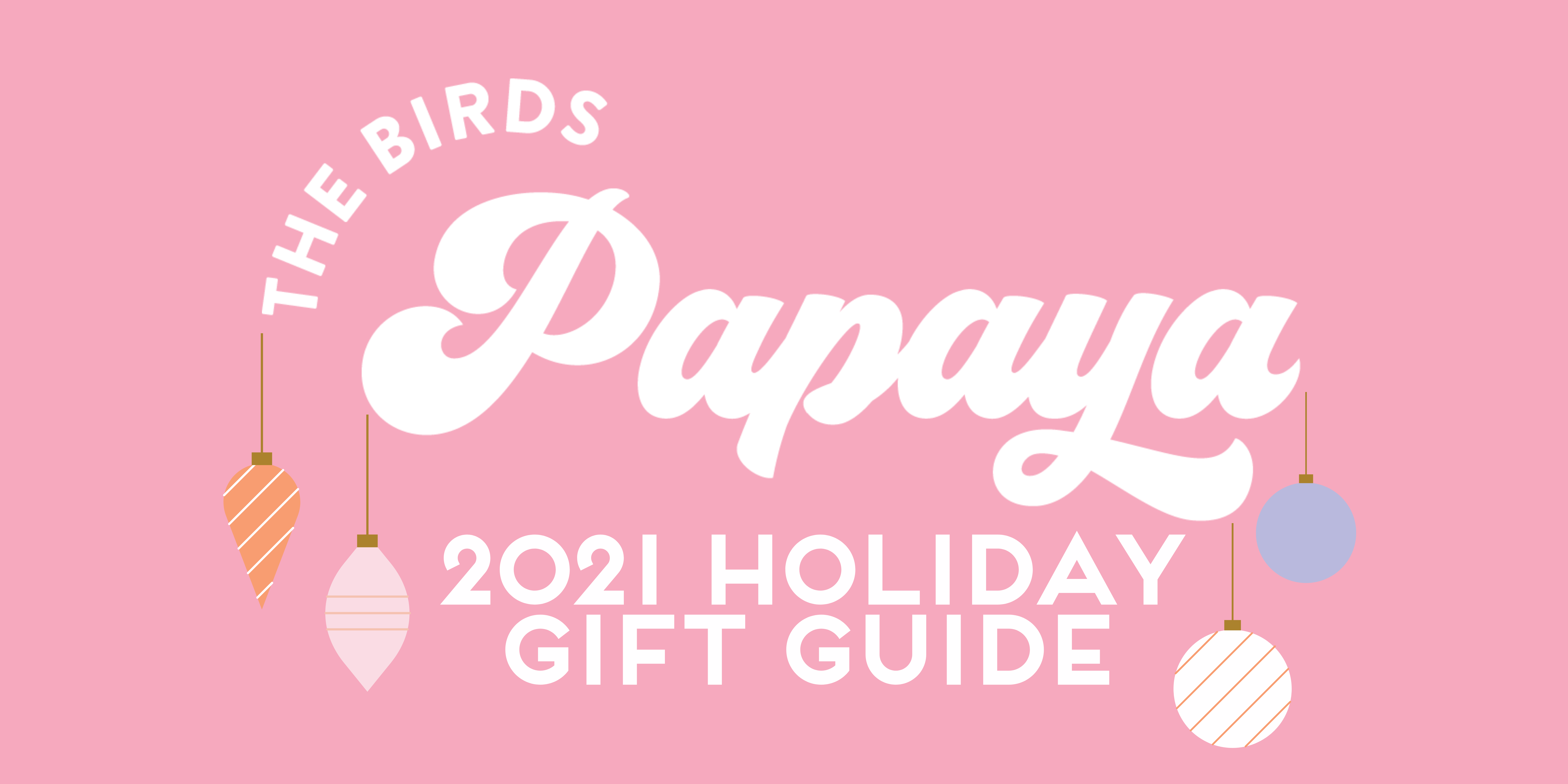 Gosh, are you feeling it?
The holiday spirit?
The indigestion and gift-giving anxiety?
Yeah, me too.
I used to be the kind of woman who had TIME to stroll, shop, read the catalogues and pick out all the best things. I would be armed with the wrapped gifts and the homemade ones, too.
I am not that woman anymore, and that's ok!
Many of us rely on the handiwork and advice of others to get our gift-giving in order.
Last year, we wanted to contribute back into this system of idea-generating and thoughtful gifting, with some of my faves, my kid's faves, my husband's faves (yes, even that "world's brightest flashlight" which he still adores, by the way).
I typically do all my shopping based on recommendations I find online and from others. Knowing this, this year, we expanded. Bigger and more gift guides. Tangible ideas, small shops, small budget, and SHOWSTOPPERS for that big splash. When I say this was a labour of love, I mean, we probably could have done a Hallmark movie about it!

So enjoy. Relax. Breathe. We got this,
Back into the holiday spirit and out of our gift-giving worries.
We give you, The Birds Papaya 2021 Holiday Gift Guides!
Gifts For Her/Them
This list really is a gal's dream, a mix of faves and staples that I'll always say yes to, and luxury items like the Gucci slides and the Mejuri paper clip necklace and Fable Home dining set that are extra special.
The Nintendo Switch OLED is a slight upgrade to the switch I love, and Dolly Parton on vinyl? How very cool.
Items like the Do It For Yourself journal, Mac retro lipstick and Frank Bod original coffee scrub, and Cocktail shaker make for the perfect stocking stuffers.
The Papaya Slip Dress will be a staple item to wear over the holidays, (and it comes in 5 other colours) and the jeans and cardigans can be layered when worn.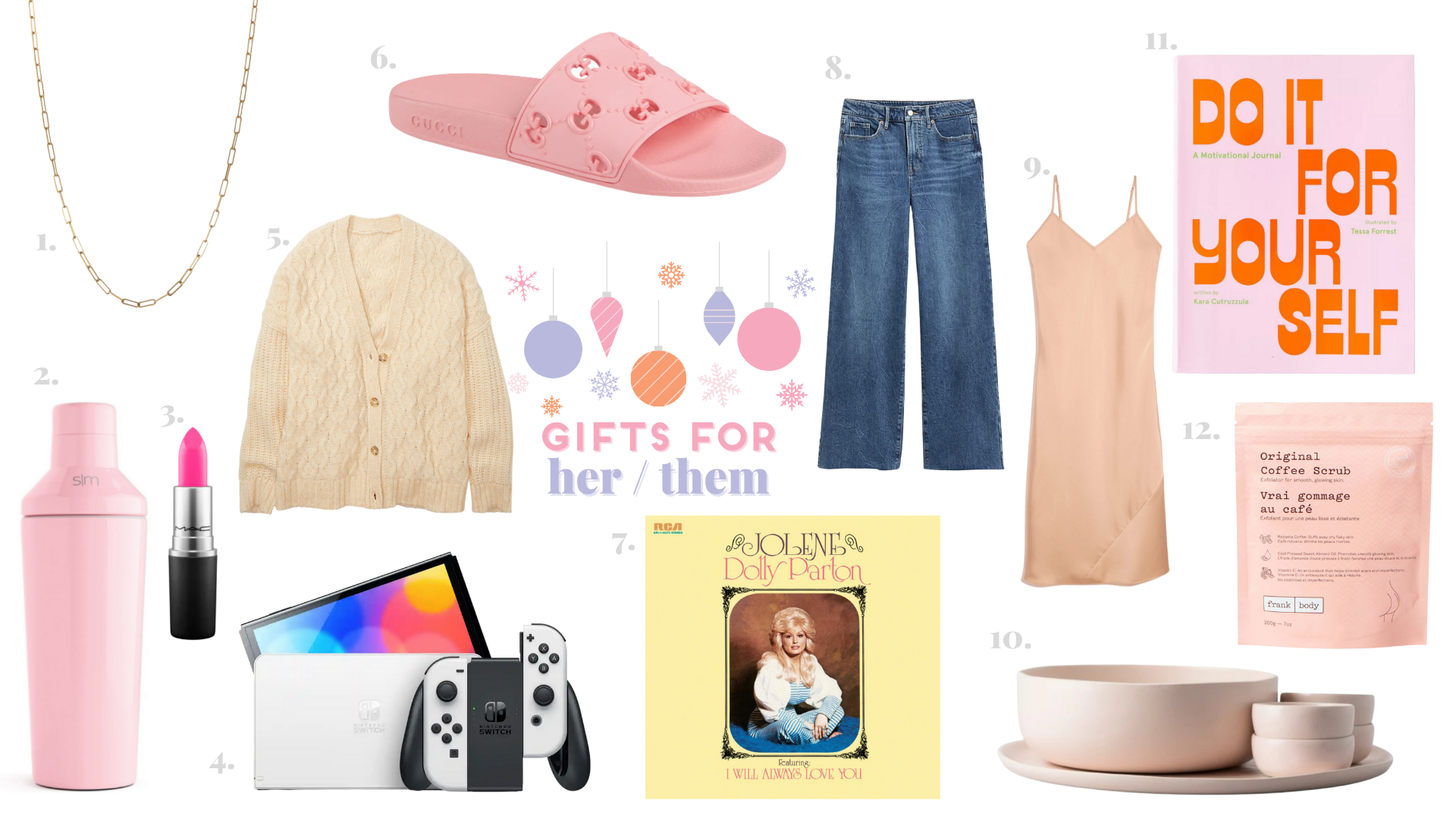 1. Mejuri Necklace | 2. Cocktail Shaker | 3. Mac Retro Lipstick – Candy Yum Yum 4. Nintendo OLED | 5. American Eagle Cardigan | 6. Gucci Slides | 7. Dolly Parton on Vinyl | 8. Old Navy Wide Leg Jeans | 9. The Papaya Slip Dress in Pink Champagne _ 10. Fable Home Dining Set | 11. Do It For Yourself (guided Journal): A Motivational Journal | 12. Frank Body – Original Coffee Scrub
Gifts For Him/Them
We all remember how vocal Shane was about what needed to be included in the holiday gift guide last year, and this year was no exception! The fun part about shopping for him/them is that I get to live vicariously through their experience, so this list was curated with that in mind.
The custom prints for the sneakerhead who prides himself /themselves on their shoe collection, and the Masterclass subscription for those who are perpetual students of life.
Last year we featured Catan, but this year this is the 3D version that takes that obsession to the next level.
The Nintendo Switch obsession continues, and the NBA 2K22 release comes just in time for the holidays.
Good books, a great jacket, beauty products, booze, and a very cool fixy bike for that show-stopping gift.
My personal fave? A custom branding iron for leather, meat, and wood that gives that special touch to all the finer things in life.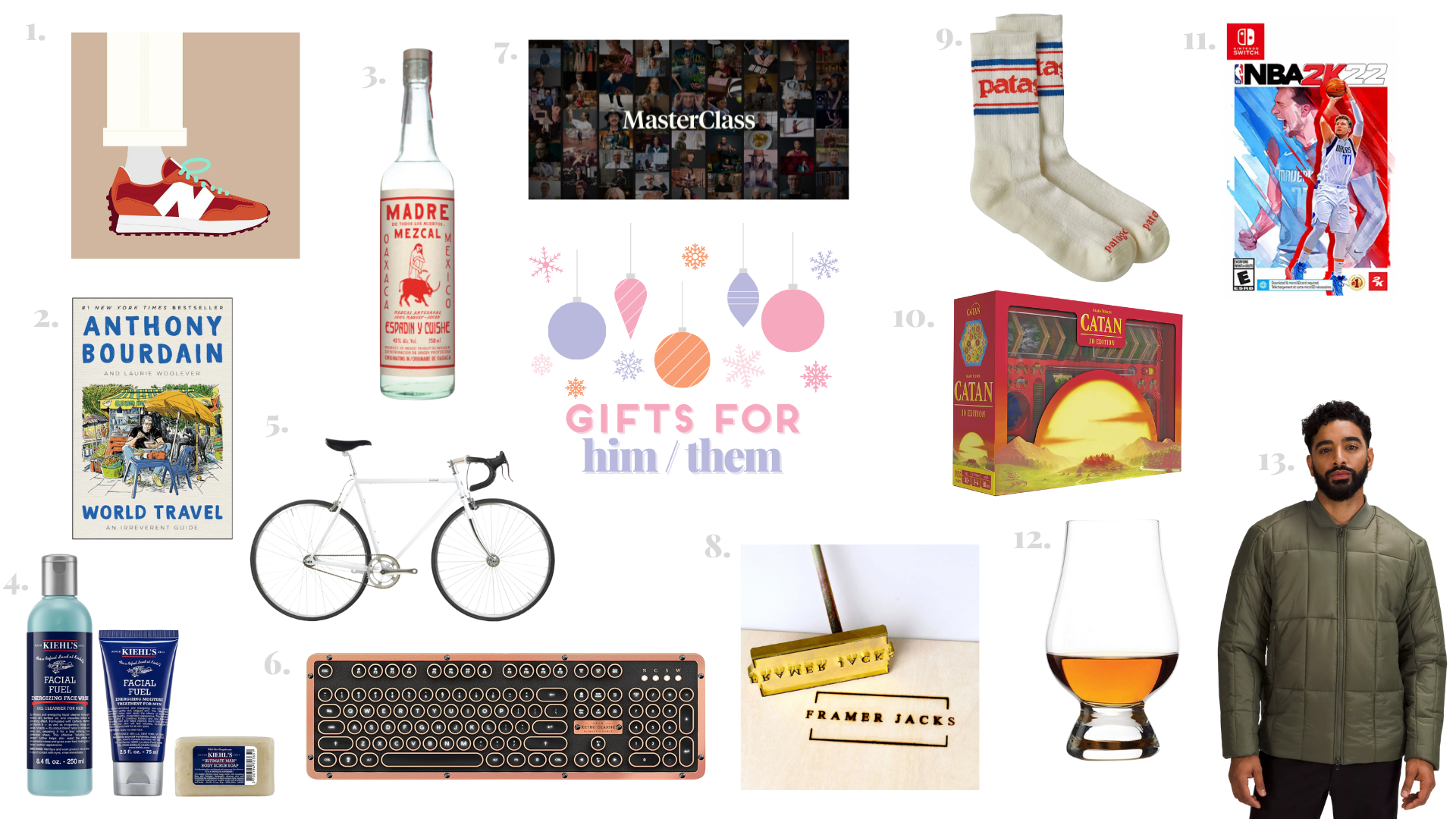 1. Monsieur Saturday Custom Print | 2. Anthony Bourdain – World Travel | 3. Madre Mezcal | 4. Kiehl's Facial Fuel | 5. Lochside 1 Speed Bicycle | 6. Luxury Vintage Backlit Mechanical Keyboard | 7. Masterclass Membership | 8. Custom Branding Iron | 9. Patagonia Socks | 10. Catan 3D | 11. NBA 2K22 for Nintendo Switch | 12. Whisky Drop Membership | 13. Insulated Bomber Jacket
Gifts From Small Shops
2021 has given us so much, including an array of amazing small businesses that we have discovered and love to support. This list was tough to pare down with all the amazing small shops we really love.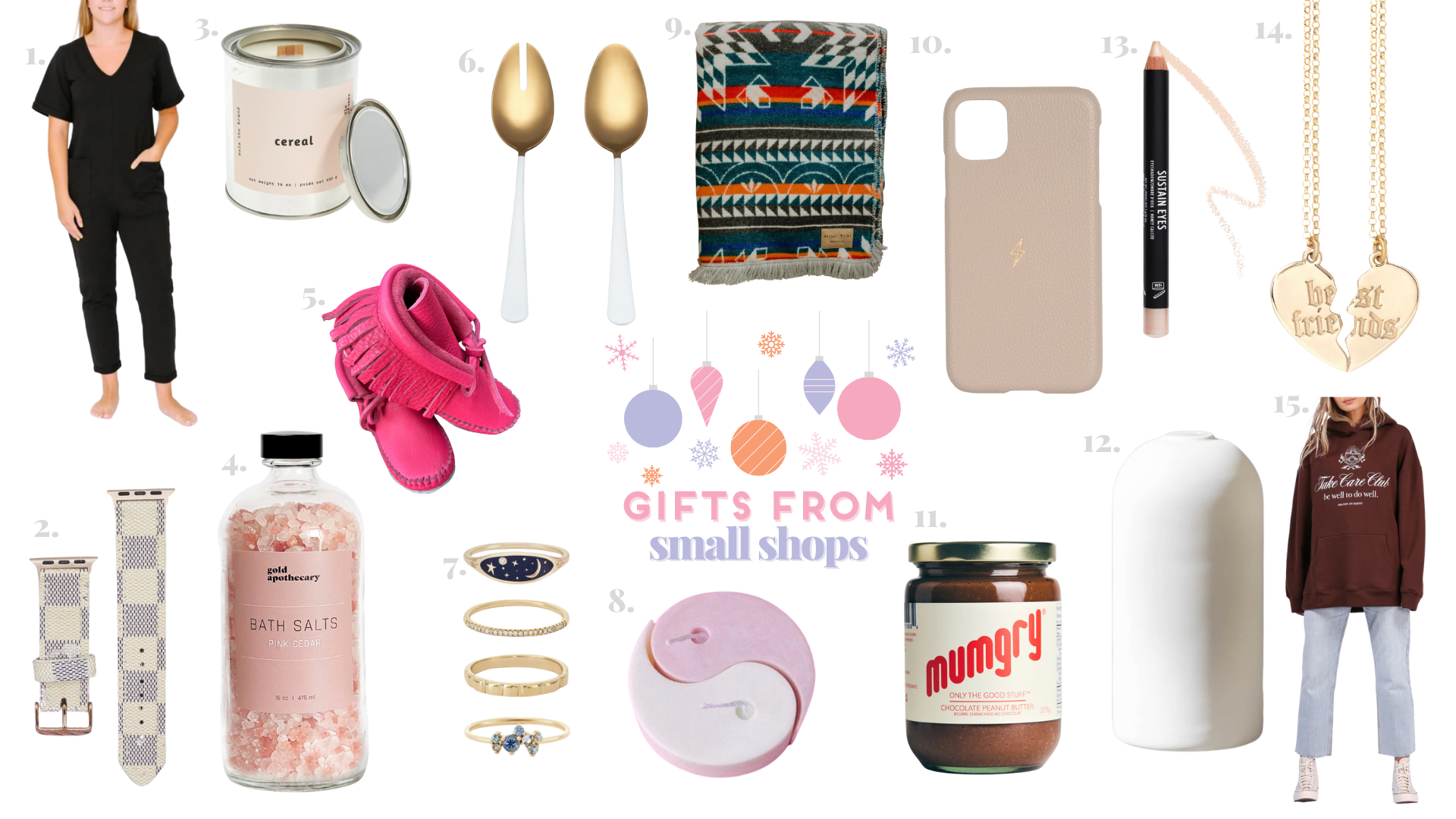 1. Smash & Tess Aria Romper | 2. Spark*l Bands – Designer Up-Cycled Apple Watch Bands | 3. Mala the Brand – Cereal Candle | 4. Pink Cedar Bath Salts – Gold Apothecary | 5. Pink Fringe Moccasins | 6. Fable Home Serving Spoons | 7. Bluboho Rings | 8. Moonwix Yin Yang Candle | 9. Nibi Eco-Friendly Everyday Blanket – Mini Tipi | 10. Ela Phone Case | 11. Mumgry Chocolate Peanut Butter | 12. Everlasting Candles – Wylie White Vase | 13. Cheekbone Beauty – Sustain Eyes Eyeliner | 14. Lucia Rose Jewelry – Best Friends Necklaces | 15. Brunette The Label – The Take Care Club Big Sister Hoodie
Gifts for Teens
Ohhh, teenagers! A challenge to shop for, but also a fun experience to relive, because this age demographic really is so great! This list was made with my own kids in mind, and has a mix of function and fun, with dream gifts that they're crossing their fingers in hopes of receiving, plus a few things that they probably don't think they need but will be thankful for.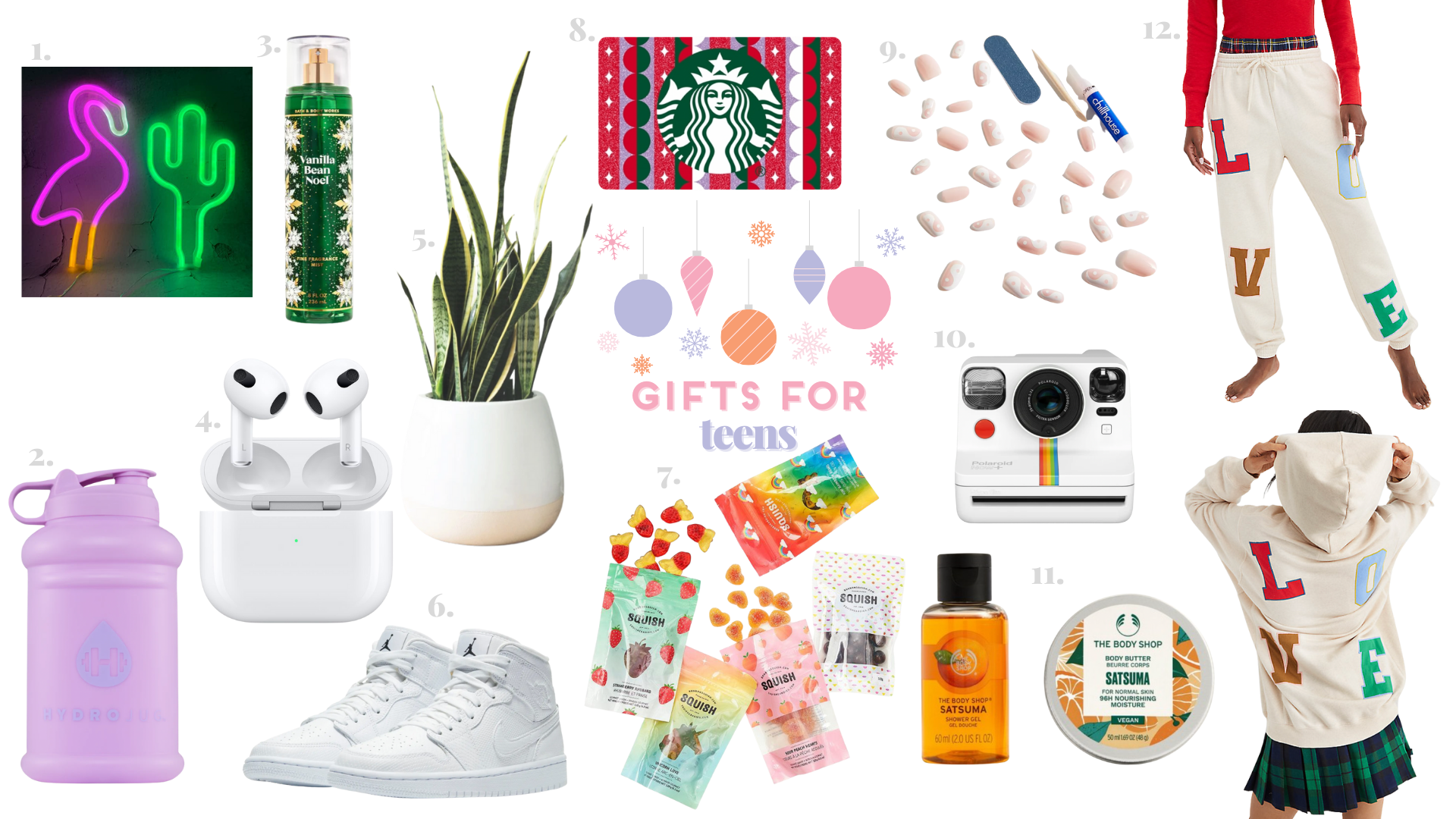 1. Neon Sign | 2. Hydrojug 3. Bath & Body Works – Vanilla Bean Noel Body Spray 4. Airpods | 5. Plant Collective | 6. Air Jordan Retro 1s | 7. Squish Candy | 8. Starbucks Gift Card | 9. Chillhouse Press-on Nails | 10. Polaroid Camera | 11. The Body Shop – Satsuma Gift Set | 12. American Eagle Sweatpants & Hooded Sweatshirt
Gifts for Baby
The truth is that gifts for babies are really gifts for mommy and daddy, the wants and needs for their growing bundle of joy and memorable keepsakes. Some of these are classics – Sophie will always welcome, and Hello Bello diapers are basically the gift that keeps giving, but when you look back on some memories when baby is older, these are the things that are part of making an already extraordinary experience even more phenomenal.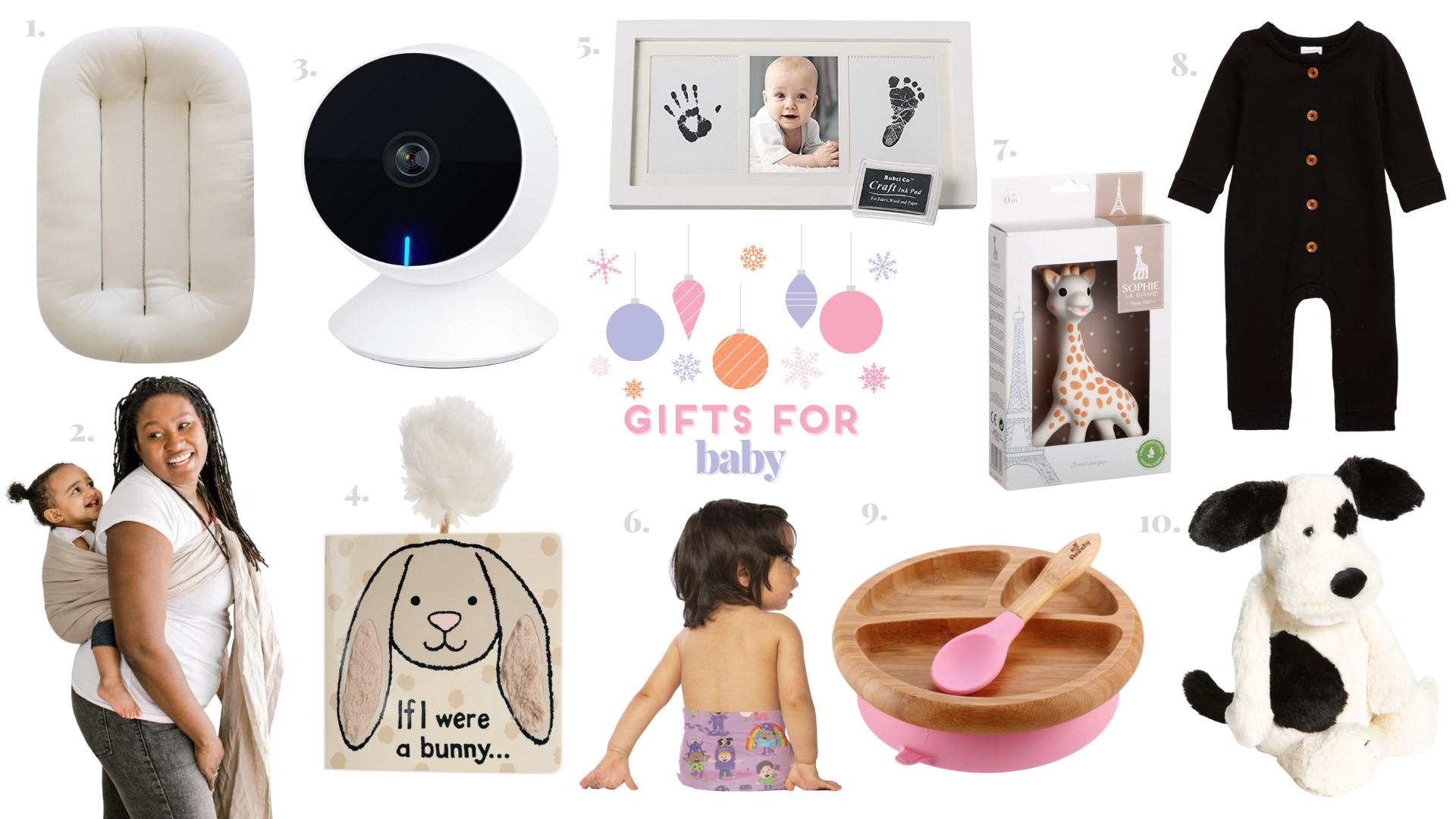 1. Infant Lounger | 2. Heritage Baby Designs Sling Ring | 3. Wi-fi Baby Monitor | 4. If I Were A Bunny | 5. Baby Handprint and Footprint Frame Kit | 6. Hello Bello | 7. Sophie | 8. Baby Long Sleeve Romper | 9. Avachy Baby Bamboo Stay Put Suction | 10. Jellycat – Bashful Puppy
Gifts for the Family
The holidays really are about family and friends gathering to celebrate together, and with that in mind, each of these gifts are meant to be enjoyed collectively. From enhancing the movie-watching experience, to puzzles and matching pajamas, and gifts that don't only have to be used during the holidays, this list is the ultimate facilitator to make seemingly ordinary memories, extraordinary.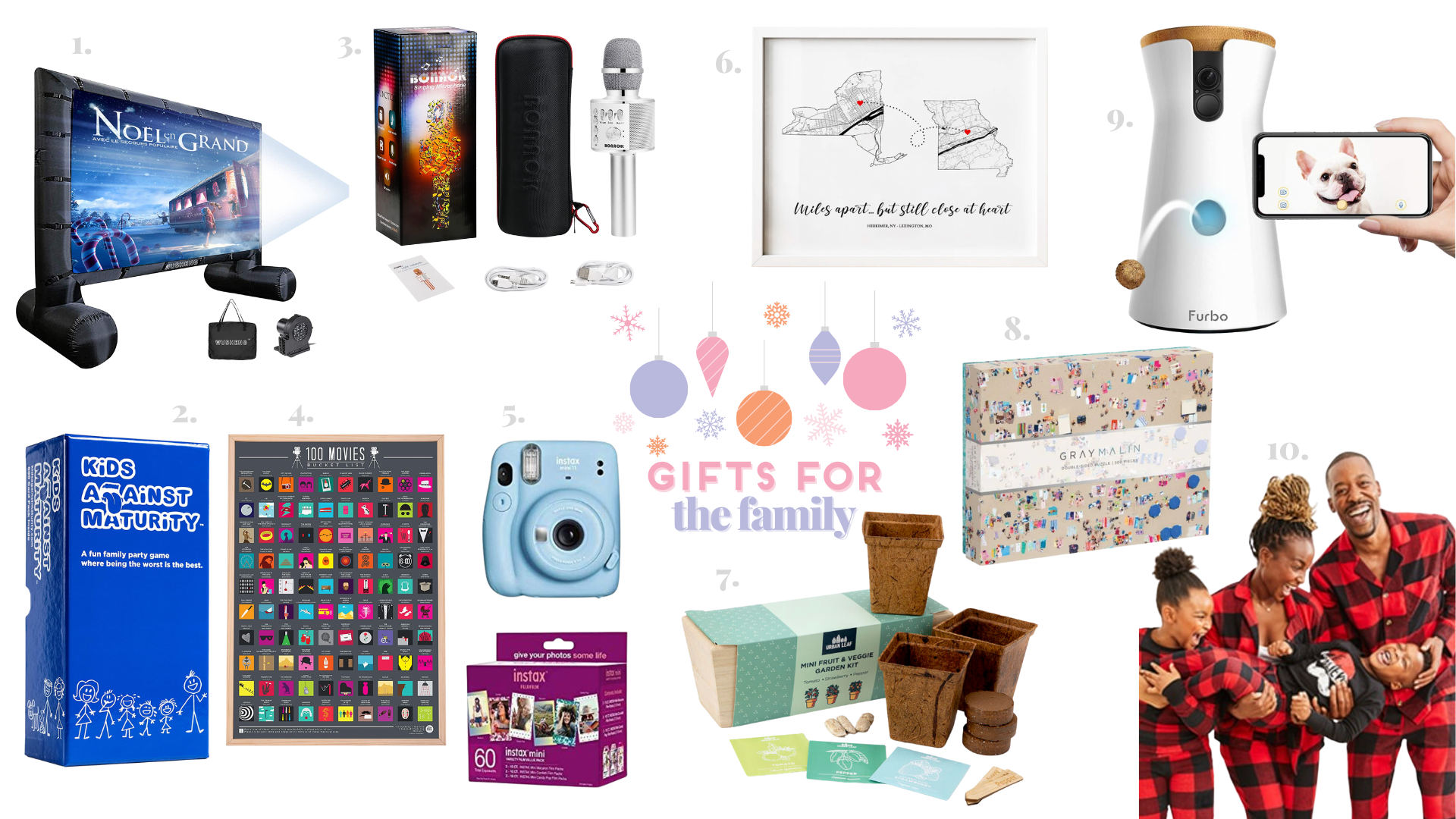 1. Projector | 2. Kids Against Maturity | 3. Karaoke Mic | 4. Bucket List – 100 Movies Scratch Poster | 5. Instax Camera | 6. Long Distance Geography Frame | 7. DIY At Home Plant Kit | 8. Gray Malin Puzzle 9. Furbo | 10. Old Navy Matching PJs