Review
What One Is For You: iPhone 12 OR 12 Pro? (Review)
October 20, 2020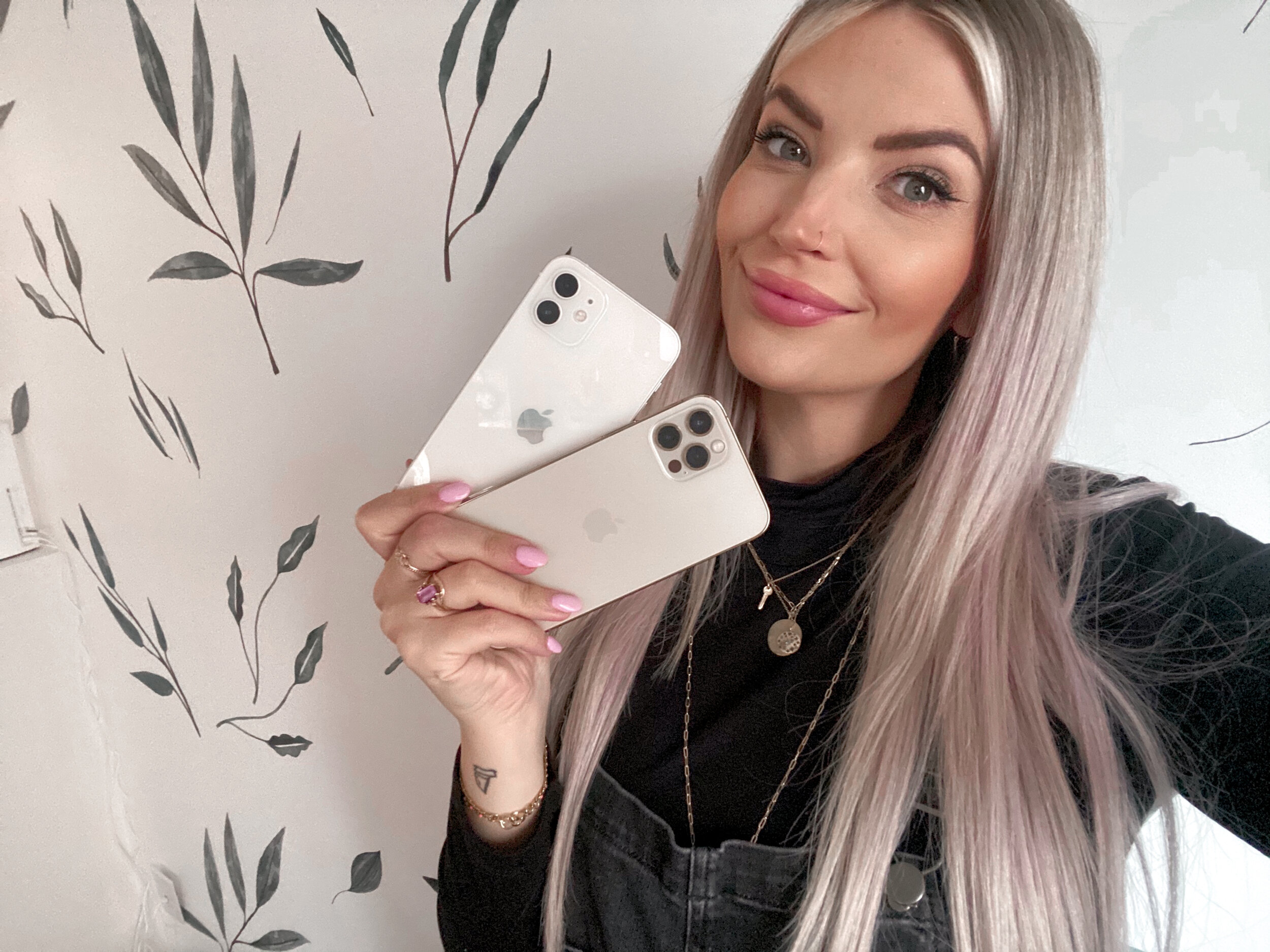 The iPhone 12 and 12 Pro have been revealed and they are outselling last year's iPhone 11 releases. Surprised? Let's talk about all the iPhone 12's have to offer and why so many jumped to get their hands on one so fast.
Year-over-year it can often be hard to really see the impact of the changes between the iPhones, but the iPhone 12 leveled up. On a tech level. On a speed (hello, 5G!) level. On a camera level. On a durability level. It's noticeable, to say the least.
As for me? Well, I'm no techie. In fact, I just found out was 5G even was. But, I'm a huge Apple fan. That's for sure. My entire business runs on Apple products and has more and more so as the years go on.
In my personal and business life, iPhone's have been without a doubt my biggest investment piece. Therefore, I typically get the new iPhone as soon as I can.
This year, I got the opportunity to get my hands on an early release of the iPhone 12 and 12 Pro for the purpose of reviewing. Hopefully, to help guide you through one of the bigger launches in an Apple product in recent years, based on its already wild pre-orders.
Let's go through the 12 and the 12 Pro. What's different, what's the same, what should you choose?
BOTH:
5G Support

A14 Bionic processors

OLED displays

Rear 12MP Wide (f/1.6) & 12MP Ultra-Wide (f/2.4) Camera Lens

Front 12MP TrueDepth (f/2.2)

Water Resistant up to 6 meters for 30 minutes!

4x Better Drop Performance/Durability with Ceramic Shield (strongest smartphone glass on the market!)

MagSafe (for charging and accessories)

USB-C to lightning charging cable

Night mode photography

Portrait Mode

Dolby Vision: The first cameras to shoot in HDR video with Dolby Vision
Where PRO Levels Up:
Triple Rear Camera (Adds the 12MP telephoto lens)

Night mode portrait mode

LiDAR scanner for Night mode portraits, faster autofocus in low light, and next-level AR experiences (this will come into play a lot more with upcoming augmented reality social media filters and more)

Up to 512GB Storage options (which, if you're taking a lot of photos and videos, will matter to you)

Smoother HDR Videos

Stainless Steel Housing Edges
Here are some thoughts, initially…
They are very similar, but if this purchase for you will be part of your daily business life, let alone content creation… go a little further and get the Pro. A big reason: later in 2020, ProRAW is coming. What is ProRAW? The coming ability to capture RAW images with your iPhone 12 Pro camera, a whole new expansive smartphone photography breakthrough. Not to mention, the video capabilities and storage are truly designed to lend themselves to the professional or to the hobbyist content creator.
MORE:
Night Mode Is A Big Deal…
What About The Other Models?
Apple seems to be creating more and more options for a sliding scale of affordability. This year, the iPhone 12 comes in:
iPhone 12 Mini (starting at $699 USD)

iPhone 12 (starting at $799 USD)

iPhone 12 PRO (starting at $999 USD)

iPhone 12 PRO MAX coming soon (starting at $1099 USD)
Why No Charger Cube?
Apple has made it known that they're taking environmental impact seriously, working towards being carbon neutral by 2030. Meaning, their end goal is that every device sold will have net-zero climate impact. So to me, it's not at all surprising that they removed the charger cube, knowing most of us already have several of them. By removing the charger cube (but still including a new charger cord) they are able to help eliminate waste and reduce the box size by what appears to be almost half. Add up all those new iPhones bought, load them onto trucks, and see how much of a difference that charger cube has on environmental impact. So overall, I'm not mad about it. I get it. And I'll probably buy a charger cube when/if I need it in the future.
What Model Am I Choosing?
Like I said, my entire life and business run on Apple products. My iPhone is about 95% of that. So this truly IS my biggest investment of the year in myself, my lifestyle, my business. For that reason, I'm holding out for the iPhone 12 Pro Max, because I know that extra screen real estate makes a real difference to me. I can't wait to share all the new great content I get when I do 😉
---
For more on what model is best for you, check out Apple's compare chart, it's super helpful at breaking down the details and making sure you know exactly what you're in for! HERE
**This post is not sponsored and all opinions are my own. I was loaned the devices for the purpose of this review**