Career
Office Reveal & Why I Went Desktop, With a Purple iMac
May 19, 2021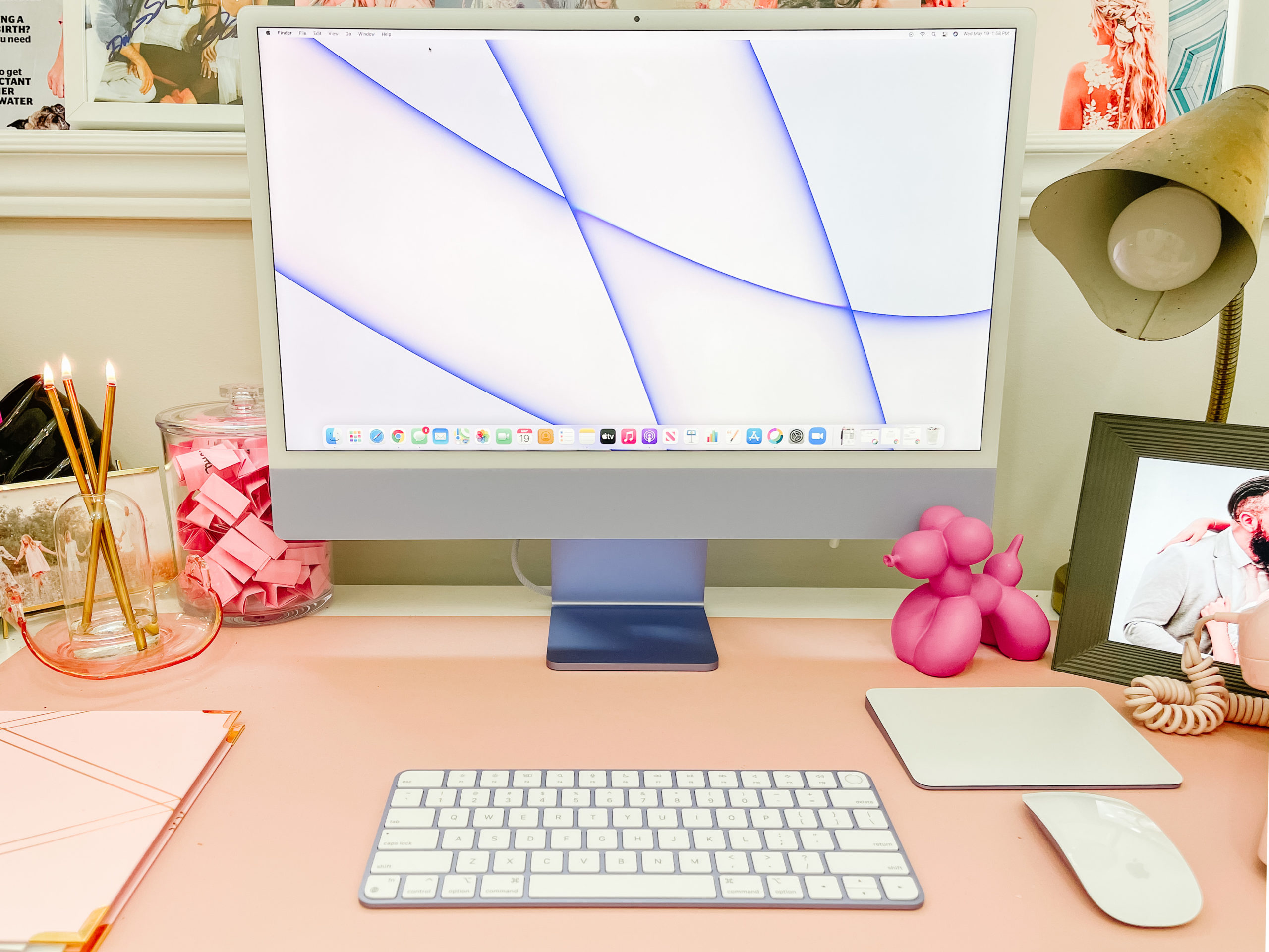 *this blog includes an unpaid review of the new Apple iMac*
I've been a rave reviewer of MacBooks since I got my first one bought with tip money to restart my blog as I was restarting my life. I could travel with it, I could work on the couch with it, I could work in BED with it. Oh, the ways and wonders of how it served me.
Then this last year happened.
Working from my couch, working from my bed, working from my kitchen table.
If I *could* work anywhere, then in a time in life that we're moving from space to space and back again, it was bad for my boundaries, and I *would* work anywhere.
I had lost my work/life separation.
I still love my MacBook Air, she's an important part of my work and lifestyle, but…it came time to settle into a singular space for work. With my newly moved into space (a former mudroom area of our home) I was excited to bring the desktop back into my life. I mean, it's been decades since I have!
In my head, the price I made up in my head for an iMac was actually way more than reality, which was a darling surprise. Curious? I figured. It starts at $1599 (CAD). Side note: check out their trade-in options, up to $3785 back!
I went with the new purple one (not pink, I know right!?).
Working off a desktop computer again has been something else.
I found myself so excited to go into my office.
My eyes are less strained from having a 24″ screen.
It's so sleek, so low profile and yet it's making a massive impact on my life.
So I'm starting time blocking with work. Time blocking is a way of scheduling yourself so instead of trying to do 10 things at once, you create blocks of time for each of them.
I'm struggling, deeply, with work/life balance, and these adjustments like a desktop computer, a dedicated work space, and time blocking are seriously changing my mental health.
I feel a renewed sense of excitement to work, and really work, not just be on my phone or work while being with the kids and calling it "balance".
All parts of my life are benefitting.
And perhaps you're thinking about how I could just use my MacBook at my desk, and yep, I did that too! For whatever reason, that didn't give me the same experience and divide that I needed, and that's ok.
The way Apple products work and interconnect, I'm easily able to seamlessly pickup my MacBook and keep working away from my iMac anytime.
Let's get into nitty gritty!
Features (that I thought were awesome!):
It's 11.5mm thin!
Uses an M1 chip
11.3 million pixels and 4.5K retina display (great for photo/video editing)
Best camera, speaker & microphones ever in a Mac (hello zoom calls/conferences/podcasting!)
Handoff features between iMac & iPhone, so you can use the two together for common goals.
Multi-User Friendly. Create profiles for every member of the household! No more anxiety when you hand off your computer to your kids and wonder if they might accidentally email your entire contacts list with a cat meme.
It's. Just. Pretty!! Even the cords match, and seamlessly lend themselves to the design.

Check out more about the 24″ iMac HERE.

If you told me I'd be sitting here raving about a desktop computer, I'd have laughed at you… even a mere weeks ago.
I guess it's that work-life balance, it's making me a whole new person.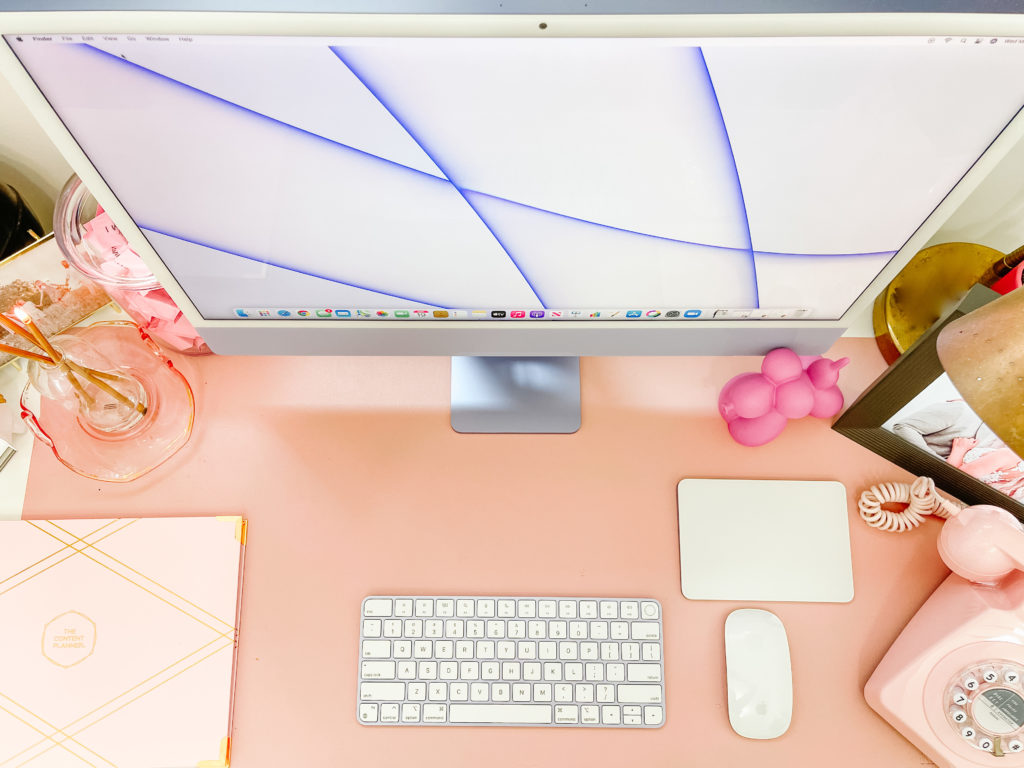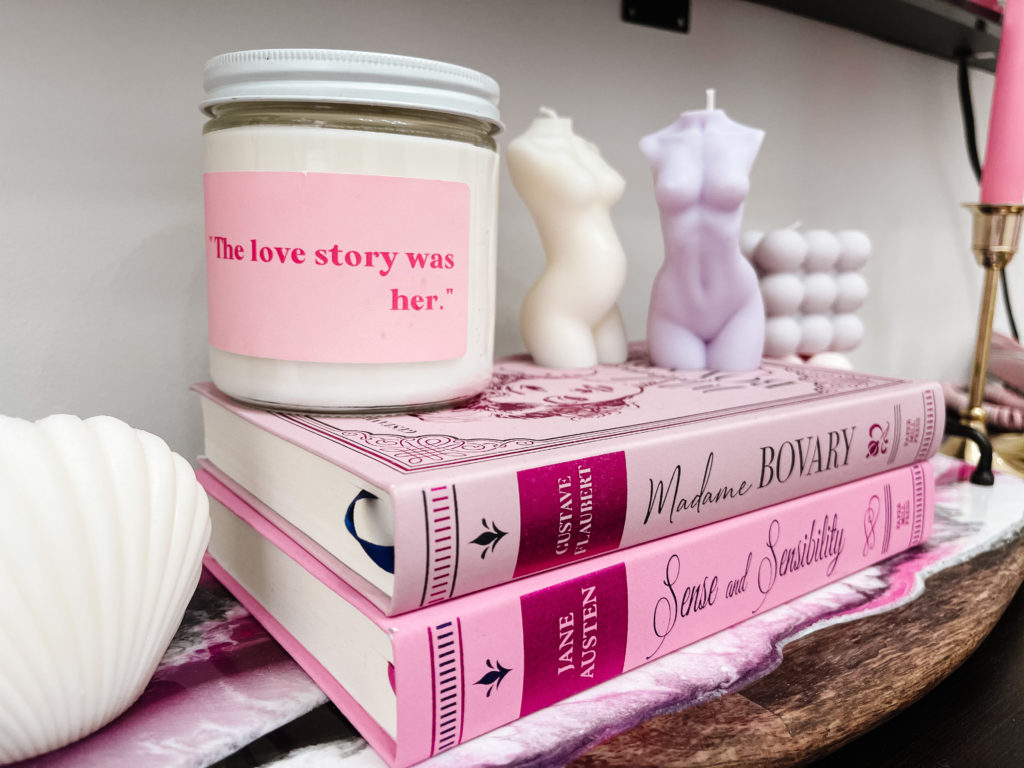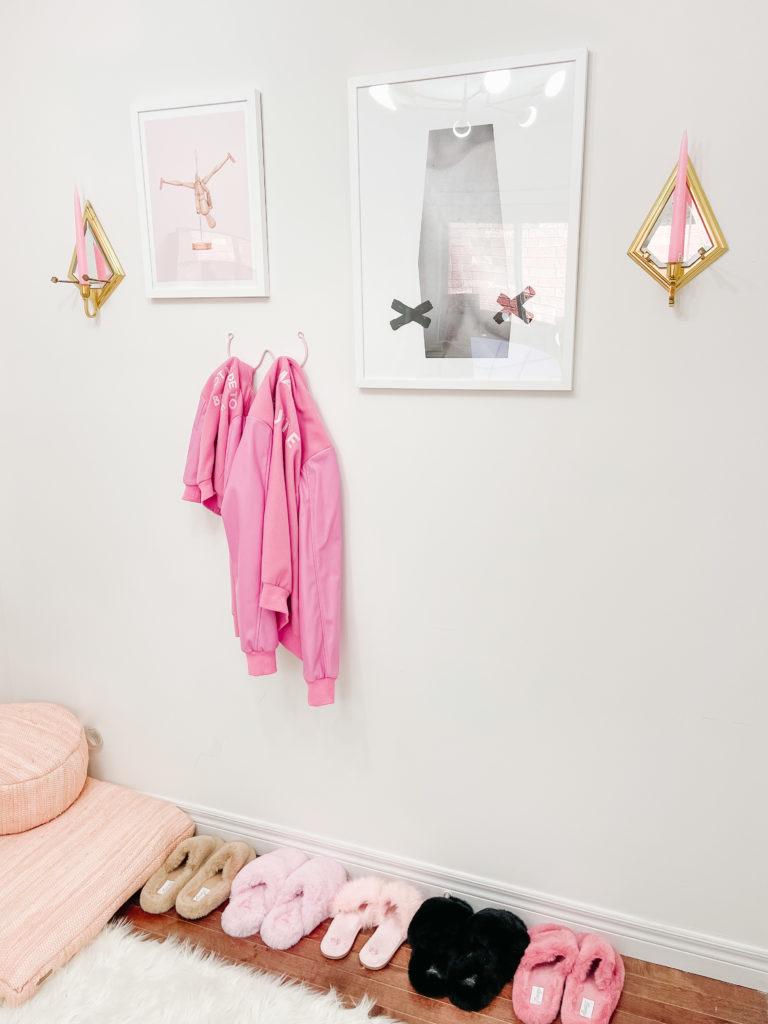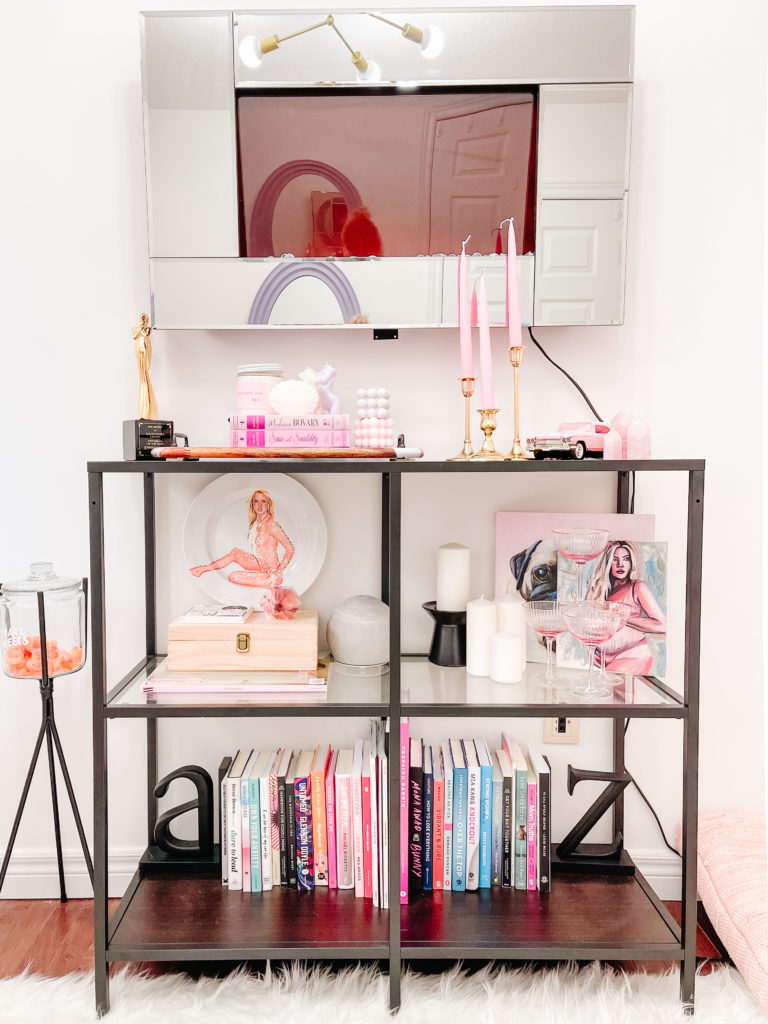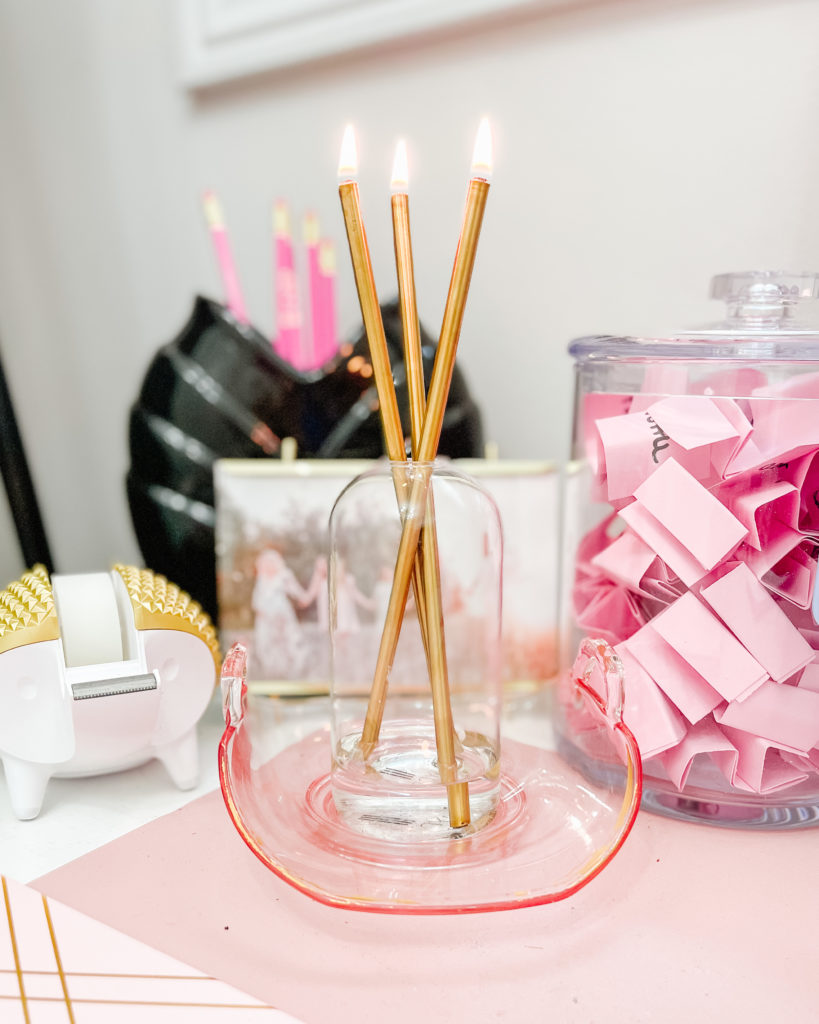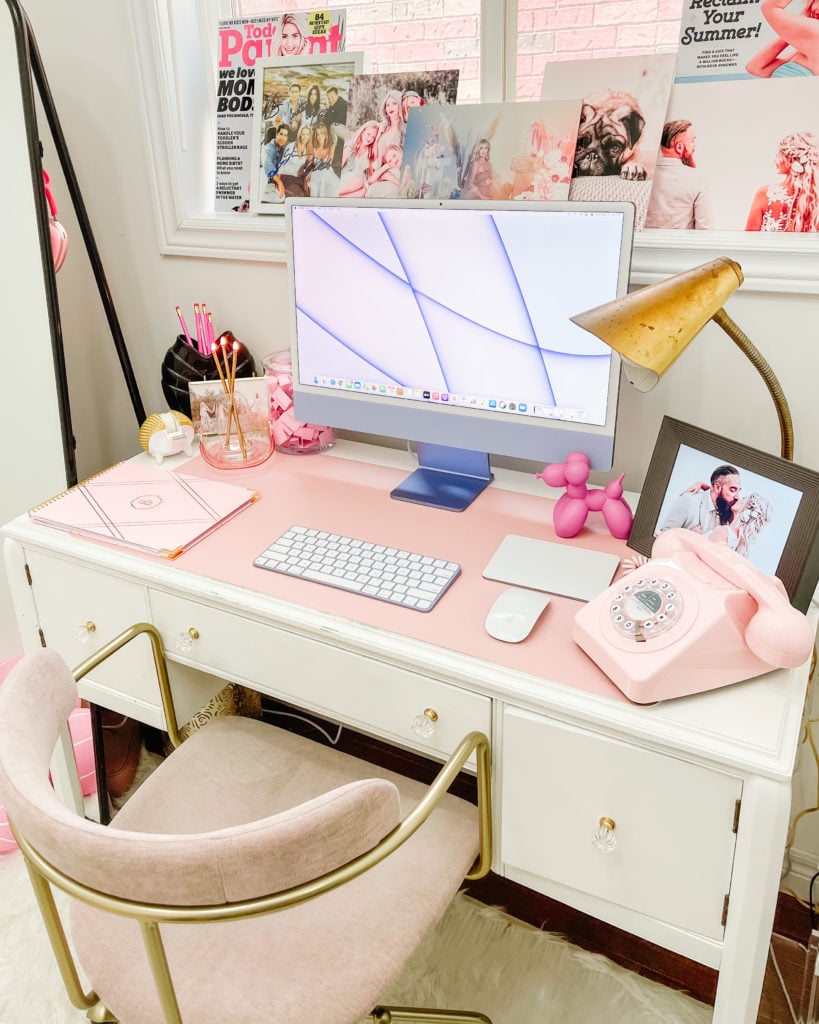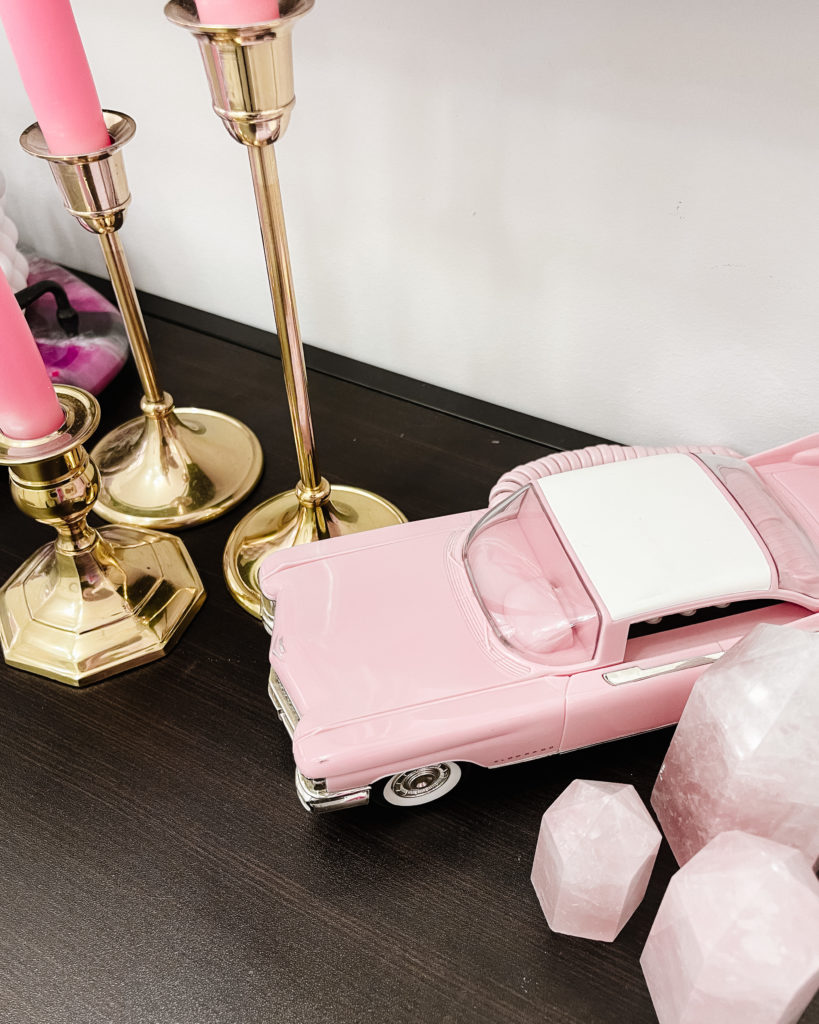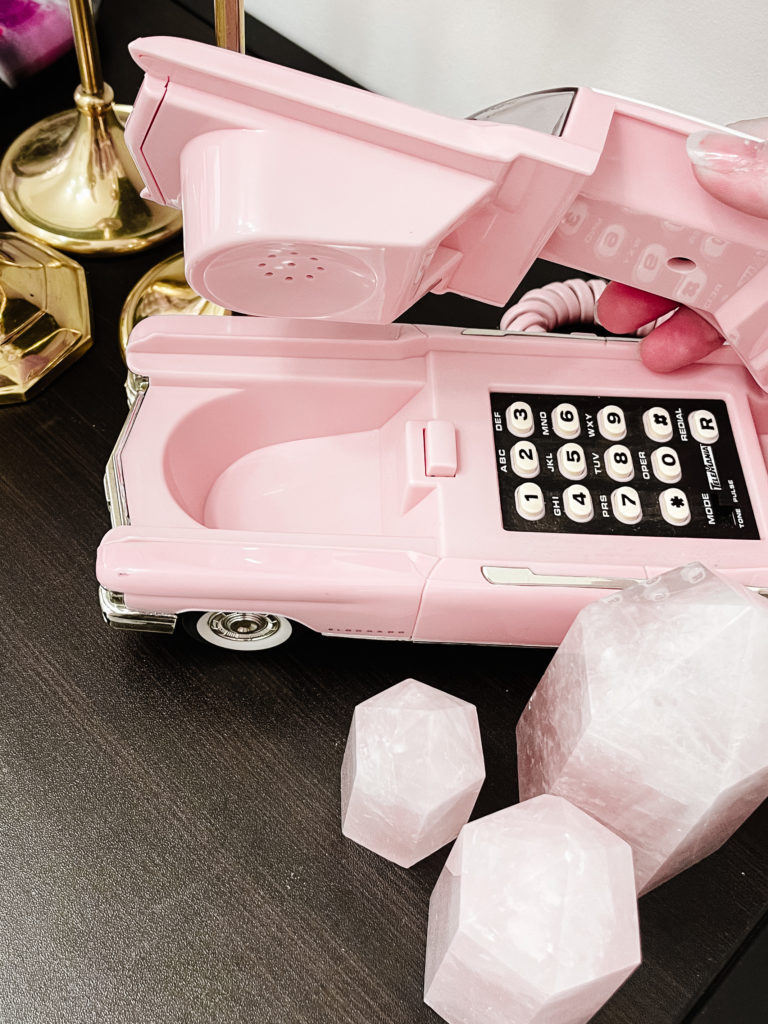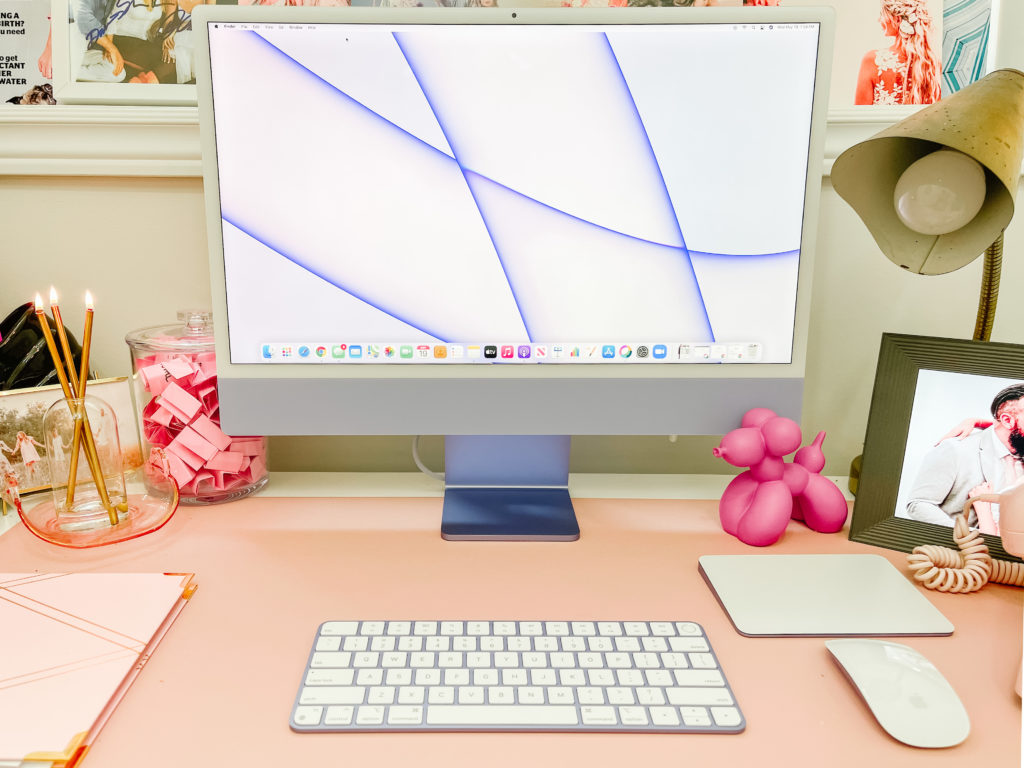 Items seen here that I have links for!
Content Planner https://www.thecontentplanner.com/
Everlasting Candle (coupon code BIRDS10) https://everlastingcandleco.com/
Desk / Desk Lamp / Car phone https://www.theapartmentlife.ca/
Crystals / Floor cushions https://www.malacollective.com/
Pink Candlesticks / Candleholders https://www.theartofhome.ca/
Shelf https://www.ikea.com/ca/en/p/vittsjoe-shelf-unit-black-brown-glass-90305803/
Britney Plate https://thecrazyplatelady.com/
Artwork https://www.iamfy.co/
Desk Chair https://www.westelm.ca/lenox-office-chair-h4080?location=&quantity=1&attribute_1=Blush
All photos taken with iPhone Pro Max, which you can read more about here 🙂