Baby
Lemmie's Oh Baby, Baby Nursery!
May 6, 2021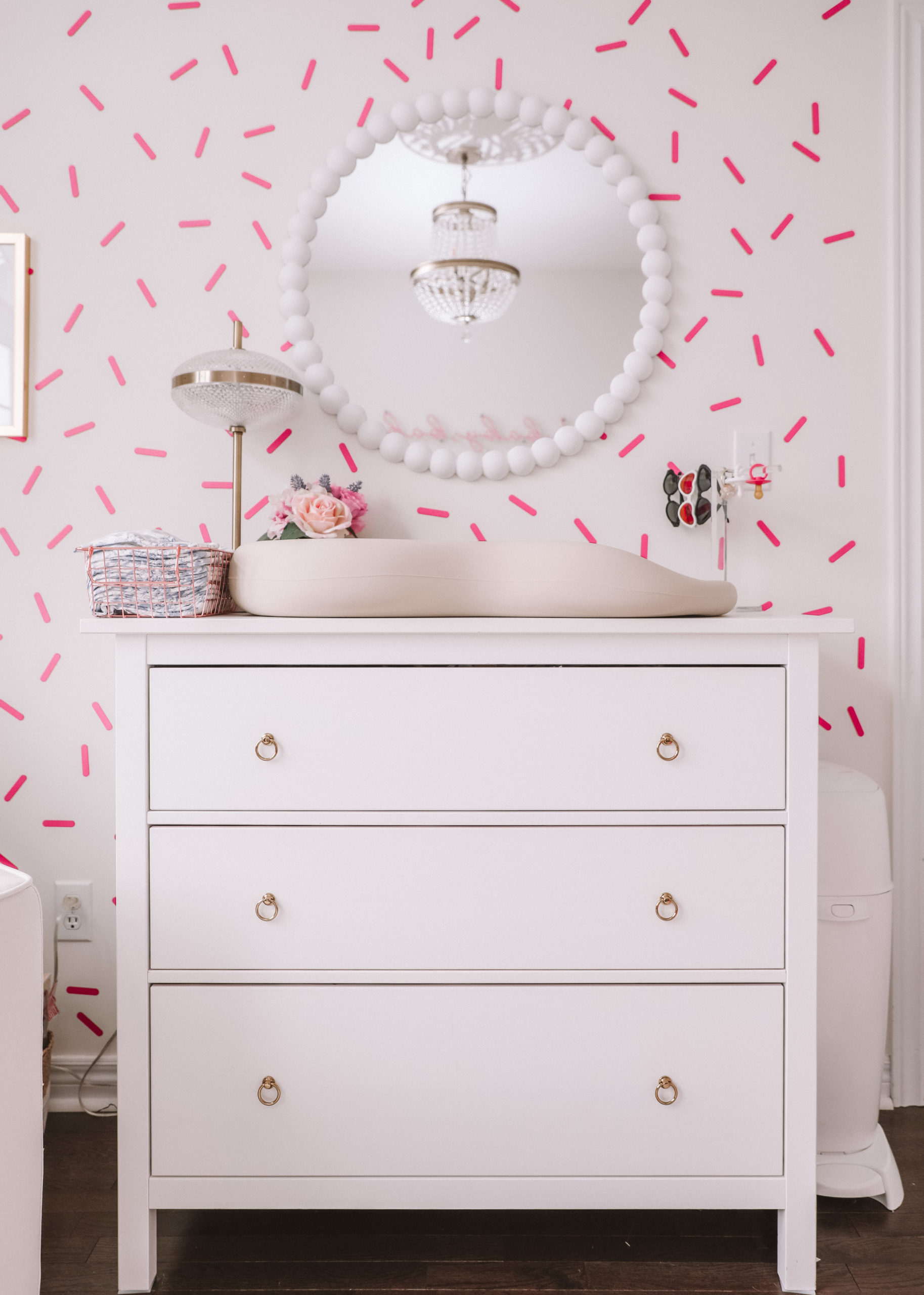 I have this problem when it comes to room designing, beyond just an entire lack of skillset in it, the problem is:
I like too many styles.
From boho chic, to farmhouse and modern splashes, often times I get lost in the mix.
With the nursery, I had already ordered the crib and the dresser and painted the walls before realizing I had NO idea how to go in a direction.
I messaged my friend Meg, IG DIY-er @TheChippedPaintRevival, and within about an hour's time, she had brought my scattered ideas into a full vision…to which I ordered everything she told me to within the day. Along with the advice of Rachael at @DelveInteriors (who was our bathroom reno designer, so I might as well pick her brain while she's over, right?) the room had vision.
This was the vision board Meg @TheChippedPaintRevival gave me: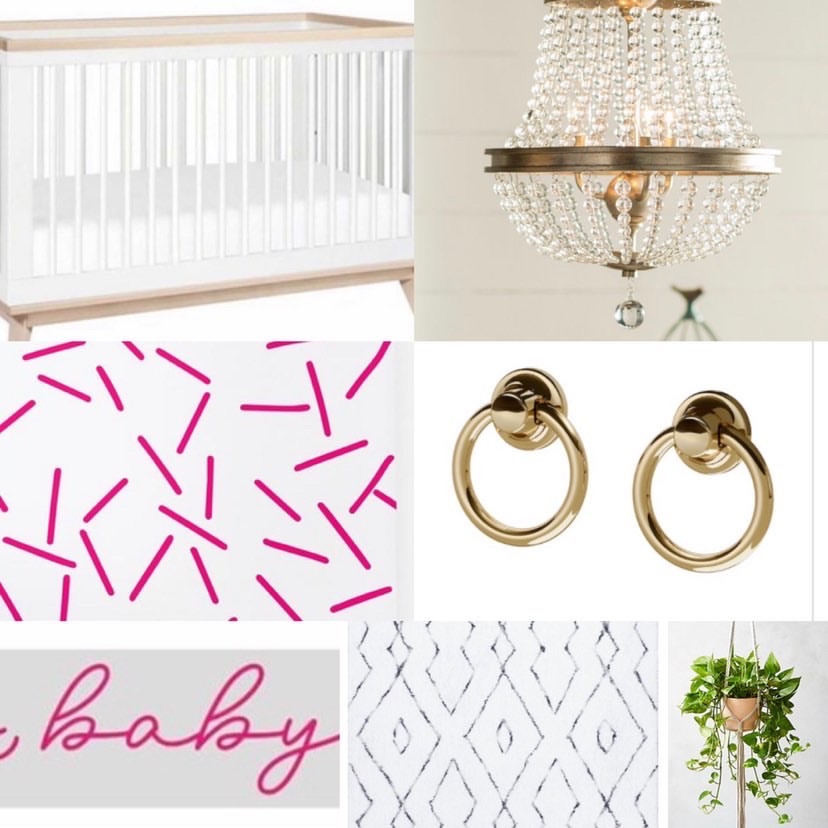 To give you a look at what we were working with, here is the space before: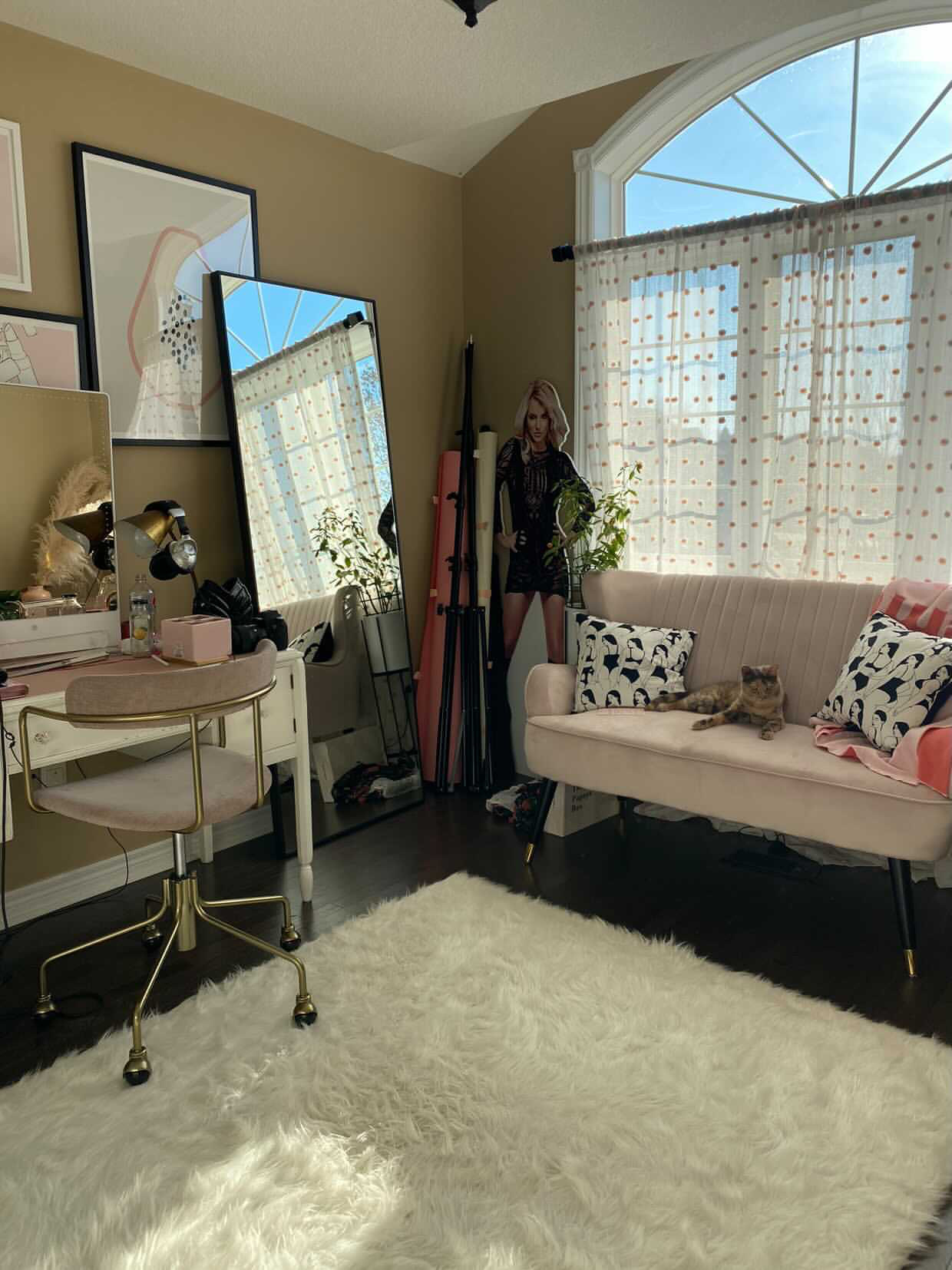 And here's where we went!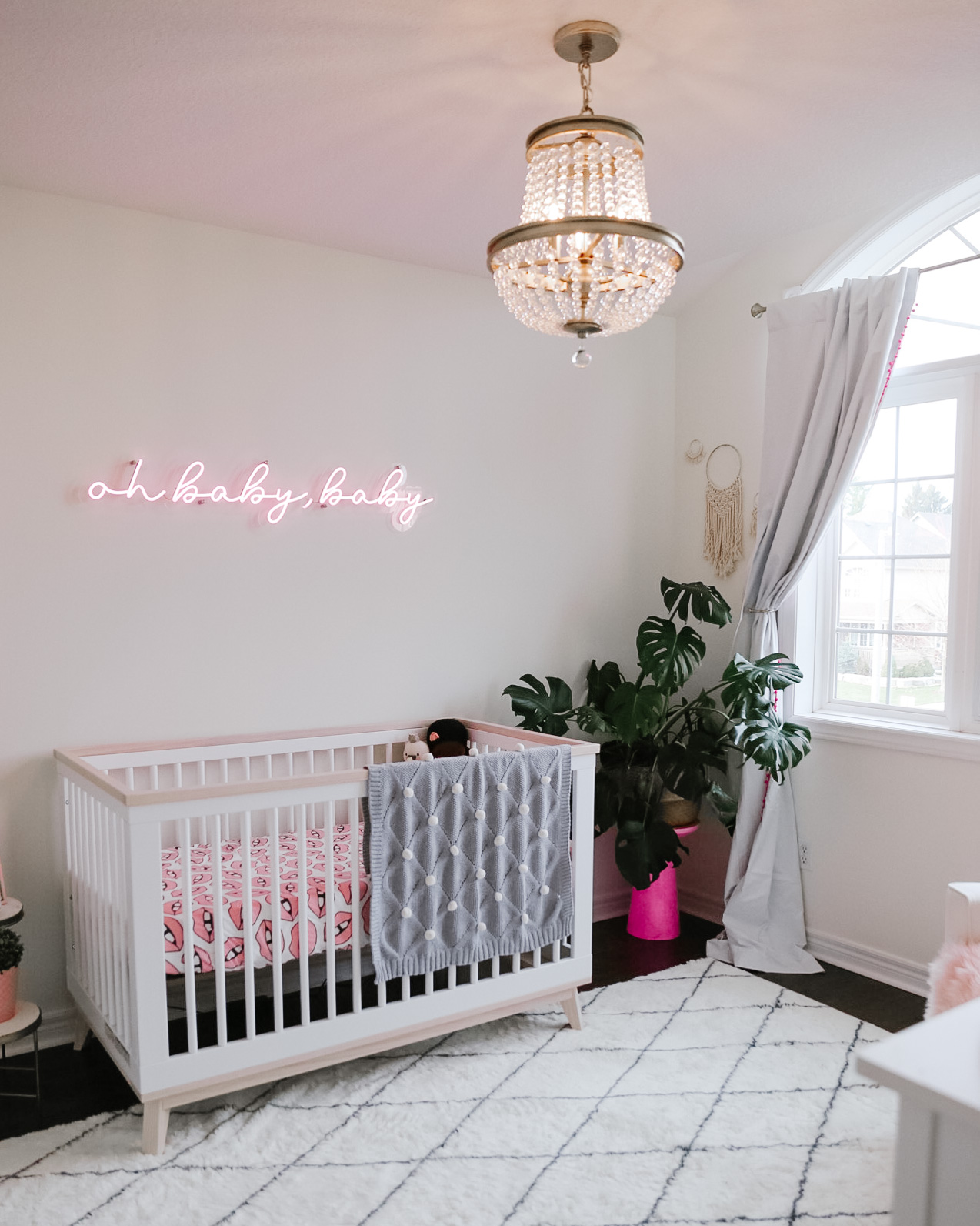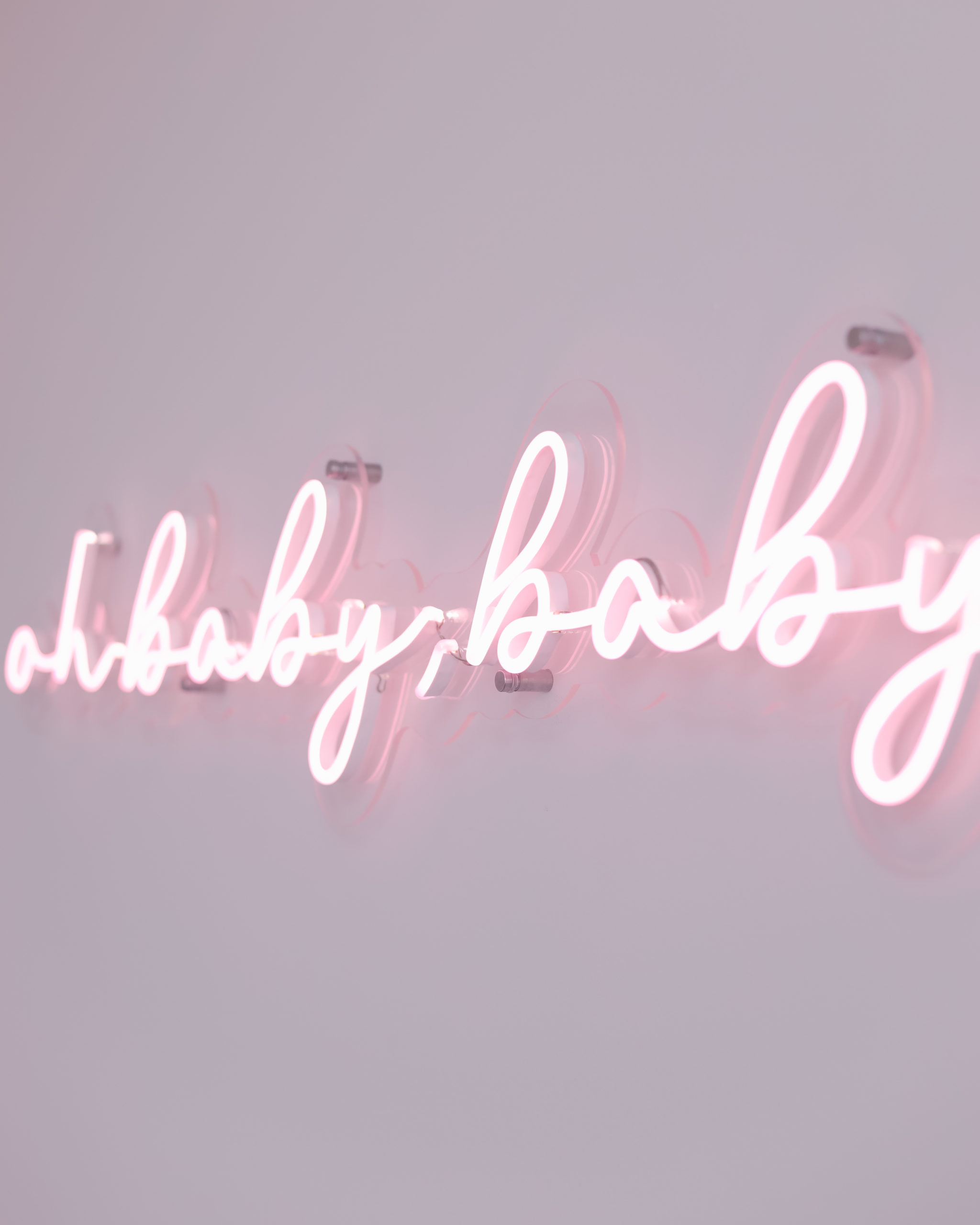 I knew I wanted the neon sign, but I had NO idea how that would work in a nursery. Is it HOT? Is it TOO bright? How could I pull this all together?
Something Neon came and installed the sign, and shared how they work, by being a non-heat LED strip beneath silicone so even if baby's hands were to get up there, she's not going to injure herself.
Additionally, the light can be dimmed with its remote down to a nightlight dim, which is perfect for that bit of glow.
And if you're wondering: Salt N Pepa or Britney Spears?
It's Britney, b*tch.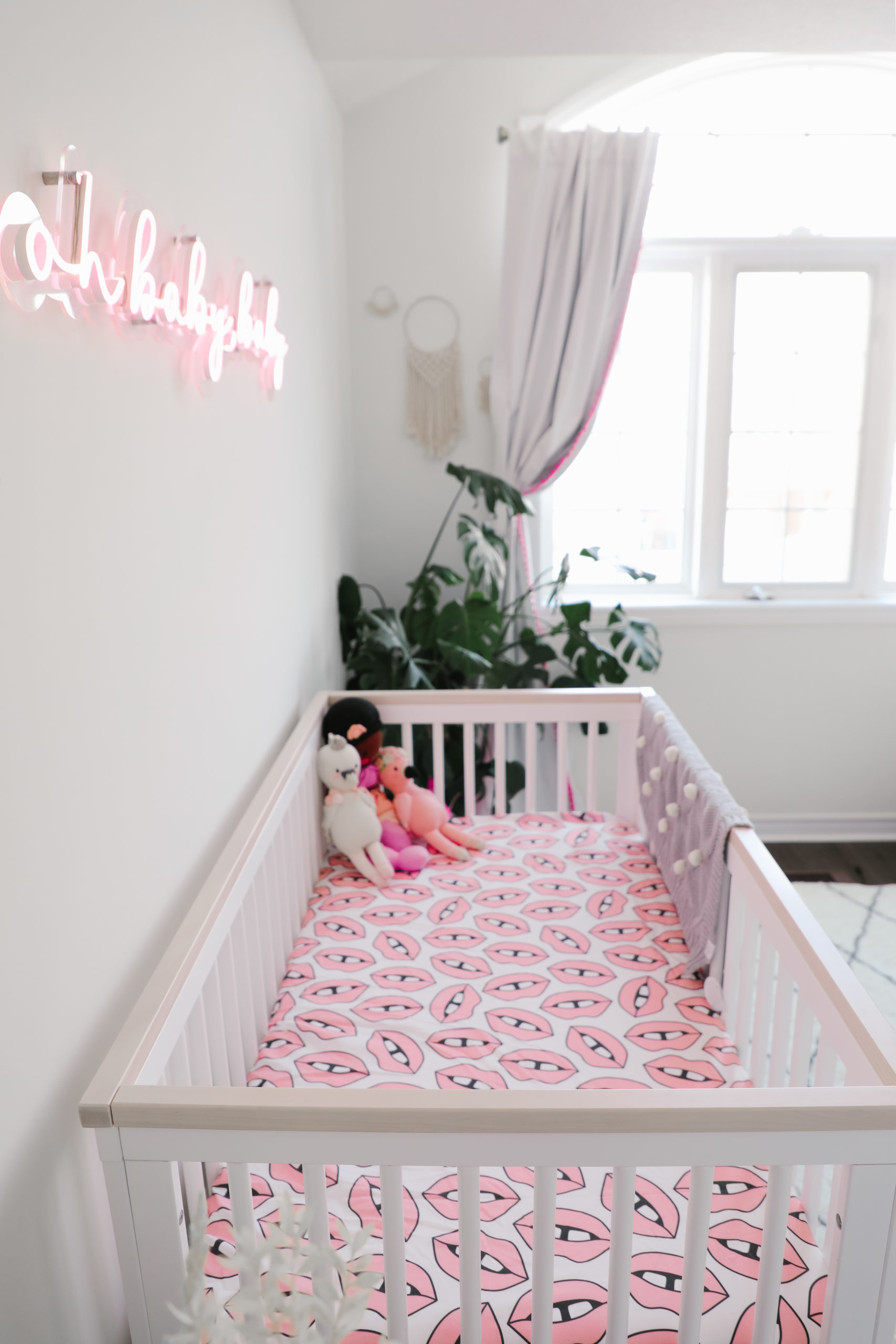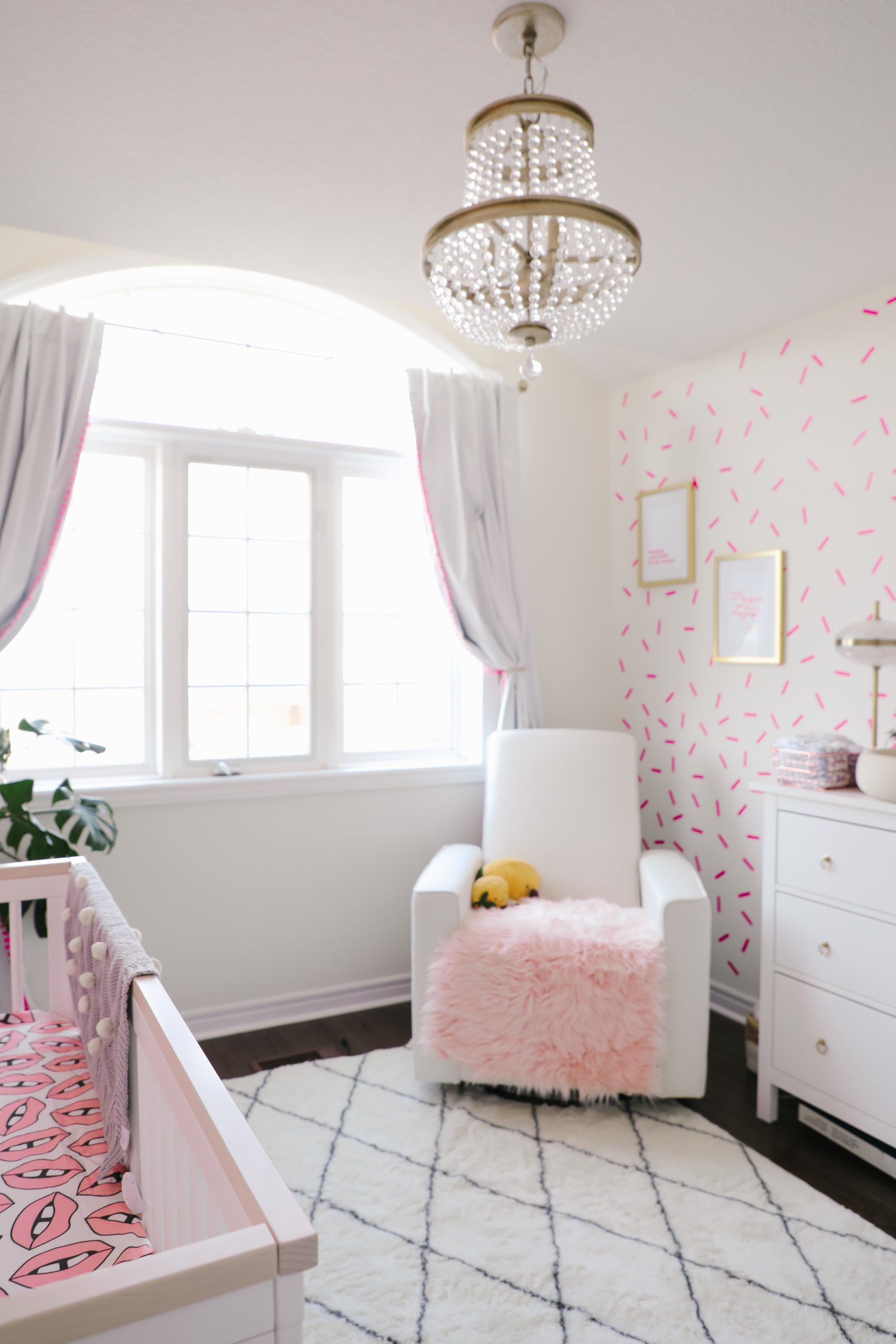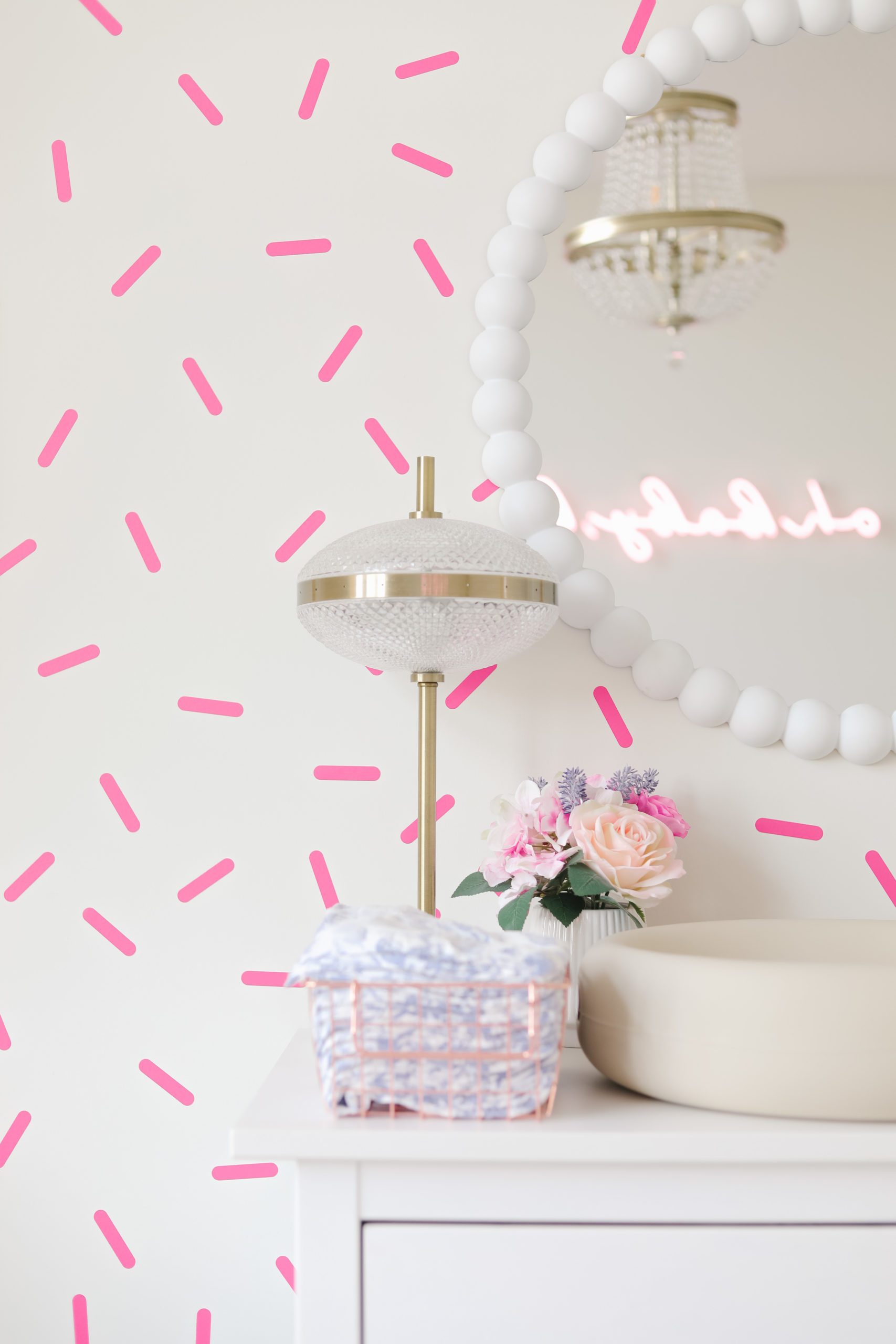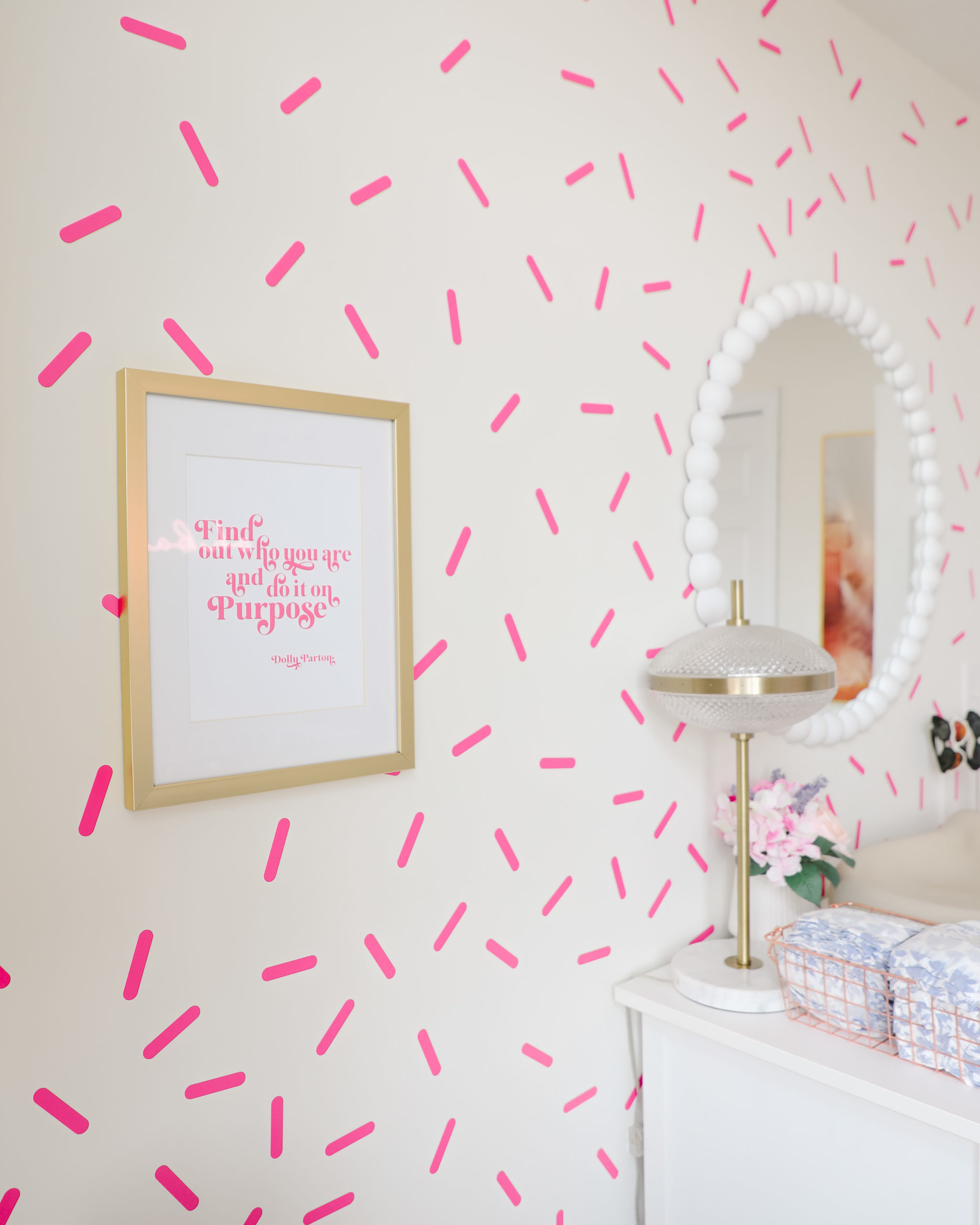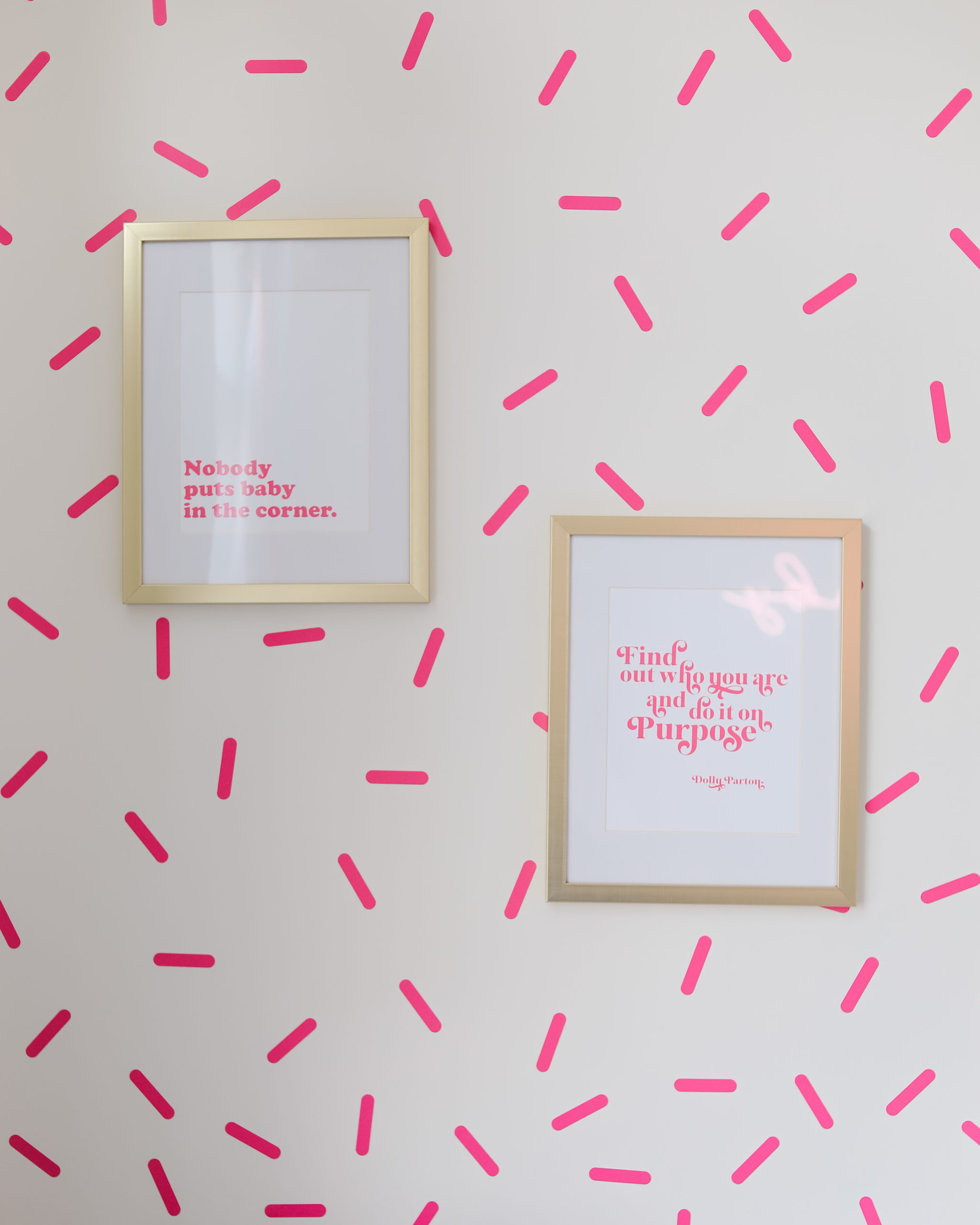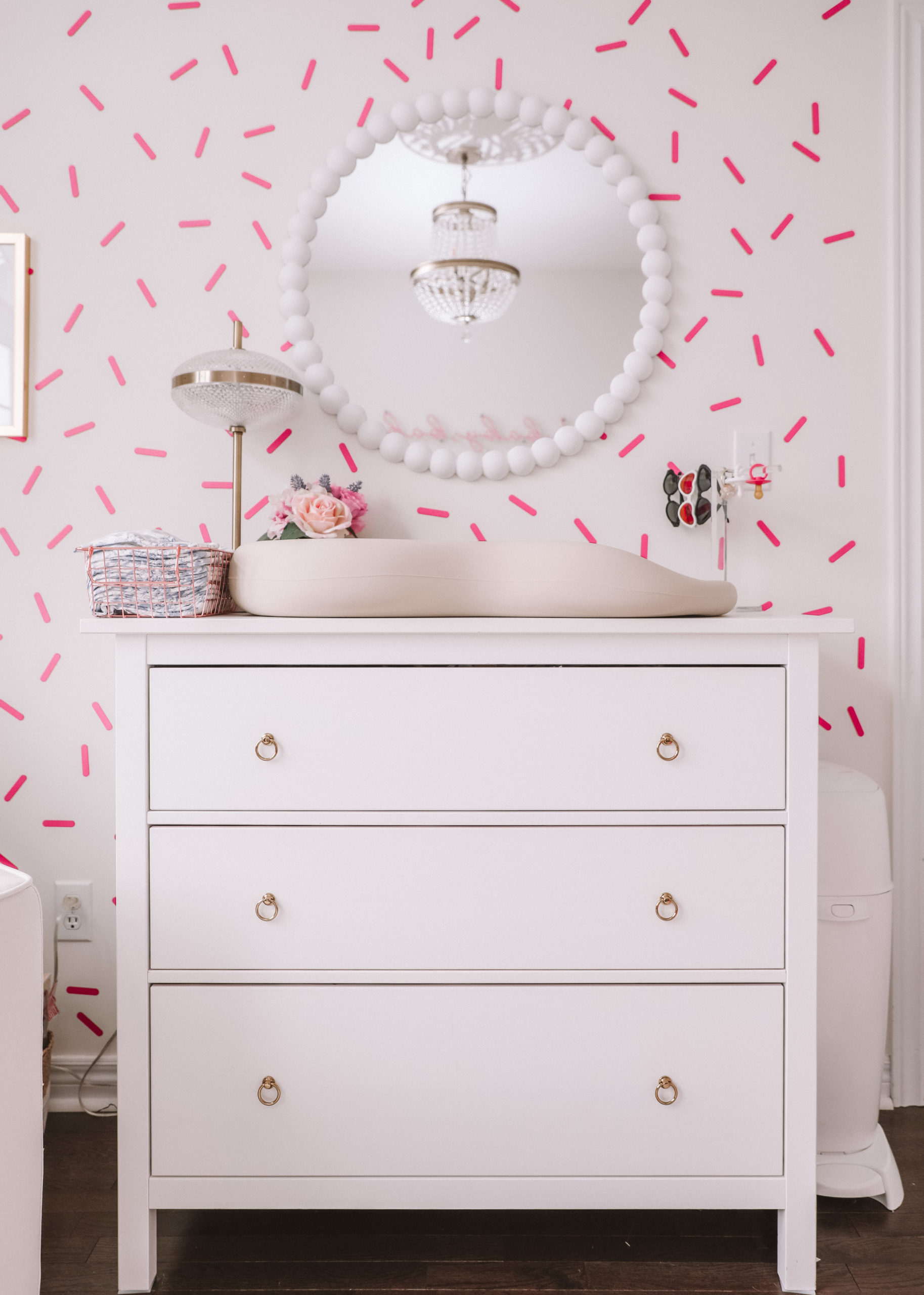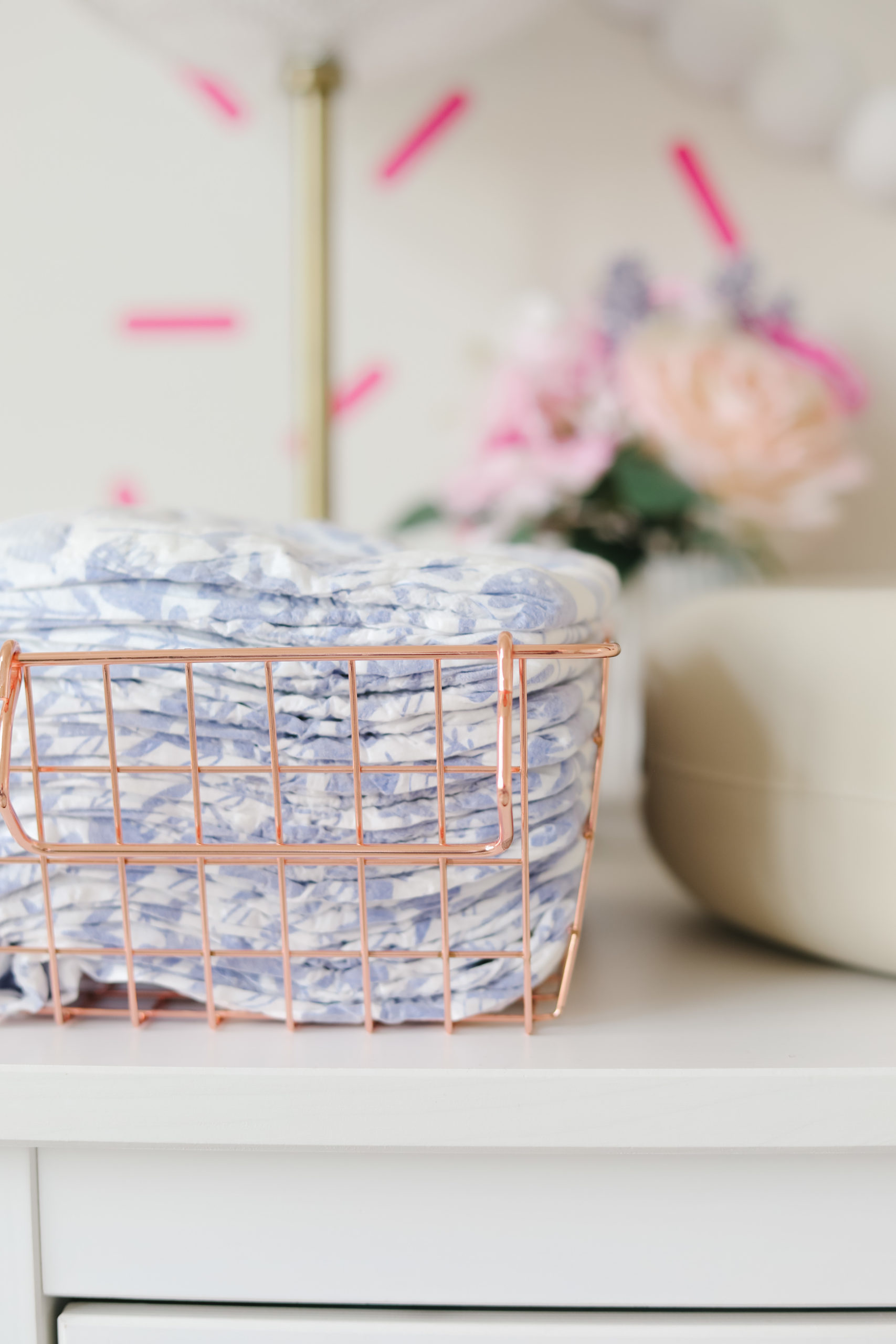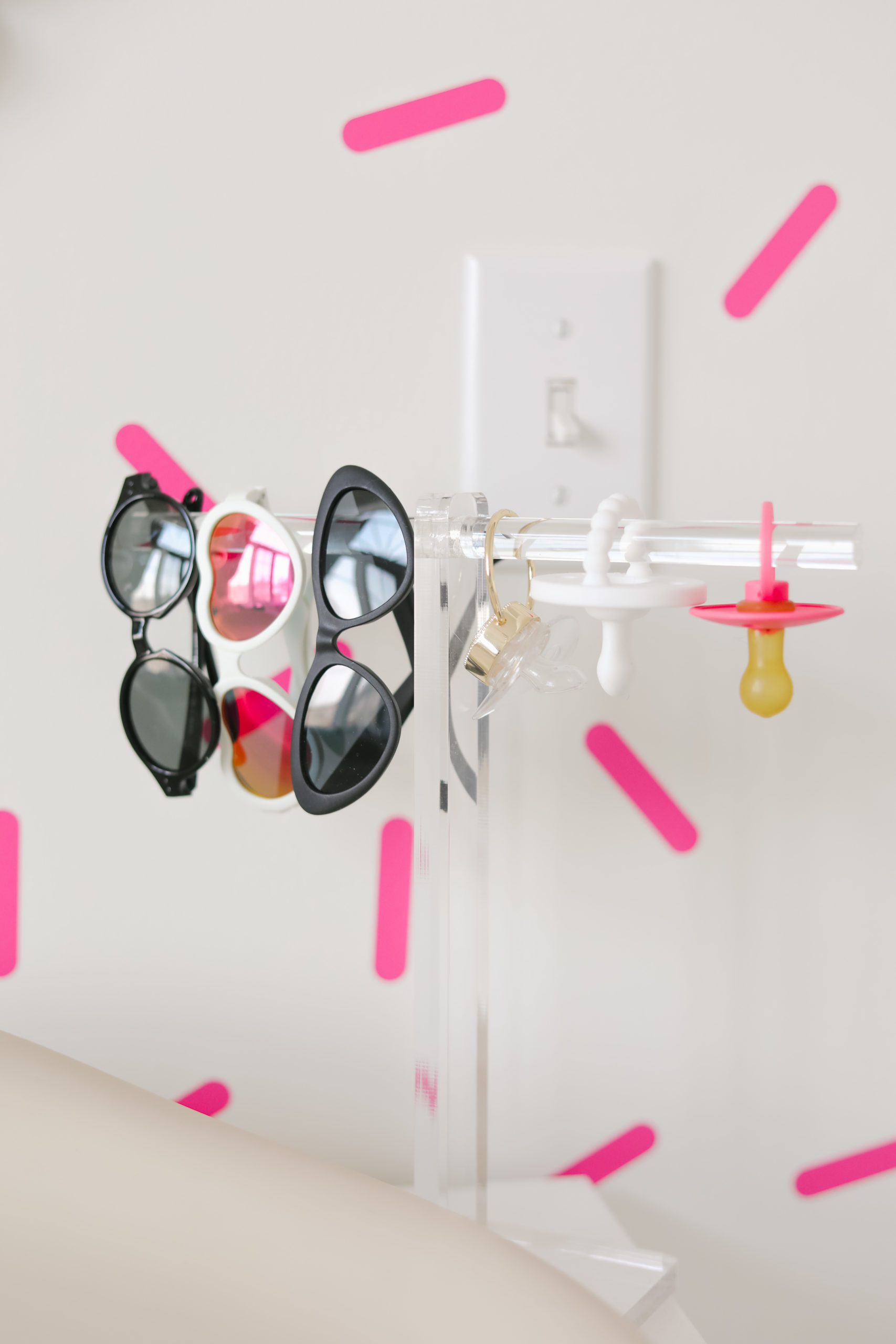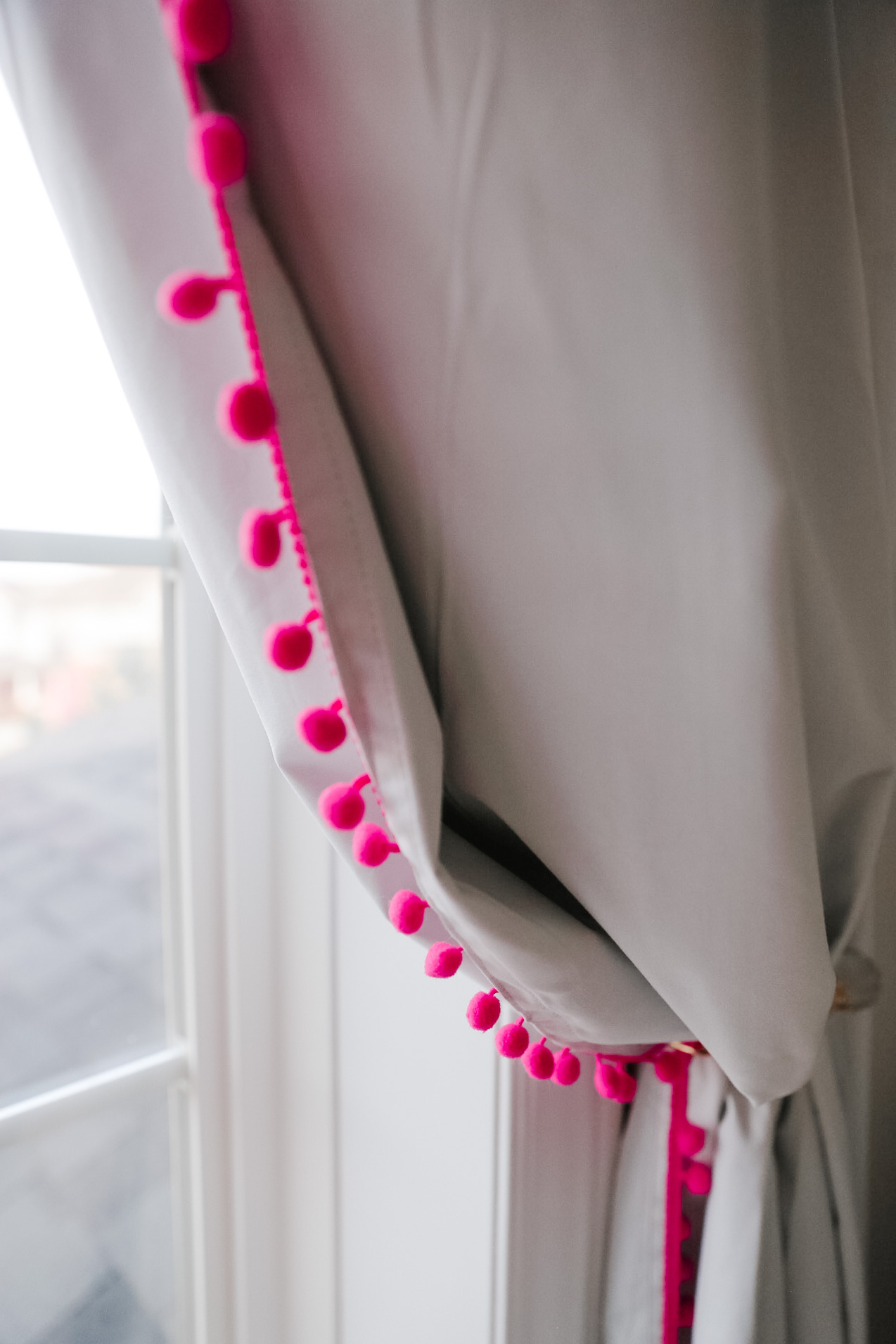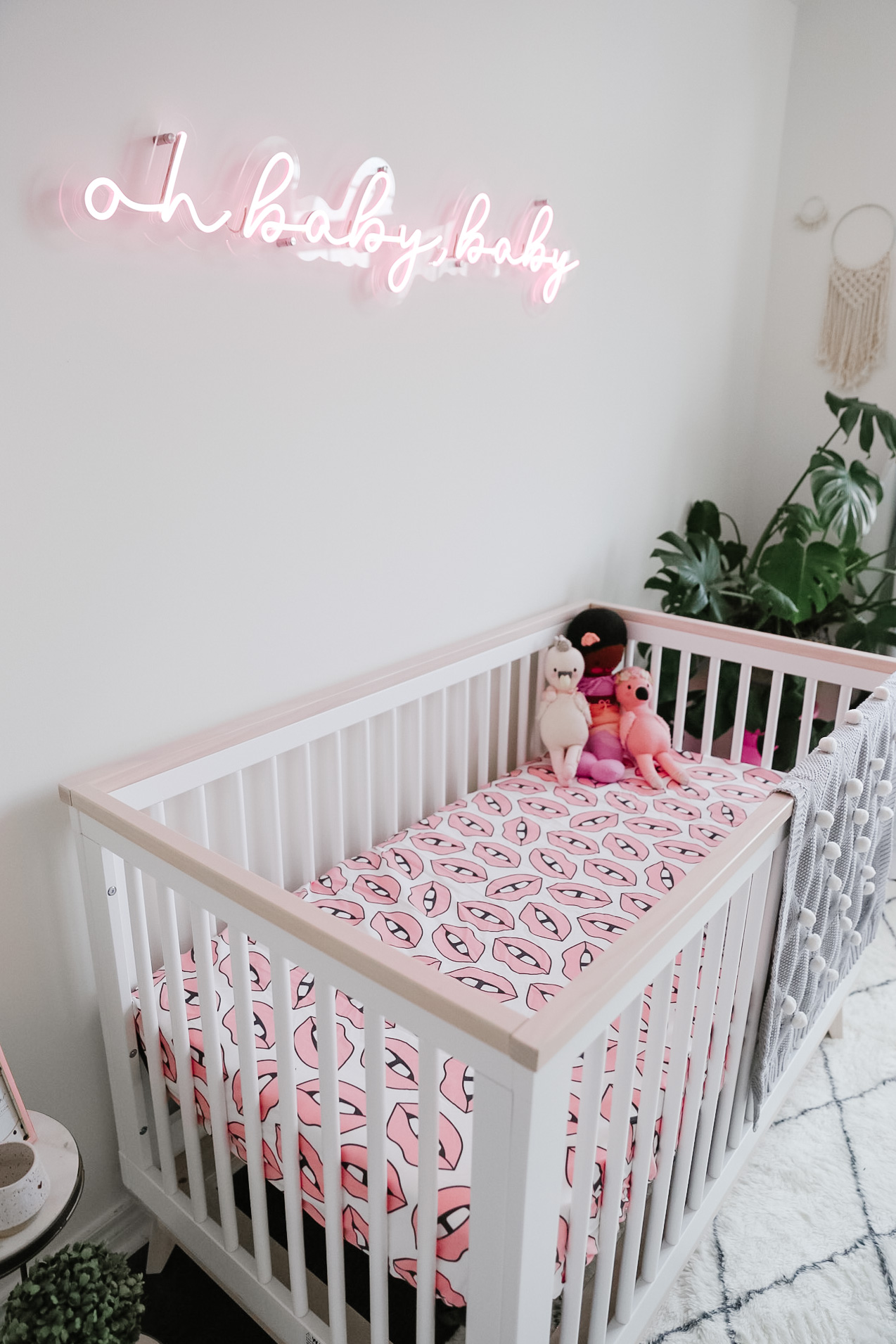 Here's the breakdown of the items in her nursery:
CRIB: Babyletto Scoot 3-in-1 Convertible Crib White and Washed Natural (we got it from Well.ca *sponsor* in Canada, but it's sold out in this colour as I write this)
CHANDELIER: Handley 3 Light Iced Gold Chandelier, Overstock.com
RUG: Moroccan Diamond Plush Rug, Ruggable, 6×9 size
PLANT: Large Monstera, Blooms & Flora
PLANT STAND: Homesense
DRESSER: IKEA Hemnes Dresser
DRESSER KNOBS: Ikea Edvalla
NEON SIGN: SomethingNeon *gifted*
CURTAINS: Custom-made blackout curtains from Bouclair with sewn-on trim.
CURTAIN ROD: Bouclair Home
MIRROR: Homesense (knockoff of the Pottery Barn one!)
ROCKING CHAIR: Wayfair (our exact one was no longer available, but this one was half the price!)
CHANGE PAD: Keekaroo Peanut
CRIB SHEET: Woolf With Me
LAMP: Homesense
FRAMES: Homesense (Alternative: Walmart)
PACIFIER/SUNGLASSES STAND: Homesense (Alternative: Amazon)
WALL DECALS: Urban Walls
DIAPER BASKET: Homesense (Alternative: Walmart)
DIAPERS: Hello Bello (*Sponsor* code PAPAYA)
DIAPER BIN: Diaper Genie
DOLLS: Cuddle & Kind *gifted*
POMPOM BLANKET: Mud Pie *gifted*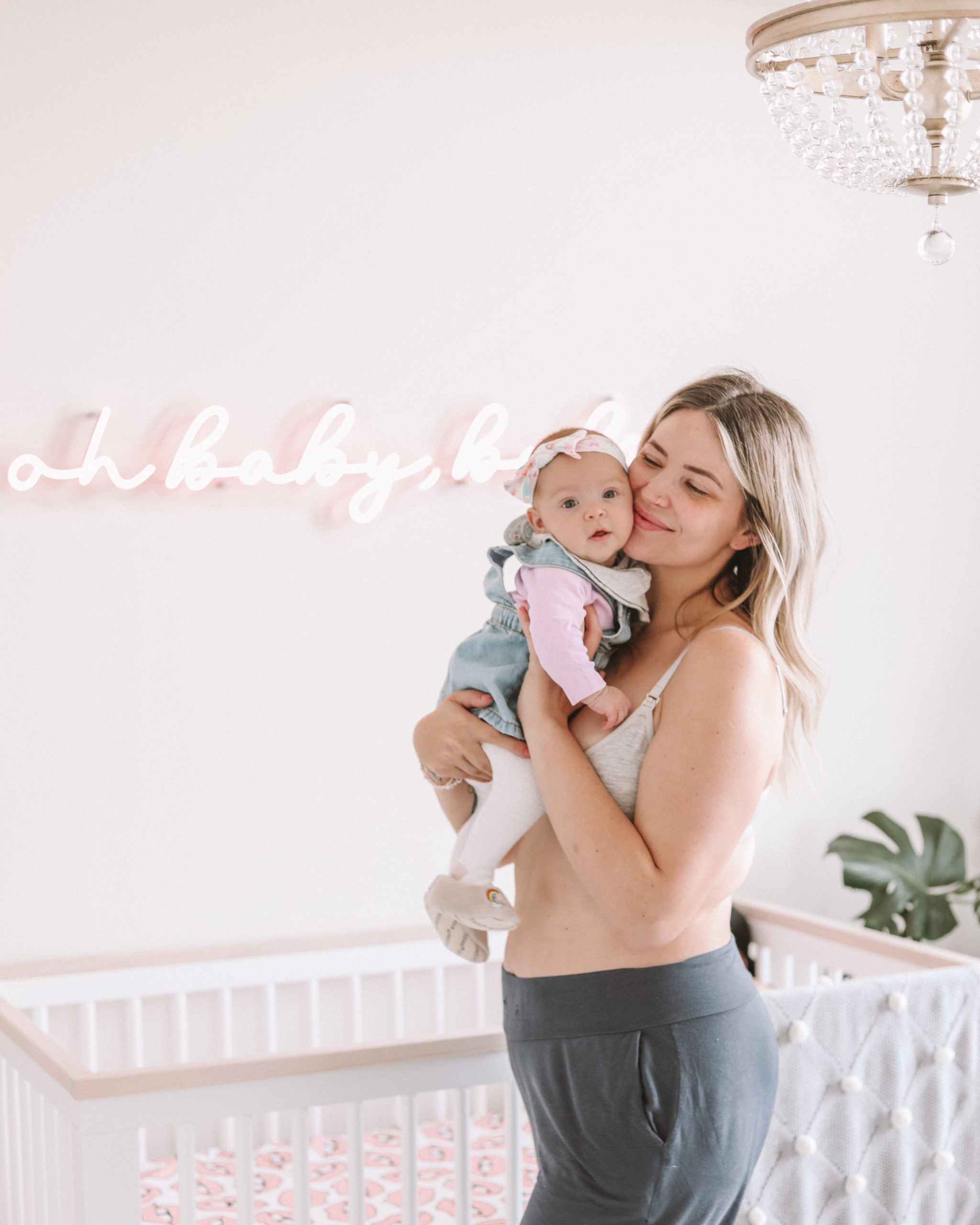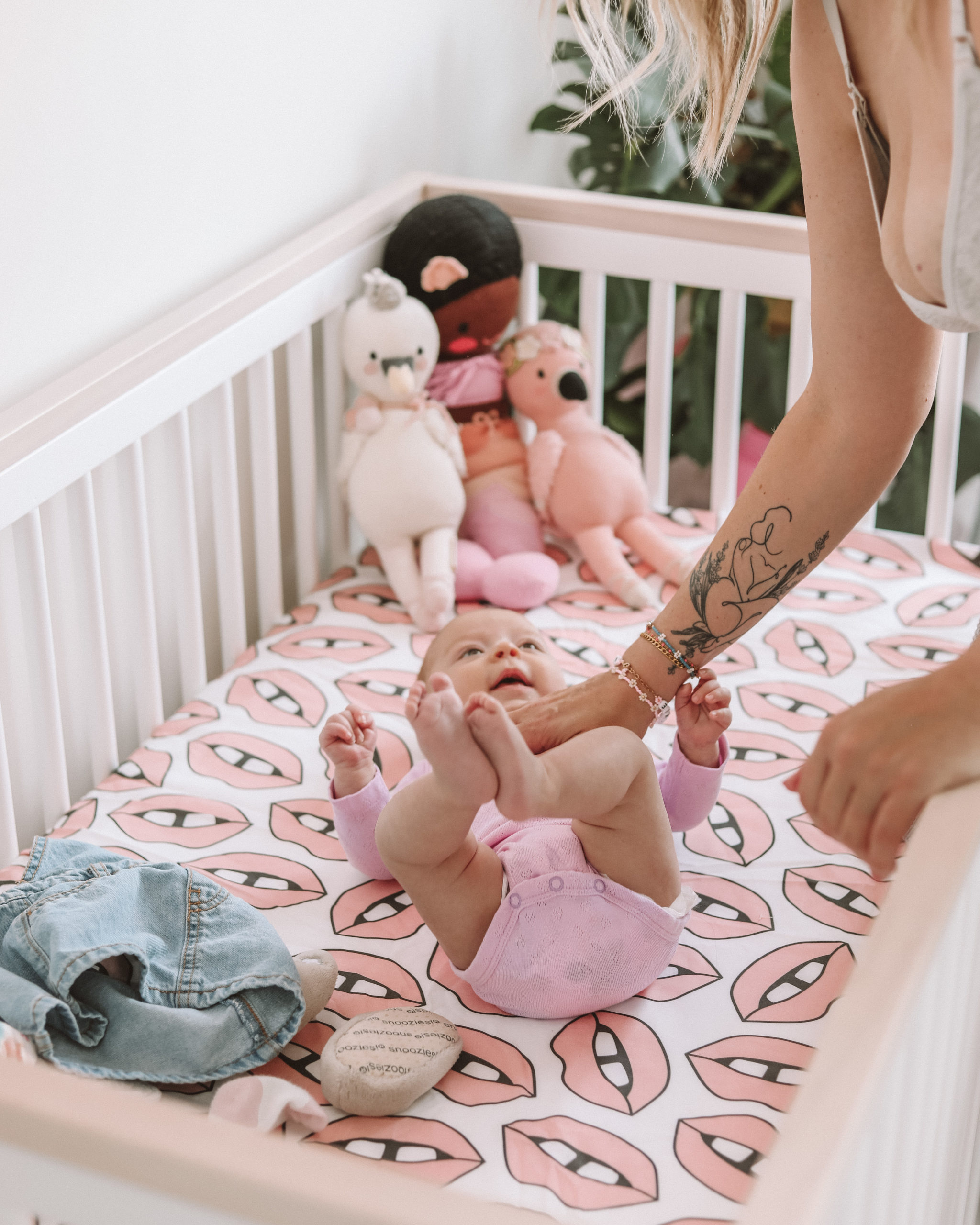 Huge thanks to Rachel, Delve Interiors & Meg, The Chipped Paint Revival for their help in bringing this space together. While we literally haven't used it much at all because she lives on my hip and bedside bassinet, I'm so grateful for it as she grows. A space for her, that we both enjoy.
Xoxo