Home
Laundry Room (Err, Closet) Makeover With LG!
July 5, 2019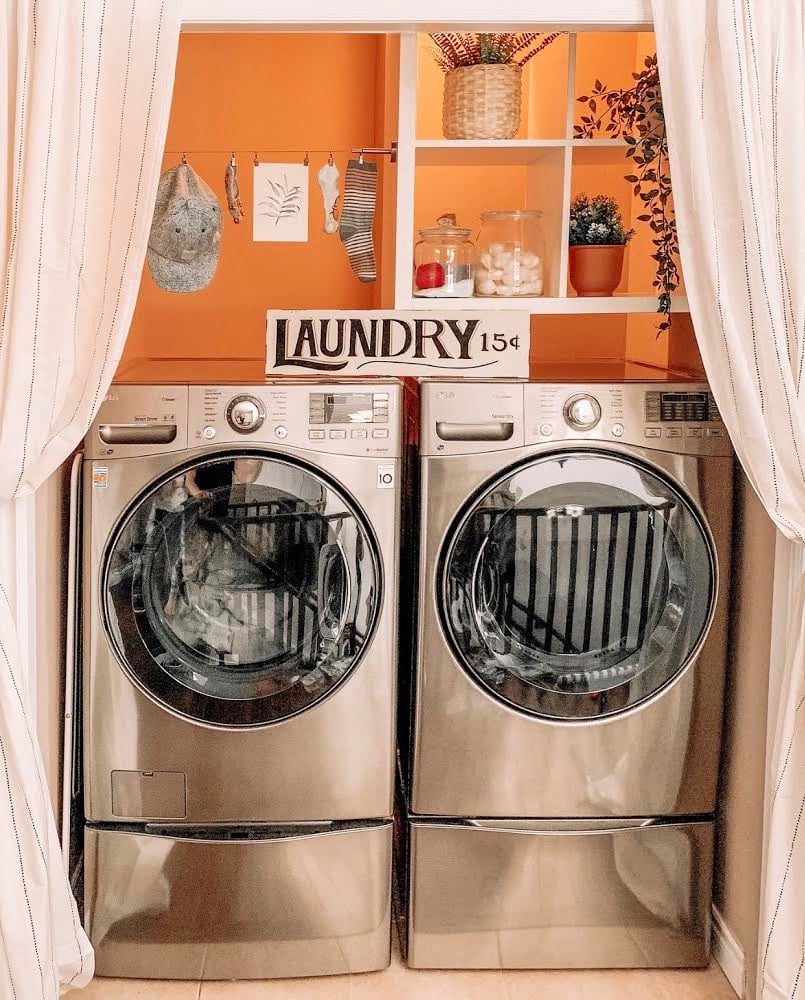 *Products in this post were gifted by LG Appliances Canada in exchange for an honest review*
Laundry.
I swear it's like a trigger word for many of us. It triggers thoughts of never being on top of it, shame for all the times it's left sitting wet in the washing machine so you have to wash it again, and that time you left a chapstick in your pocket before it went through the wash…
However, lately – it's been triggering thoughts of JOY for me, because I cannot say enough about these machines.
The LG TWINWash® is unique in a few ways but let me break it down in some key factors.
The TWINWash® system basically has two machines in one and features a separate pedestal washer stand below which sits below the larger front load washer machine. This "mini" washer can hold a small load (great for a lil batch of whites, or delicates, or that ONE THING YOUR KID NEEDS TOMORROW). Two loads at once… it's a dream.

It has load sensing capabilities. I'm in this beautiful stage of life where the kids are actually, actively doing their own laundry. Having load sensing washers and dryers means all they do is throw it in, toss in a laundry puck, and press the "play" button to make it go. HOLY CANNOLI this is a game changer.

It plays a little jingle when it's done, it's like a party every time.

Its load capacity is quite large, so getting on top of laundry is ACTUALLY HAPPENING, y'all!
All of these things are not small deals, they are big deals. Each of them has played into our lives in a way that has taken this pesky to-do task and made it manageable. They're easy to use, packed with technology that takes the guesswork out, and so much more.
Now, with the new machines we wanted to make over the laundry room. Except, we have more of a laundry CLOSET.
After scrolling Instagram and Pinterest, we went with a simple design that was cost-friendly.
To be honest, we really wanted a barn door opening, but it's just out of range for us right now, and that's ok! We're super happy with our interim plan to use curtains, and a floating shelf and even a little hanging wire for those long-lost sock partners.
I'm not laundry machine expert. I am merely a woman trying to stay on top of life. My honest opinion? These machines are truly a highlight of our home. It's amazing to experience the advancements in the technology we have now, and how they can impact our day-to-day.
And even though this is a sponsored post, this will always, always be me, sharing with you, an honest opinion of some real-life stuff. Like laundry, and how it's triggering joy.