Family
Our Wedding
October 5, 2018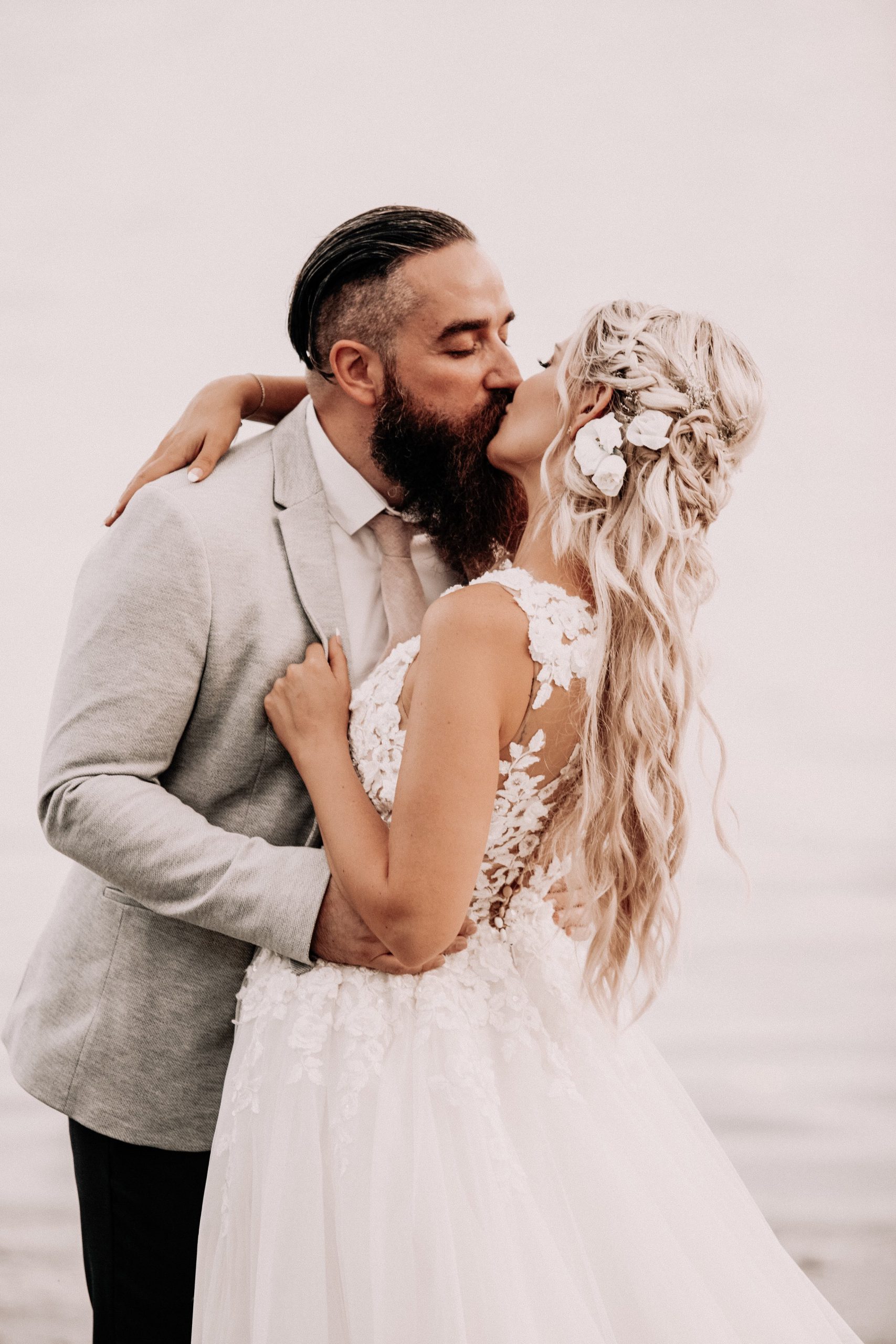 When it comes to our wedding day, I'm not sure I was quite prepared for how absolutely magical it would be.
Truth be told, the wedding felt a bit like a to-do list for months. More decisions to make, money to spend, people to answer to.
I didn't really feel the magic of what the day would mean until two nights before. It's like the air exchanged and I was breathing new life. The house (my house) had sold, the checklists had been checked off, and now it was time to celebrate everything that was about to be. Everything that was always meant to be.
We were getting married.
And that means a lot more than I can really explain in this post, so I'll save our (full) love story for another time, but trust me – this was a very big day. This was a commitment of not 2 people, but 5. Three children who I'd asked to trust my heart the day I split from their father, now following me (or perhaps leading me) into marriage with the man we all fell in love with, Shane.
Getting engaged wasn't something that was ever going to be a surprise, apart from when it would happen. Shane and I knew we would get married the moment we kissed for the first time. There had been times and seasons of doubt, but there was an underlying love and respect that we shared that could never really be explained.
Still, though. I didn't think it would all happen as it did. I thought Shane would be scared off of marriage for years, and I was ok being independent. It's just – we really wanted to be a family, in the same home, together. We had to let go of the fears and chose to exist in the moment. Our moments. We were going to get married. We were choosing our family.
But let me just start with the day of our wedding. I'm hoping the photos will translate through your screen and into your hearts with the raw emotion we all felt that day.
Each person who had their hands in this day was not only on their game, but truly celebrated in our joy. I believe we had the dream team, and I hope you'll all spend some time getting to know them by name and by their work as well. The fact that there were people setting up from the beginning of the day to the end, is no small task. Each with a goal to make this a dream for us. They succeeded.
So let me walk you through the day.
The girls all had a big sleepover after the rehearsal dinner at my best friend Ariana's house. Now when we say "girls", keep in mind that meant me, my sister Meghann, Ariana, my two daughters Jemma & Maya and my sister newest baby, Maslyn who was just 4 months old. Yes, we had a sleepover with a newborn (she only made one sound all night).
We woke slowly and all had showered, got dressed in our "get ready" attire (ahem, Smash + Tess rompers) and went to grab some coffees and head to Acqua salon.
Acqua created a little bridal suite for us in the back to put all our things, get dressed and eat. Complete with champagne and wedding day decor. It was the kindest gesture. As a regular "guest" in the Acqua home, it felt like a space I could relax and feel comfortable to get ready in. It felt right, and the energy in the air was there with me.
Lead hair stylist at Acqua, Brianna, working hard transforming me and my recently tape-in extensioned hair (Secret Layers) into the wedding hair of my dreams. I didn't bring her in any ideas, so this was a completely concepted thing by Bri the day of. I loved that I gave her creative power, because it was extraordinary. I just walked around all day announcing "I'm a freaking FAIRY!"
My makeup was done in the same fashion. Perhaps a risk on a very important day, but I knew that everyone was going to their best. Full trust.
Once all our hair and makeup was done we took some time to change into our By Catalfo bridal robes that we had on my Bachelorette weekend at The June Motel. They robes carried with them some great memories and helped us all transition our mindset into the next part of the day… champagne.
Not shown here: My sister feeding her baby while we drank champagne! Sorry Mags.
But let me just break from my story for a moment to show you the boys.
While we were all at the salon, the boys got ready at our new family home, getting fresh haircuts, and getting dressed in jackets from Zara (both men and boy!) and ties/bowties from Boon Ties (that just happened to match perfectly with the dresses I might add!).
---
Ugh, my freaking heart…
Back at the salon we were getting all the final things ready before I got into my dress. Took a moment to capture my hair and makeup at its prime, expecting it to melt a bit in the humidity. However, it held up to about 90% of what I walked out with! THAT was impressive. Not a single flower even fell from my hair.
But before we got dressed Ariana took my shoes telling me they were getting dirty and we should set them aside for the wedding. W
ell, that makes sense, but now my feet were dirty.
So I kept saying "hey where's my shoes?"
Finally after I noticed my feet were now black, Meghann and Ariana handed me a box.
I opened it and there was a series of gifts inside.
Something old: My Great Grandmother's garter belt (I carried it around my bouquet).
Something new: A Pandora sparkly bracelet that I could wear that day and after.
Something Borrowed: My Sister's garter belt from her wedding 10 years ago that I could wear.
Something Blue: My shoes. You see, they took them from me and wrote in blue on the bottoms:
"We're here with you every step of the way"
And yes, I wore $11 jelly sandals on my wedding day. Who even sees your feet anyhow??
But my feet were still filthy. Ariana didn't hesitate, and got down on her freaking knees, and washed my feet. Talk about a Christ-like woman. She's it.
My nerves at this point were calm, but the energy was building. Holy crap, I'm about to get married, and it was time to get dressed.
When it came to finding my wedding dress, I actually just had gone to browse. There was a time during the Christmas holidays just weeks after our engagement when all the family was here. So I took the opportunity to go with my mom, sister, Ariana and my kids to Sixpence Bridal to and try some on. Sixpence is a consignment bridal boutique, and with my thrifty heart, I loved the opportunity to not only save money, but wear something that had meaning for another woman before me too. It's like a legacy in a dress. It meant a lot to me.
So I let each person there choose one for me to try, along with some that I was interested in, including this one dress I spotted nearly immediately. I was taken by it's smoky tulle, and mesh floral top, but really didn't think it would fit.
When I put it on, there was no question.
This was the dress.
Jackie from Sixpence was able to alter it slightly (just removing some crinoline) but otherwise, there was nothing to be done to it.
Months after I bought it, the kids and I were watching Riverdale (their favorite show) when Veronica walked out in the EXACT same dress in a dream scene. The kids went nuts. And well, I went up a notch in the cool mom books.
We took a moment and got all the bridesmaids dresses tied up and ready to go. Another money saving piece of our wedding – the bridesmaids dresses were rented! Did you know that was even a thing?? The dresses were from Bridesmade.ca and we chose the nude color.
The junior bridesmaids (my daughters) wore tea length, and my sister and best friend (Meghann & Ariana) wore full length. All 4 were the same size and completely versatile to each of their body types. SO EASY.
After we got dressed, I snuck off for a few photos in the streets of Downtown Guelph.
Guelph has a huge piece of my heart as I was born and raised here. Since the wedding was just outside of Guelph, I wanted a few snaps in the heart of the city.
Then, I took a few moments to be with my girls.
It was strange to not have Bo with me too, but I felt in my soul how important this was for them as young women to be a part of and witness a group of togetherness amongst women. Supporting each other. Lifting each other up. A wedding day is the most prime example of it.
My girls are the most resilient of women. Their spirit, although tried at times, has never been broken. They also built upon a trust that I had in who Shane was, and carried it into their own relationships with him. They watch their mother be loved and respected so deeply, my heart can only hope they create a standard for what they should want in any relationship in life.
---
Next, it was time to dab off the flowers from their vases and get going. But pose for a few photos before we had to include the boys in them 😉
Our florist was none other than Forever Wildfield.
Again, in the theme of creative power, I had hoped she would create something that she loved and could even surprise me with. In a plethora of greenery and flowers, and my new favorite – the Earl Grey Rose, I was blown away and even emotional with how they looked. I didn't think I cared so much about flowers before. But they were a remarkable part of our wedding.
Loading up to head to the chapel, I was welcome by another surprise – my sister broke out her cricut to transform her white minivan into the transportation for the bridal party.
Listen, I just couldn't bear to spend money on a car ride. The minivan worked perfectly and the little details were beyond sweet. She included my IG handle and our wedding hashtag, #thebirdsandthebeard
All that was left was the drive to the ceremony, arguably the easiest part of the day.
Our wedding ceremony was held at the Historic Ellis Chapel in Puslinch, ON.
These next photos are fun for me to look at, because I wasn't there, but get to see what they were up to.
With Shane is his best man, Ian, and old friend of his, and my cousin Matt. Who, we had to fight over what side of the wedding he'd be on, as he's my best guy friend who Shane is trying to steal from me.
Ugh this picture just makes me feel SO proud.
Seeing my son walk in with my to-be-husband. I wish I could have seen it with my own eyes. These pictures help me experience it as if I had. His little face, I cannot!
So once the men finished their cigars and filed into the chapel, we were able to exit the minivan bridal express.
Each of my daughters nervously lead the way walking down the aisle. They did it so well though!
I mean, I didn't realize at the time how intimidating that must have been for them. So proud.
After the bridesmaids all filed in, the doors were closed.
Finally it was just me, and my Dad.
We'd been through this before, and we were cracking jokes about that fun fact, before getting "serious" for this whole thing.
The doors opened and I walked into my future.
I knew I wanted my Dad to walk me down the aisle.
He was the man that raised me alongside my Mother, and while I am independent now, it was still a part of my life I wanted to show how honoured I was to be raised by him.
But, half way down the aisle, Boden took over the duty.
Why?
Because my son had been the man of the house for nearly two years. I wanted to signify that with a gesture that showed him how much he meant to me being my little rock for those years as an independent single Mom.
This boy, he is quite a man. He wouldn't even let me carry groceries inside without taking on half of them. He deserved this honour of walking with me.
He did however, insist that he carry a lightsaber and my parents drove around town finding a small enough one for him to hold not-so-obviously.
My Uncle Pete played on the guitar as I walked down the aisle. He had surprised me by learning a song that would speak to me, while staying classy with a classical version of it played.
What song was that? Imperial March, of course.
When it came to asking a blessing over the union, we asked the parents and the kids. We all looked at Bo waiting for him to be the one to say something he would find "hilarious".
He didn't.
And so the beautiful (but very hot) ceremony began.
In front of family and friends, we vowed our lives to each other. Sickness & health, til death do us part.
We spoke our own vows for a minute. I didn't write them before hand and chose to speak from the heart. Shane vowed to encourage my independence, and to always help me parent.
My vows were much more like a thank you. Just thankful that we had gotten to where we are, and how significant that was.
I just was soaking in the moment. This journey together on the path to this, it's been a beautiful one.
And right there above would be precisely the moment I asked him if he just smoked a cigar (those beards, they hold secrets!).
After the ceremony, everyone pooled out of the chapel and cheered and celebrated with us as we took some time for some family photos, and ones with our guests too.
We took quite a few photos amidst all this. Family, friends. It was a beautiful chaos I absolutely adored.
And when I was looking through my wedding photos, I found a photo of a moment I'd forgotten about.
A dragonfly landing on me.
I texted my mom and said "are dragonflies significant in our family?" and she replied "well some believe they are a visit from someone in heaven".
You see, 4 years ago I lost my Gigi, my best friend, my grandmother.
It was one of the most painful things to be getting married and have her not there to witness it. To not know Shane, to not see the kids growing. She meant everything to me.
I had found letters from her just that week when I was packing up the house and certain reminders on the days leading up. I missed her. I missed her being with me and I missed her hugs and her laugh. But then looking at this photo and seeing that right after we got married, a dragonfly landed on me. Right when we were taking family pictures.
I guess she felt left out.
It was a reminder that she is never gone. She will always live on with us and through us. We are her legacy.
*casually just going to wipe all the tears streaming down my cheeks before I keep going here*
So, lets just carry on…
We hosted the reception at the Dockside at the Old Marina. It's a very well known restaurant right on Puslinch Lake.
What many don't realize is that the bottom half of it, is a venue that walks out onto the dock.
One of our favourite parts about the venue was they had this amazing ability to hire Pontoon boats to come and give guests rides around the lake between the ceremony and reception.
This was a huge highlight for everyone.
It was a beautiful lead-into our ceremony, with one quick pit stop 😉
The dock outside was like an ongoing cocktail hour. Everyone enjoyed the views on the lake, boat rides themselves and finally travelled on inside for the main meal.
Inside the venue featured a walk-out bar and then tables for all our guests. The decor was amazingly executed by the wedding planner and florist.
Each table was adorned with greenery, candles and bud vases on a white on white design that both the wedding planner Jaz (All That Jaz Weddings) and Alexandra (Forever Wildfield) executed.
At each setting there was a box of chocolates from Beanermunky Chocolate. Each containing two hand-dipped artisan chocolates that Shane and I selected. We went with the Copper Pot Whisky and Raspberry Merlot (vegan!). Wine & Whisky was a perfect pairing to represent us.
We finally came off the dock and into the reception. We were clearly just enjoying ourselves. This day was just surreal.
Only one speech happened, mine. Tears were shed, laughs were had. My mom took a video and put it up on youtube somewhere, have fun with that!
During my speech, we (along with Tabi from Fondant Custom Cakes) surprised my Dad with a birthday cake, because… well, it was his birthday and we kinda stole his thunder.
Side note: that backdrop? It was custom made and designed by Painted White Studio who transformed the venue into something completely unique and to our style for the wedding. Truly, an added touch that changed the vibe of our event.
After the dinner and speech, it was time to relax with drinks, and cake!
As you can see, our cake was double sided. Tabi of Fondant Custom Cakes made one that presented "pretty" on one side, with all our fun personality on the other.
Yes, even zombie hands.
The evening slowly got quieter as the sun set and we wandered back out onto the dock to enjoy the evening. We didn't do a dance, but just relaxed with our guests. Many who had travelled really far to be there. It felt good to just BE with them.
And of course, a lot of little moments alone, too.
Frig, I love this man.
For now, this is the beginning of our future together. A family build upon love, trust and choice.
To everyone who was a part of our day, thank you. You are more valued than you could ever realize. Below I will list each and every vendor that was a participant in making this a day of our dreams.
I can quite honestly say that it's the most beautiful wedding I've ever been to, and it was ours.
Life, it just finds a way.
---
Vendors
Wedding Planner: All That Jaz Weddings
Photographer: Painted White Photography (second shooter: Ally Billings)
Florist: Forever Wildfield
Videographer: Your Day By Lucas
Backdrop Designer: Painted White Studio
Wedding Dress: Sixpence Bridal
Hair/Makeup: Acqua Salon (hair by Brianna Cook, makeup by @LashesByBriiBrii)
Bridesmaids' Dresses: Bridesmade.ca
Grooms Ties: Boon Ties
Takeaways: Beanermunky Chocolate
Cake: Fondant Custom Cakes
Spray Tans: Organic Tan Guelph
Jewelry: Wisdoms Jewellers
Venue: Dockside @ The Old Marina