Decorating
My House Became A Junk Drawer, So We Had It Professionally Organized
February 22, 2022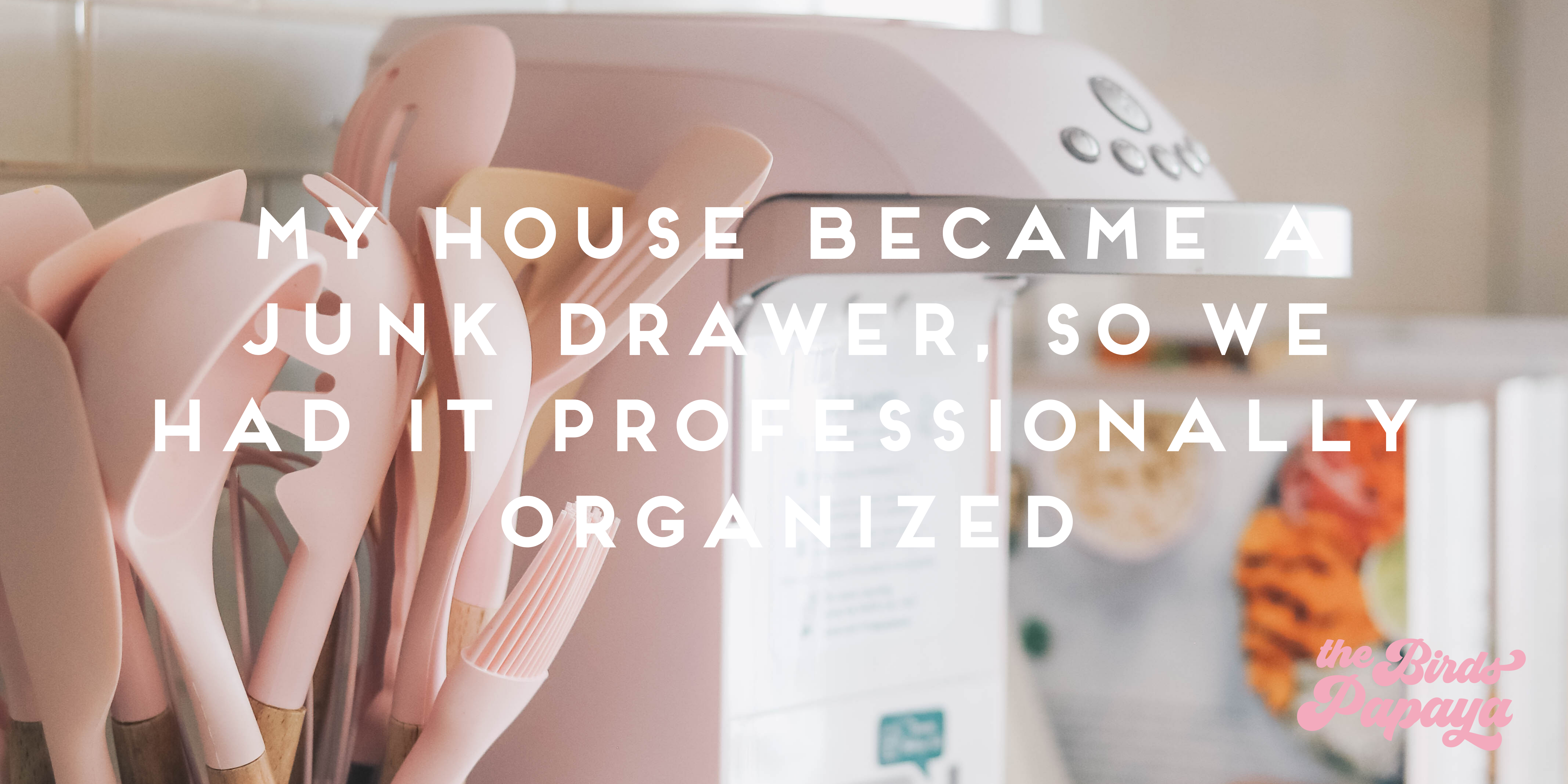 I don't want this to be something you read and feel defeated over, because that's how I felt before this whole process even began. Existing with clutter can bring a lot of emotions, stress and feelings of defeat.
At least, that's been my story.
Let me also disclose that this organization was done in collaboration for a media outlet that I can share at a later date. All organizational items were purchased by us, but the team at Go Simplified dedicated their time to it.
For as long as I can remember, I have loved a tidy space. But, tidy on the surface. If there was a drawer to shove things in, or closet door to shut, even an area that is less "seen" to pile upon – that's what I did.
When I got divorced, I left the house with laundry baskets and some luggage. It was a clean slate, so I thought.
I'll save you the details of my divorce, but essentially, I ended up back in the home 1.5 years later, with all the stuff. We purged and purged, but I felt like I couldn't get on top of it. I was working so much and didn't want to spend my weekends that I had time with the kids to be filled with me working more. So we had this one room that kind of became a junk room.
Skip ahead a bit, Shane and I got engaged.
Skip ahead a bit more, I sold my house, and it closed the day before our wedding.
We merged two homes into one in 24 hours.
Then life got BUSY BUSY.
We kept doing these purges, and garage sales and donation runs to try and keep up on having duplicates of literally everything, but never really got a grip on things. There were moments that it felt like maybe we were doing ok, but the reality was, I was just finding new spaces to shove things away.
Out of sight, out of mind, Right?
Except, I don't think it was.
Out of my mind, I mean.
When Megan & Jackie from Go Simplified came through our home, I apologized in every room.
"Sorry, this is bad"
"Sorry, we've just been so busy"
"Sorry, I know there's a lot of laundry I've been trying to get caught up"
You know what they shared with me?
This is all WAY MORE NORMAL than I thought.
So many families struggle with clutter, build-up, and closets full to the brim.
Many of us struggle to keep up, keep on top, and lack the skills to get things in order.
That's right, a skill.
Meaning, it's something you can learn, even if you don't naturally inhabit it.
I'll tell you how I've done things in the past:
Go through spaces, and pull what I'm ready to let go of.
What Go Simplified did:
Took everything out and had me choose what goes back IN.
And y'all – that was a GAME CHANGER.
…A messy one, but it got us to the roots of our spaces. The bottoms of the closets, the back of the cupboards, the edges of the drawers.
Here's a bit of before…
From there we chose:
Keep
Donate
Toss (and while we all hate waste, sometimes a granola bar from your travel bag in 2018 has to go)
We did not get to the whole house, and honestly – I'm glad I now learned some skills to be able to tackle other spaces myself too. I now know some great practices and can implement them as we go.
But let's get into the before and afters…
In the end, here's what I discovered.
Nothing that was piling up in corners and in closets and spaces I couldn't "see" was out of sight, out of mind.
It was like a constant buzzing.
Every time I sat down, tried to rest, tried to be with my family, there was this buzz and pull that I should be doing more, I should be taking care of it.
Shane and I woke up the first day after organization and both said it just felt like a weight was off of us. This wasn't easy, but it was easier than expected, and it allowed us to move on. It allowed us to have some order, in a life that tends to be a bit chaotic.
The fact we had a closet of shame that was resolved in 1.5 hours….I honestly get emotional thinking about how much that weighed on me even when I saw the door, and now that's just gone.
None of us are hopeless. None of us should feel shame for our spaces or for how things have piled up. This is a very normal occurrence, we just aren't seeing it.
Because shame thrives in the things we do not see.
I hope this serves as a reminder that life happens, stuff happens, and it's ok to let go, it's ok to learn new skills, it's ok that we don't have that perfect "insta-worthy" life.
…And the after