Baby
Traveling To Disney World With A Toddler
January 17, 2023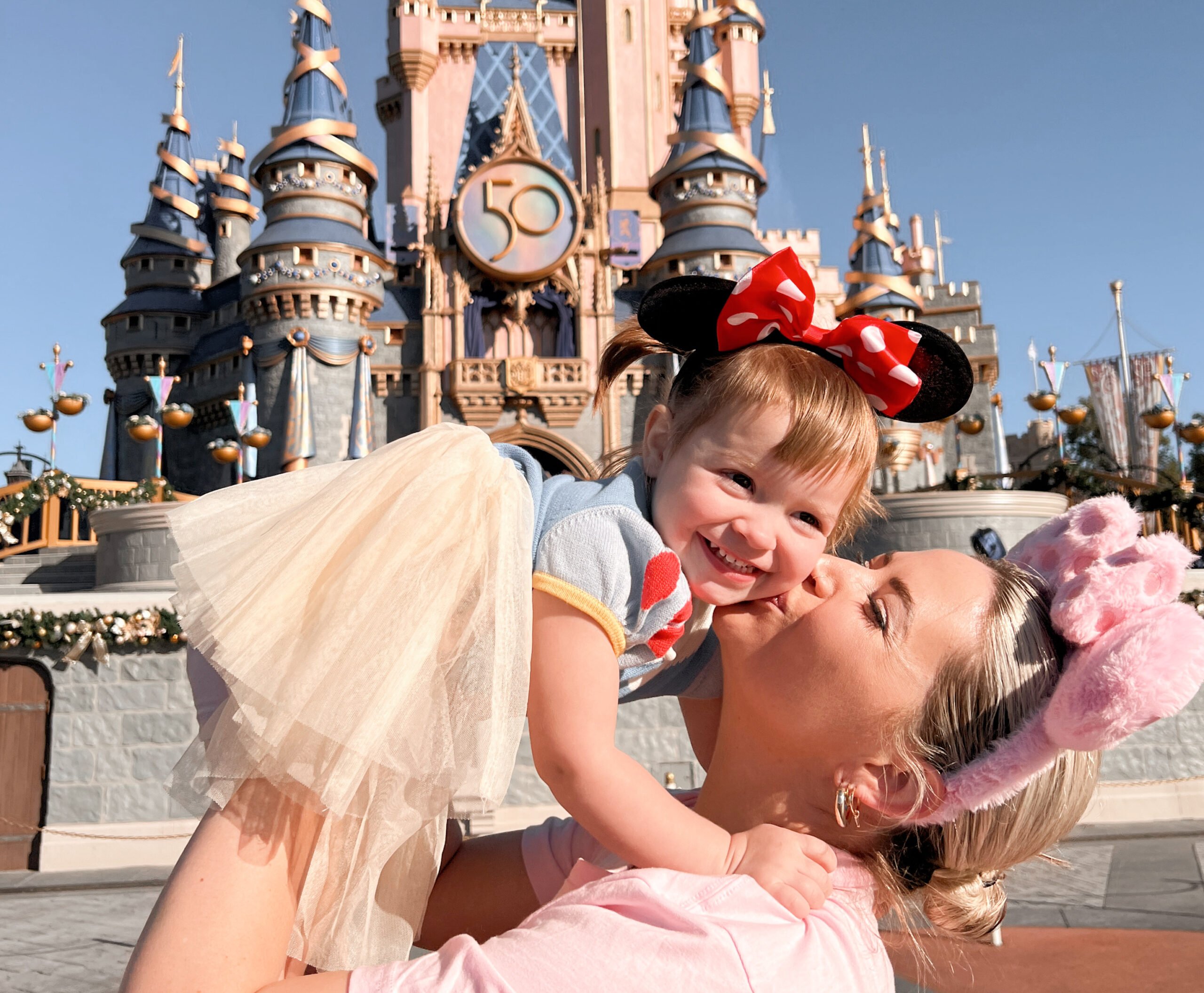 Travel is stressful. There are a lot of moving pieces.
BUT THEN YOU ADD A TODDLER?
You poor unfortunate soul.
If there's one thing that we know about toddlers, it's that they're unpredictable, thrive in routine, and can be very determined to have their way with your plans.
We've done a Disney cruise and two Disney World vacations (a big and a short one) with a child between 14mos-2 years old (plus 3 pre-teens & teens!). We have learned SO much along the way.
So let's break this down into digestible pieces of conversation.
*for this blog, I'll be sharing about experiences staying at a Disney Resort or an on-location hotel. For us, we've stayed at Beach Club (Disney Resort) and Disney Swan (NOT an official Disney Resort Hotel, but is on property with many of the same perks). Please double check any travel related regulations, as this is not an official travel site for information, but just experience based sharing. It's always best to double check before you go!
The Perks??
Let's start with the absolute PERKS, because there are some serious benefits to traveling to Disney World while they're little.
There are no tickets needed for a child under 3. That's right, they're free.
If they're under 2, they're also free to fly (in-lap)
Children under 3 years of age can dine for free at regular or fine/signature restaurants if they eat off of your plate. But…if you order a kid's meal or anything off of the menu for them, they will not dine for free. (source: PlanDisney)
They believe everything is magic, so you wind up just seeing the world in a much more magical way around you. The characters are real. Even the tamest rides are thrilling.
Baby care centres throughout the park are a much-blessed break spot
What Do I Do About A Stroller?
Great question! You have a couple of options, but I hope this helps.
You can:
A) Rent a stroller (single or double) daily from Disney for $13-31/day
B) Bring your own & gate-check it. Simply bring your stroller all the way to your gate, ask the counter attendant for a gate check tag, then leave your stroller folded and tagged at the doors just outside your plane before boarding). You can even get a gate-check bag for your stroller to keep it from any scratches/dirt. Your stroller will be waiting for you when you get off the plane!
When it comes to bringing a stroller, we have a special travel one because truthfully, the big stroller just takes up too much space in our vehicle for adding luggage on top. Our travel stroller folds down to the size of a backpack.
What About A Carseat?
For under 2, your child is in lap on the plane and therefore doesn't need a car seat. I'll be honest I don't know the rules over 2. But, from what I'm gathering it's recommended but not required. (please check your local airport/airline rules as this is only based off our own experiences)
Why does this matter? Well, when it comes to Disney, you're hopefully not needing a car at all. There are shuttles from the airport to the hotels (we pre-booked and used Sunshine Flyer) as well as shuttles/boats/Skyliner/monorail/ferry from your Disney Hotel to the parks (and shopping area: Disney Springs) that run all day long. We've never rented a car while down there and therefore have never brought a car seat.
How To Manage Airplane Travel?
We're fairly lucky in the sense that our flight itself is only a few hours, but tack on the car ride to the airport, a few hours of waiting in the terminal, and the flight itself: and it's a doozy of a day!
If your child is under 2, they'll still fly for free as an in-lap addition (they'll still need their own ticket, passport, and boarding pass *check your local airline to confirm this as different areas may differ in rules*) plus your diaper bag does not count as your personal item for all the airlines I have seen. Children under 12 also have some different rules on liquids for carry-on. See HERE for those current regulations.
For take-off/landing try and get your child to drink/chew/pacify to avoid their ears popping.
For in-flight entertainment, it's not always guaranteed so I recommend having some downloaded movies/shows on your phone/iPad. Electronic devices are not typically allowed without headphones, so plan for either no to low volume or opt for some kids bluetooth headphones. We try and use screens as last-resort entertainment. While in the airport, going for strolls can do a lot for burning off that extra energy so come time for the flight they're relaxed, ready for a show and a sleep (hopefully!). We also love packing mess-free colouring pages!
Groceries For The Trip?
When we first arrived at Beach Club at Disney (a Disney Resort) we were SO relieved to see that there was a small store with an entire grocery store inside the hotel with food options, milk, fruit, bagels, and muffins, as well as things like shoes and diapers and pretty much anything you could have forgotten.
On this last trip, however, we were introduced to Vacation Grocery Delivery. Through their site we pre-shopped and it was all delivered and ready for us upon arrival. This cut down on food costs and wasted time grabbing snacks/drinks in the parks!
Here's a list of what we got delivered:
-Milk
-Uncrustable Sandwiches
-Goldfish Crackers
-Cheese strings
-Gummy Snacks
-Bottled Water
Here's what Disney's site says about bringing food into the parks:
"Guests are allowed to bring outside food and nonalcoholic beverage items into the park for self-consumption, provided they are not in glass containers and do not require heating, reheating, processing, refrigeration or temperature control and do not have pungent odors." So keep this in mind when ordering food you plan to bring into the parks!
What About Sleep Schedule?
Anybody with a toddler KNOWS the impact of a missed nap, let alone a complete jumble of schedule over several days. This probably stressed me out the most, but I was genuinely surprised at how well things went. Every kid is very different but I'll share what worked for us.
Toddlers don't sleep in, and neither does Disney!
While staying at a Disney Resort (or Swan & Dolphin) you get early entrance to parks by half an hour. Fewer crowds, walking onto rides, and the beloved "rope drop" moment. It's worth the morning hustle. Depending on the park and the fact it takes about 30-45mins to get to your park while waiting for your shuttles/water taxis/walking you can estimate leaving your hotel around 730am. Do you know who's ready to go at 730am? Toddlers!
TAKE. A. BREAK. (and nap!)
I can't stress this enough. The evenings at Disney parks are worth taking a break for, rather than attempting an 18-hour singular day *this rule really only applies if you're staying for more than one day, of course*. We would arrive at the parks for 8:30 am early entry, stay until after lunch, then head back to our hotel for an afternoon nap/rest for all. Around 4 pm we would head back, have dinner and stay for the evening. This also helps avoid some of the peak busy hours and heat. I know it's hard when you've spent so much money to be there, but quality over quantity…that rest will make a huge difference in your overall experience!
Let Them Sleep
You're for sure going to have moments you look down and they're fast asleep in the stroller off-schedule. Due to the very nature of Disney parks, it's not the normal "omg they fell asleep in the car and now won't nap" you'll be surprised at how tired they'll get again. Lemmie fell asleep a few times a day for 10-20 minutes at a time only to have a full night's sleep still every night. The power of a busy day.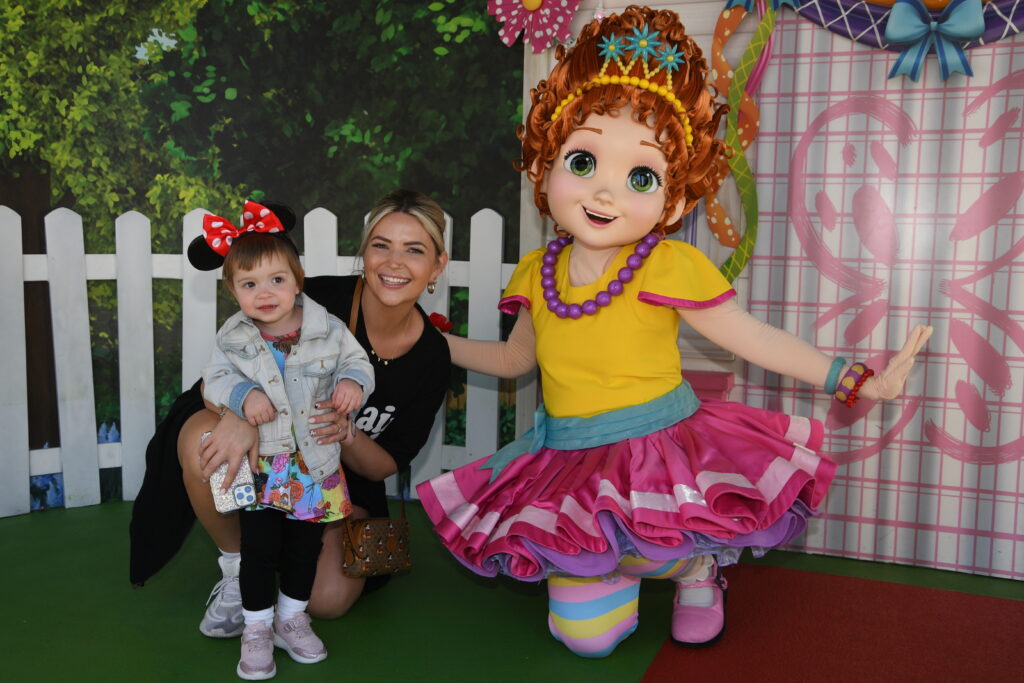 What Rides Can You Do?
Beyond all the logistics of traveling with toddlers, don't forget some of the best parts of Disney parks: the rides! Thankfully at Disney World, there are several rides for little ones. For the rides where a little one isn't big enough for, but parents/family are ready to ride? Try Rider Switch!
Here's what rides are ok for toddlers!
Magic Kingdom:
Epcot:
Hollywood Studios:
Animal Kingdom:
Where To Buy Outfits
First of all, if forget anything from diapers to swim gear and shoes, you'll be able to source some new ones across the parks and Disney Springs as well as your hotel gift shop! So many options. But in planning BEFORE a trip, here are some of the best places and items to shop before you go!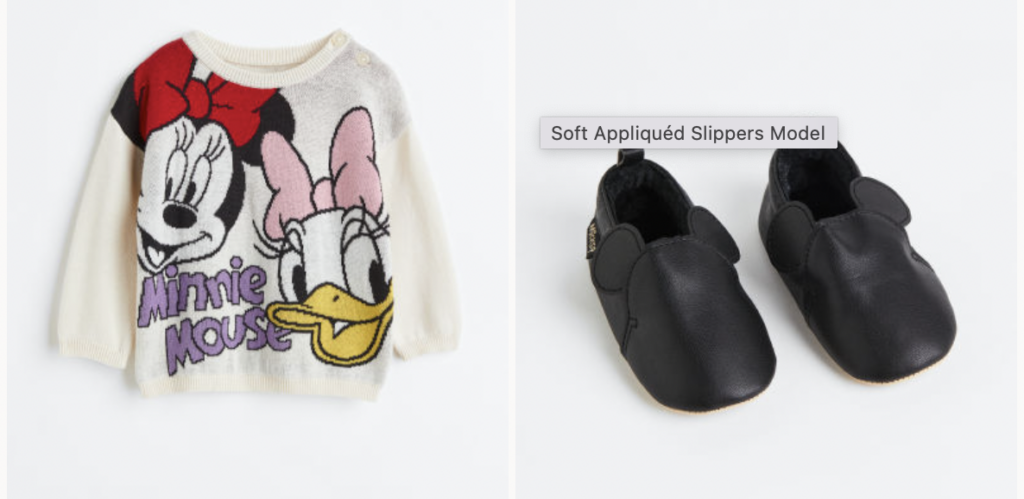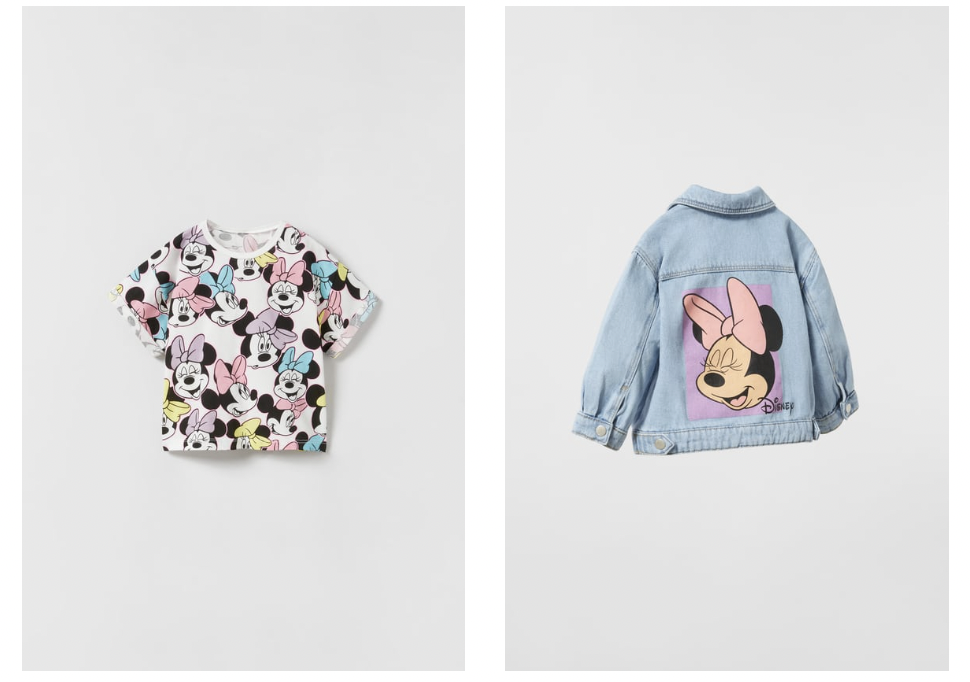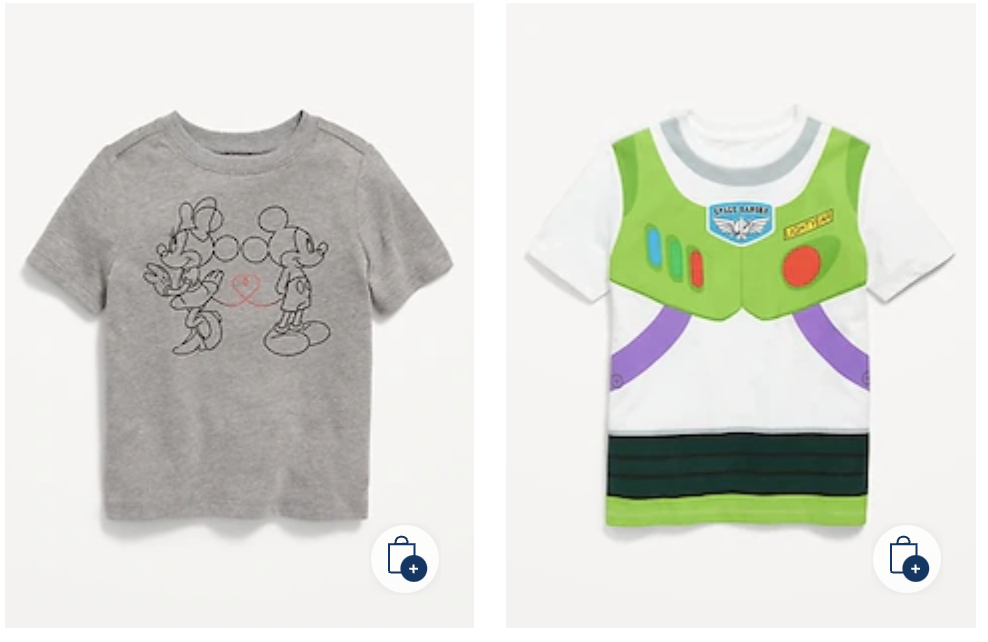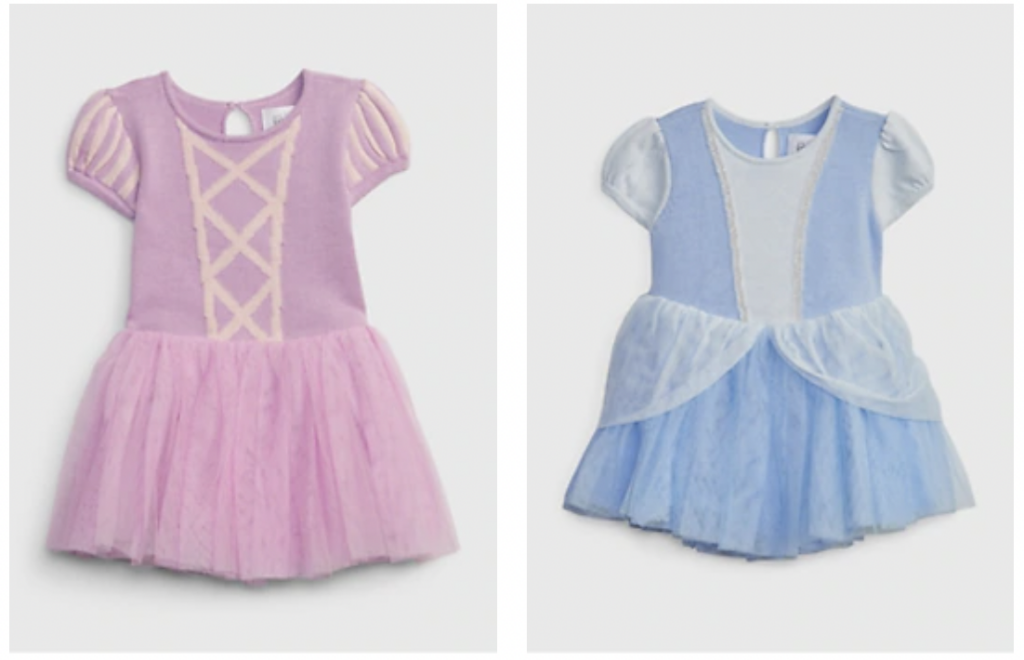 Added Things To Pack:
Water shoes / crocs
Stroller Fan (also available to buy at parks)
Stroller blanket (for cool nights, if applicable)
Stroller organizer (also available at Disney, we got ours there!)
Small Mickey/Minnie Ears (the park ones are a bit big and heavy)
In Conclusion…
This is truly a story of expectations and reality. Sometimes you will be let down. Others times you will be blown away, you will be over the moon, shocked, and surprised at how well this all goes. In our experience, the latter has almost always been true. Disney knows its audience and how important it is to everyone there that toddlers are experiencing a magical time. Expect to be heard, helped, and supported consistently during your time in the parks. We've never had anything but a great experience, with a bend in plans sometimes, of course, too.
And sure, maybe they won't remember it, but you will.
And sure, maybe they won't remember it, but does that mean we don't do fun things until they do?
Finally, if a trip isn't in the books for you, there are tons of YouTube, IG reels, tiktoks and more that showcase the magic through another lens for you and your toddler. Frankly, it's probably our fav thing to do at home! A way to bring the magic alive in our own spaces and places.
xoxo