Uncategorized
The BEST Pregnancy Leggings: Top 5 (Not All Maternity!)
January 4, 2021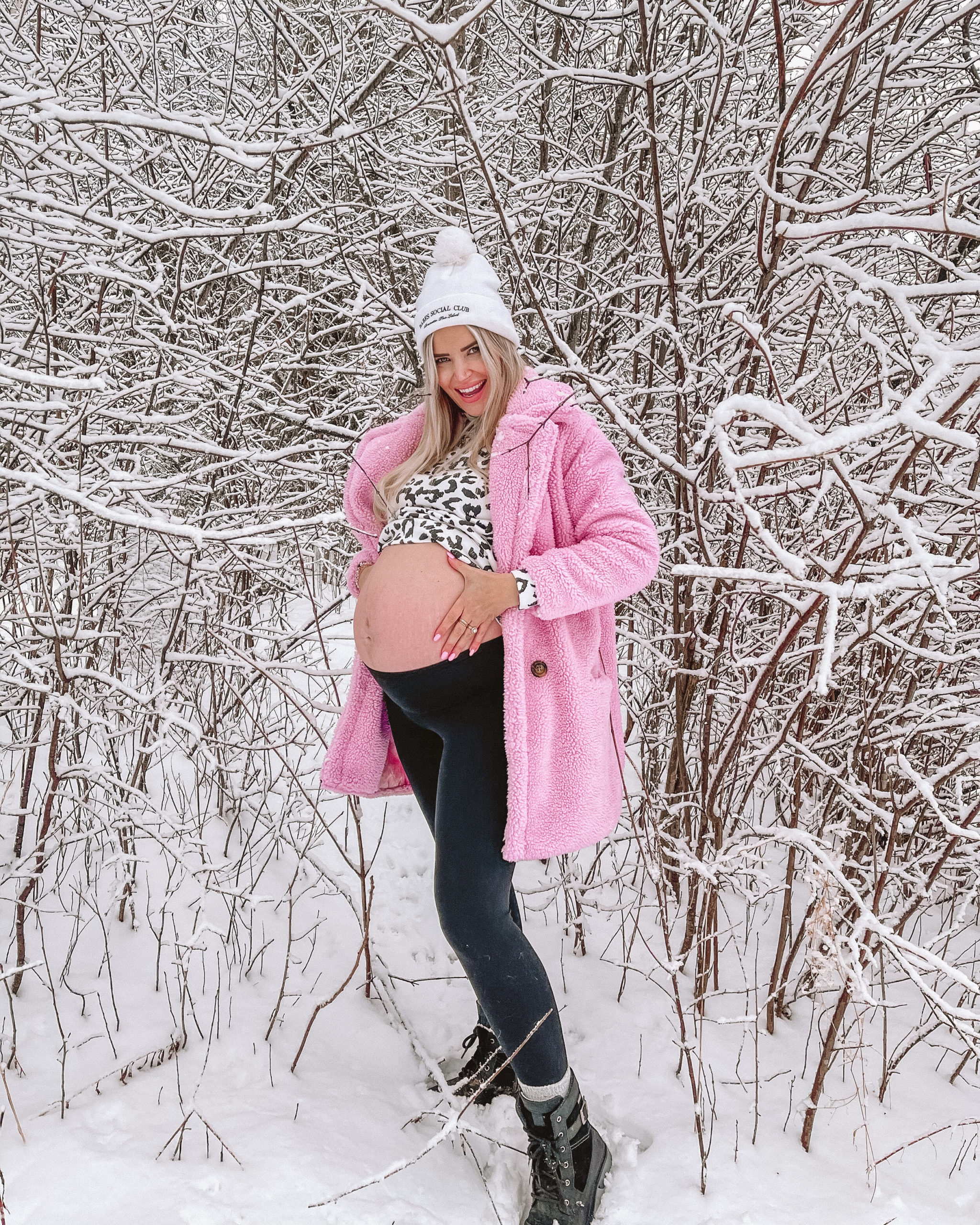 You know I would have written this at like 3 months pregnant all confident in my choices, but let me tell you… the last months have changed me.
As I write this, I'm now 9 months pregnant and HIGHLY OPINIONATED ABOUT PANTS.
I've cried about one thing rather consistently during this pregnancy, more than anything else. Pants.
Pants. Pants. Pants. Pants. PANTS.
You see, your nerves in your stomach are so sensitive during this season of life, and while old you/me/us maybe could handle the squish of a jean button digging into our core, now? That will literally bring a bitch down.
And oh, this bitch went down.
But hey, live and learn – write a blog about it.
In frustration, I did buy a fair amount of maternity leggings. Some cheap, some very much not. In the end, ONE PAIR won out… and if you know me, you know the answer…but let's get to the list.
Number 5
H&M "Mama 2 pk"
Ok so as a two-pack of maternity pants, couldn't have been happier with the price point. But, they definitely felt more like loungewear, not so much leave-the-house-or-pulled-together-feeling wear. But, end of the day, I grab for them often! So they make the list.
Number 4
Blanqi "Everyday Maternity Leggings"
These are the leggings I saw everywhere and was incredibly excited to buy. When I first got them, it was clear they were made for a little more advanced pregnancy (aka bigger bump) but I liked that they didn't have anything that came close to cutting into my skin. They would have been perfect, but… two things: pet hair magnet, and they drooped at the crotch for me (tall girl things?). At the end of pregnancy, I do reach for these a lot because of the support they offer. Something to note.
Number 3
Hatch "Before During After Leggings"
These leggings I knew would be an instant favorite, but they're lower on the list because they apply to more lounge for me, and on top of that, they were a higher price point so I couldn't load up on 7 pairs and ignore my laundry. But, they are MIGHTY comfortable, and definitely love that they work for pre-during-post pregnancy. Canadians: please note I did have to pay duty on these.
Number 2
ALDAY "The Everyday Legging" : A Sustainable Canadian Made Option
Loved the cut of these and the fit!! They are a breathable legging… made with a collection of special materials that make them worth the extra spend, and with that shape meant for a belly that yearns to be comforted as it blows up to the size of a beach ball.
Number 1
AERIE "Real Me Offline"
These pants I've been talking about for a couple of years now. Come pregnancy, I was shocked that they just.kept.fitting. With their sheer but not see-through style, lack of pet hair magnetic, ability to be worn the entire pregnancy without even being maternity pants, and their price point?? They are the win of wins. Ultimately, these, in 9 months of pregnancy, have been my most worn item, and the one I tell everyone to get on board with. Pre-pregnancy these fit me perfectly highrise, and during pregnancy they come about an inch above the belly button, layer well, and stay put nicely! A perfect 10/10
Happy trails my friends,
may your pants be ever in your favour.