Disney
Your Ultimate "Last Minute" Holiday Gift Guides, 2022
December 7, 2022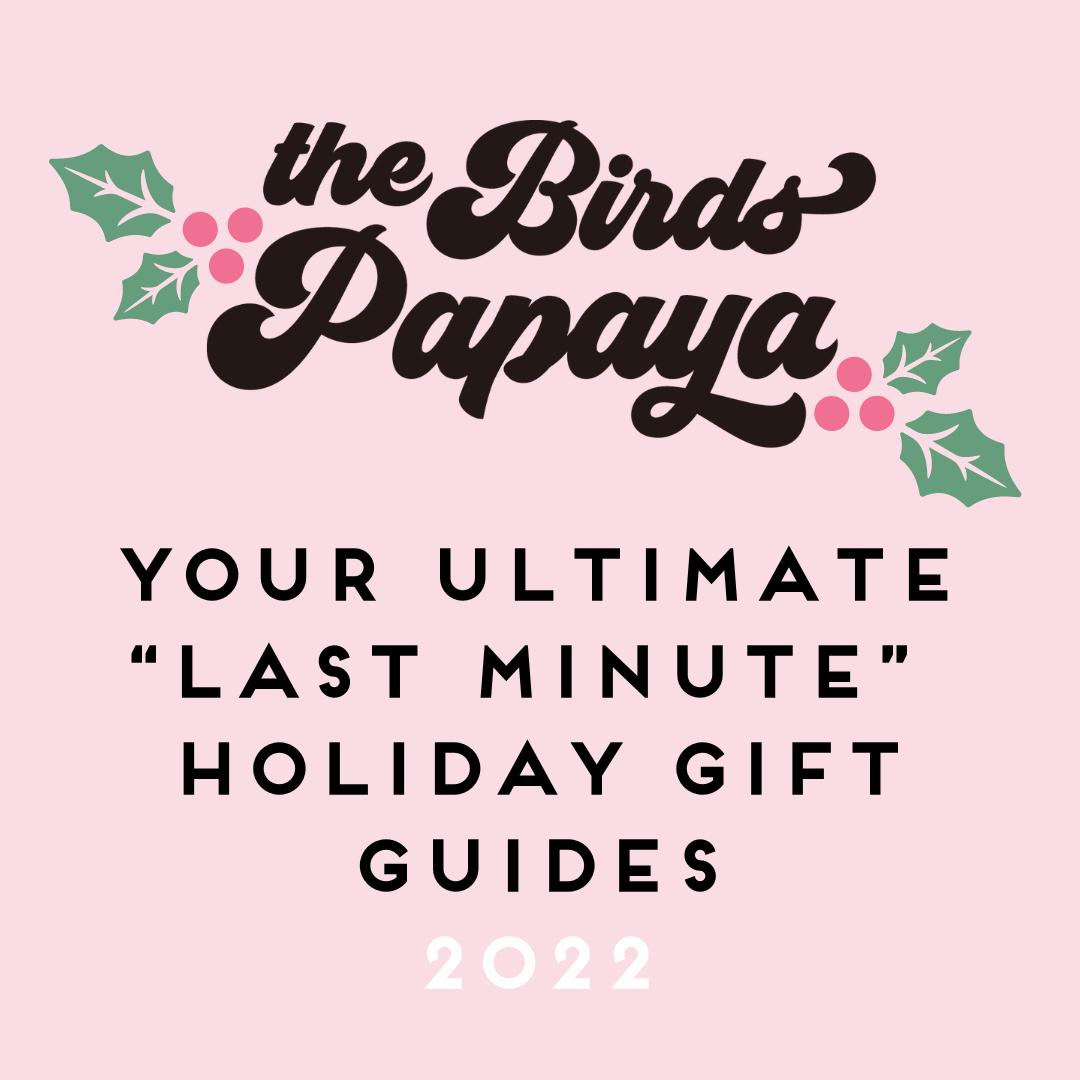 Okay okay, let's face it — as much as a lot of us are on top of it when it comes to preparing for the holidays, what with decorating and finding the perfect Christmas tree, making sure Elf on the Shelf is stirring up trouble throughout our homes, there's the other half of us that wakes up and realizes that holy Toledo, it's Christmas in less than three weeks! That's where I come in; for the last-minute shoppers who still want to be thoughtful in their gift-giving, here are your ultimate "last-minute" gift guides for Her/Them, Him/Them, Teens, Toddlers, Secret Santa or Stocking Stuffers, and for the Family.
Gifts for Her/Them
This list really checks off all the boxes for the different types of gals in your life, from beauty faves to high-ticket items, to the small and shiny irreplaceable and sentimental items that she/they'll be able to wear and use time and time again. Who doesn't want an elevated cable knit jogger set, or be inspired by the culinary world?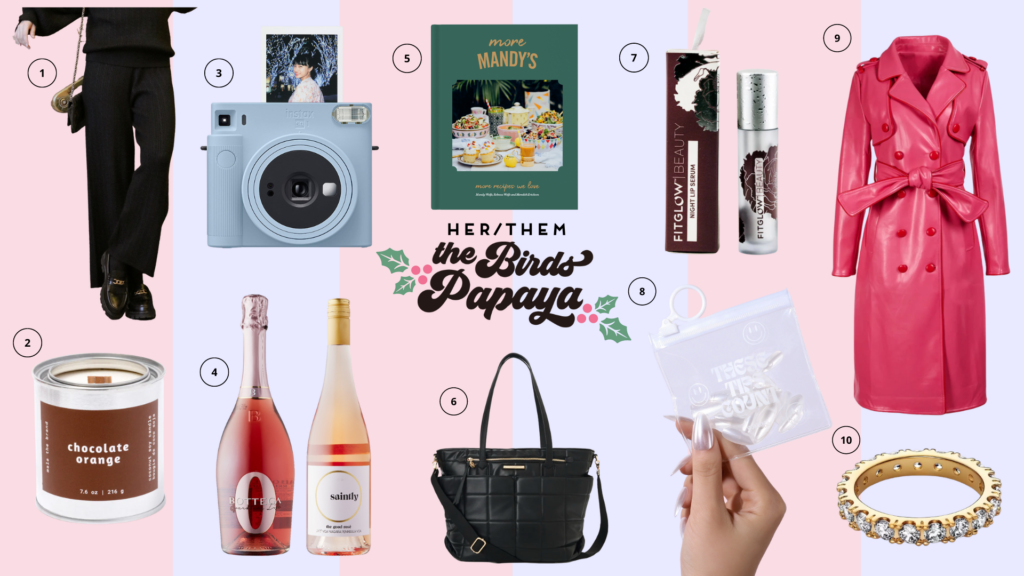 1. Brunette The Label Cable Knit Jogger Set (use code: babesclubsarah) 2. Mala The Brand – Chocolate Orange Candle 3. Instax Camera 4. Rosé – Bottega O% Non-Alcoholic, Saintly Rosé 5. More Mandy's, Mandy's Salad Cookbook 6. Poppy and Peonie's x The Birds Papaya Ultimate Bag 7. Fitglow Beauty Night Lip Serum (use code: TBP17) 8. Quickies Press On Nails (use code: papayaquickie) 9. Hilary McMillan Barbie Hot Pink Trench Coat 10. Sparkling Row Eternity Ring
Gifts for Him/Them
Fingers crossed that we continue to do justice for all the Shanes in our lives, and yes he was thrilled with the choices we had for Him/Them last year, we know that this year is no exception! The fun part about shopping for Him/Them is that I get to live vicariously through their experience, so this list was curated with that in mind.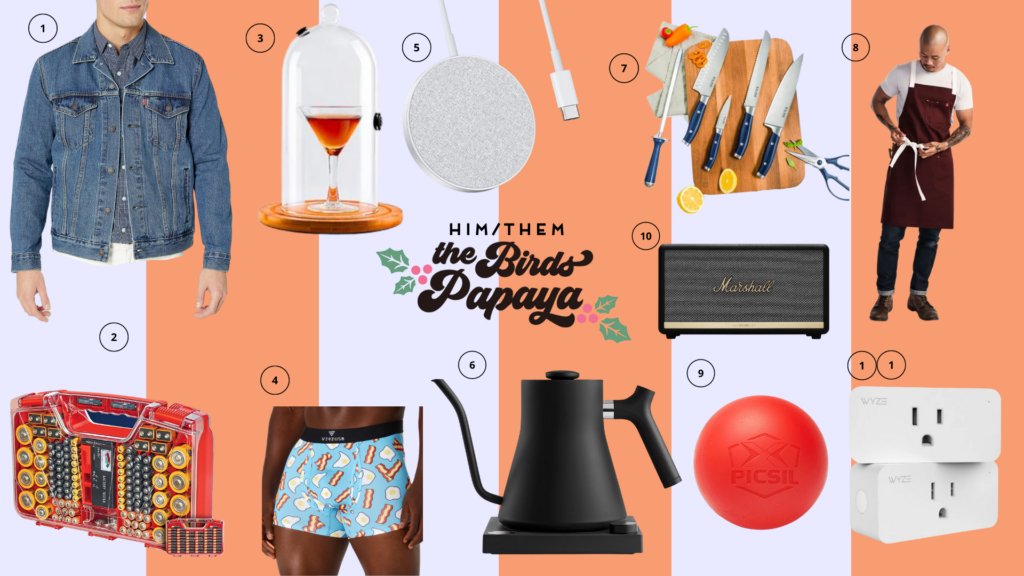 1. Levi's Denim Jacket 2. Battery Daddy 3. Drink Smoker 4. Versus Boxers 5. Charging Pad 6. Fellow Stagg EKG Electronic Gooseneck Kettle 7. Kilne Knives 8. Hedley and Bennett Apron 9. Massage Ball 10. Marshall Speaker 11. Smart Plug
Teens
Easily the trickiest category to shop for, because there are JUST. SO. MANY options, but only a few will be given the thumbs up of approval. So this year, a little birdie from my own household inspired this list of picks, and if she says it's cool, then we ought to believe her. From the viral Beachwaver, to useful gifts like the sunglasses organizer, there is a mix of function and indulgence in this list that will have all the teens in your life feeling thankful.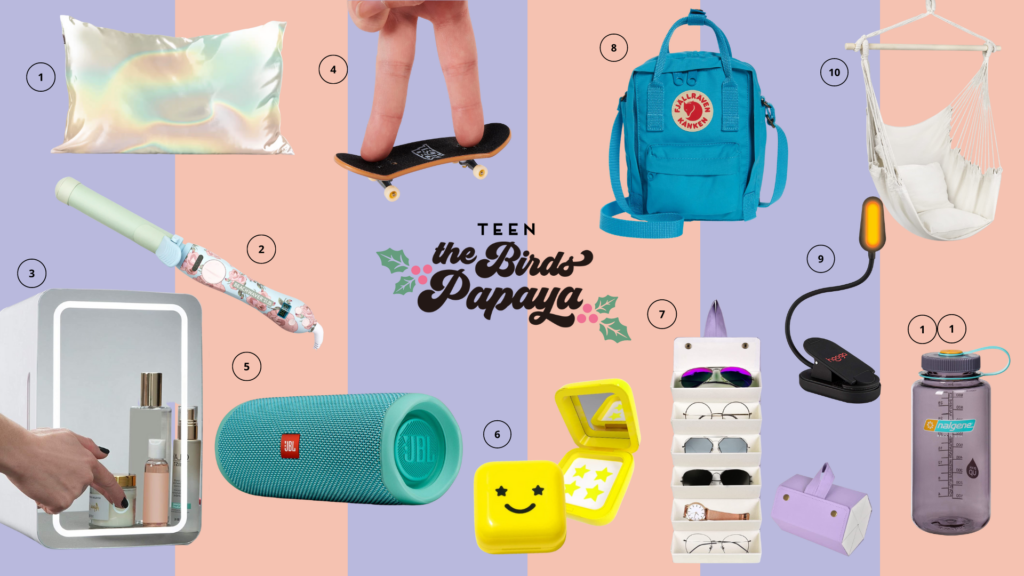 1. Kitsch Aura Pillowcase 2. Beachwaver 3. Cosmetics Fridge 4. Tech Decks 5. JBL Speaker 6. Star Face Pimple Stickers 7. Sunglasses Organizer 8. Fjällräven Shoulder Bag 9. Book Light 10. Hammock Chair 11. Nalgene
Toddlers
As the babies grow a little bigger, yes we will continue to spoil them in the cutest duds, but they continue to become more curious about the world and their surroundings. That's what this list is about, from a window fidget spinner to the Colour Wonder which is a huge hit in our household, the little in your life.
1. Play Camera 2. Little People Barbie House 3. Colour Wonder 4. Water Wow 5. Denim Jacket 6. Water Activity Mat 7. Window Fidget Spinners
Secret Santa / Stocking Stuffers
Okay… hear me out: I love gifting and receiving kitschy but useful Secret Santa gifts and Stocking Stuffers. It's the one opportunity you get to be really creative and thoughtful on a smaller budget. If it's perhaps for someone you don't know that well, you'll build the reputation as the one you hope to get for future Secret Santas to come; and if it's for someone close to you, why not get them something that they may have never think to get themselves, but that they didn't even know they needed?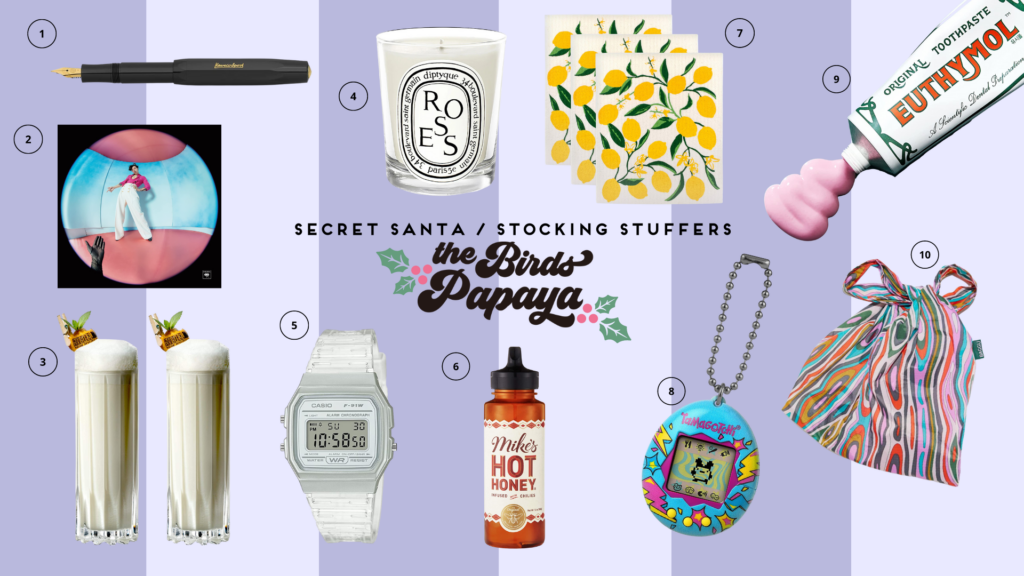 1. Kaweco Pen 2. Harry Styles Vinyl 3. Riedel Cocktail Glasses 4. Diptyque Roses Candle 5. Casio Classic Sport Watch 6. Mike's Hot Honey 7. Swedish Dishcloths 8. Tamagotchi 9. Euthymol Toothpaste 10. Baggu
Family
We all know that the greatest gift of all with family is time; it truly is priceless. Of course, there are always ways to enhance already amazing scenarios to make the memories we form together even more special. This list is mostly experiential for a reason – experiences are the best way to form core memories. From a toboggan for these glorious wintery days, to a family-style sushi dinner, and a timeless classic: movie tickets. Any of these gifts are a sure way to make the holidays happy ones.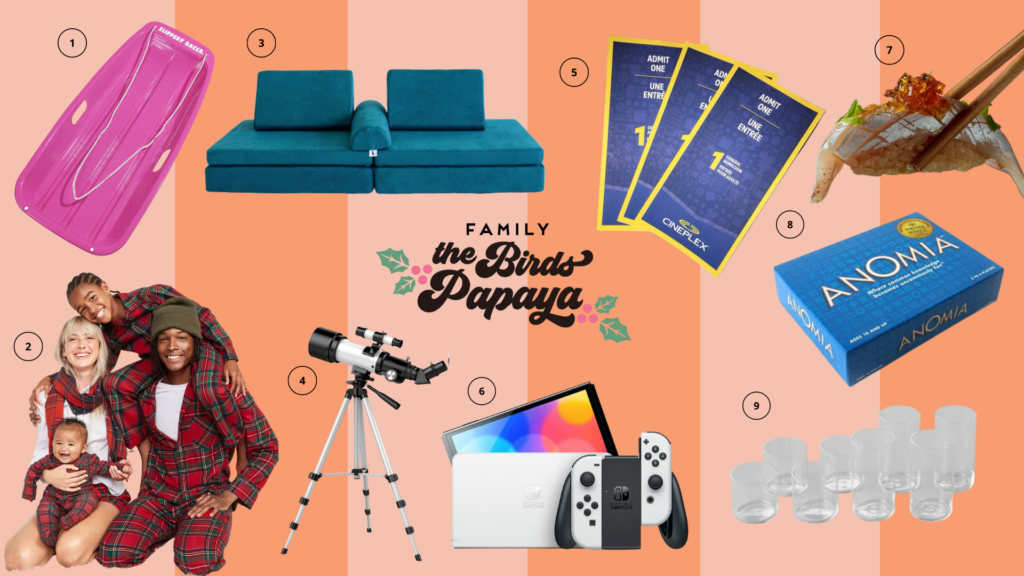 1. Slippery Racer 2. Family Pajamas 3. Joey Play Couch 4. Telescope 5. Movie Tickets 6. Nintendo Switch OLED 7. Chotto Matte Sushi Family Dinner (Disclaimer: this is available in Toronto only, however depending on your city, many restaurants have this type of offering. Alternatively, why not do a family-style DIY dinner kit from your favourite restaurant?) 8. Anomia 9. Fable Home Glassware Set (use code: thebirdspapaya10off)